Jeff Moore, dean of UCF's College of Humanities for five years, has been reappointed to the post.
The decision by Michael D. Johnson, interim provost and vice president of Academic Affairs, follows an extensive committee review of Moore and the college during his tenure. The process included feedback from students, faculty and staff from inside and outside the college.
"Under Dean Moore's leadership, the college and its faculty are steadily becoming more academically robust. He and his college demonstrate an authentic concern for the diversity of the human experience and a commendable entrepreneurial spirit," Johnson says. "Innovations such as the Themed Experience program immediately place the college in position to be a national leader in novel areas."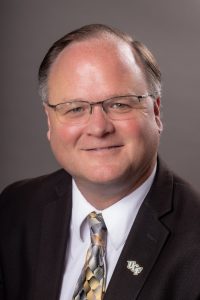 Moore joined UCF in 1994 as its first full-time percussion professor and served in several leadership roles prior to becoming dean in 2016.
Since then, CAH has achieved record fundraising levels and has more than doubled its five-year average for funded research. He guided the college through administrative transitions, a move into a new facility and a pandemic. Meanwhile, his support of academic excellence has included improving four-year graduation rates, enhancing advising practices and investing in strategic academic programs.
Moore focuses on collaborative, interdisciplinary and community-centered activities, supporting faculty involvement in initiatives such as the Center for Humanities and Digital Research, UCF Celebrates the Arts, the NEA Big Read: Central Florida, and the ZORA! Festival of Arts and Humanities. He is active on many Central Florida and professional boards, serving as a bridge between campus and community. His reappointment is for five years.
"The success of our college in the last five years is largely due to our dedicated faculty and staff and their positive impact on our students' educational experience," Moore says. "I am grateful for the opportunity to continue to serve as dean and look forward to working with them to continue progress toward our goals."