UCF senior defensive lineman Titus Davis lifted the glittering, gold football-shaped Fiesta Bowl trophy from its stand and cradled it in his hands.
"Come on, time to go," said a team representative who was gathering the Knights at Dec. 30's media day and ushering them to buses waiting to whisk the Knights to one of their final practices before the big game day.
Davis somewhat reluctantly handed over the trophy to a Fiesta Bowl official and a reporter quipped, "You can't bring that with you."
For now, at least.
If all goes according to game plan Jan. 1 against No. 11 LSU at the PlayStation Fiesta Bowl, the No. 7 UCF football team will be adding its third New Year's Six bowl title to its trophy case back in Orlando.
Business As Usual
Tuesday's matchup, which kicks off in Glendale, Arizona, at 11 a.m. MT/1 p.m. ET on ESPN, will be the first meeting between the two teams.
Of its 50 bowl berths in program history, LSU will be making its 19th consecutive bowl appearance — a streak that has witnessed two national championships and stands as the fourth-longest active span in college football.
This is UCF's third straight appearance in a bowl game, second straight in a New Year's Six bowl and 10th overall.
In addition to chasing another perfect championship season, the Knights have the opportunity to extend the nation's longest win streak to 26 games. Their American Athletic Conference Championship victory over Memphis ensured that their spectacular run earned a spot in the NCAA record book among the longest win streaks ever recorded.
But for the Knights, it's still all about going 1-0.
"Our mantra, our motto, has been 1-0. Whether that be today's press conference, whether that be practice, whether it be weights, whatever. We want to win everything we do." — Wyatt Miller, senior offensive lineman
"We don't look at streaks much. Our mantra, our motto, has been 1-0. Whether that be today's press conference, whether that be practice, whether it be weights, whatever. We want to win everything we do," senior offensive lineman Wyatt Miller says. "When you do the little things right, when you do your job, everything else takes care of itself. It is the little things that build into big things."
Their mantra is so ingrained in the program's culture that the players have found it overflowing into their lives away from football.
"Sometimes I go home, I talk to my mom, and I say something like, 'Let's go 1-0.' She's like, 'What are you talking about?' " running back Greg McCrae says. " 'I'm sorry. Coach Heup, he's got me saying this to everybody.' "
UCF head coach Josh Heupel said stopping LSU's run game will be critical in the matchup, and he has stressed to his team the importance of kicking it into gear from the first whistle.
"Having a fast start, that's going to be a real key factor for us, and continue to have our foot on the gas. Never give up until the end of the fourth quarter," junior linebacker Nate Evans says.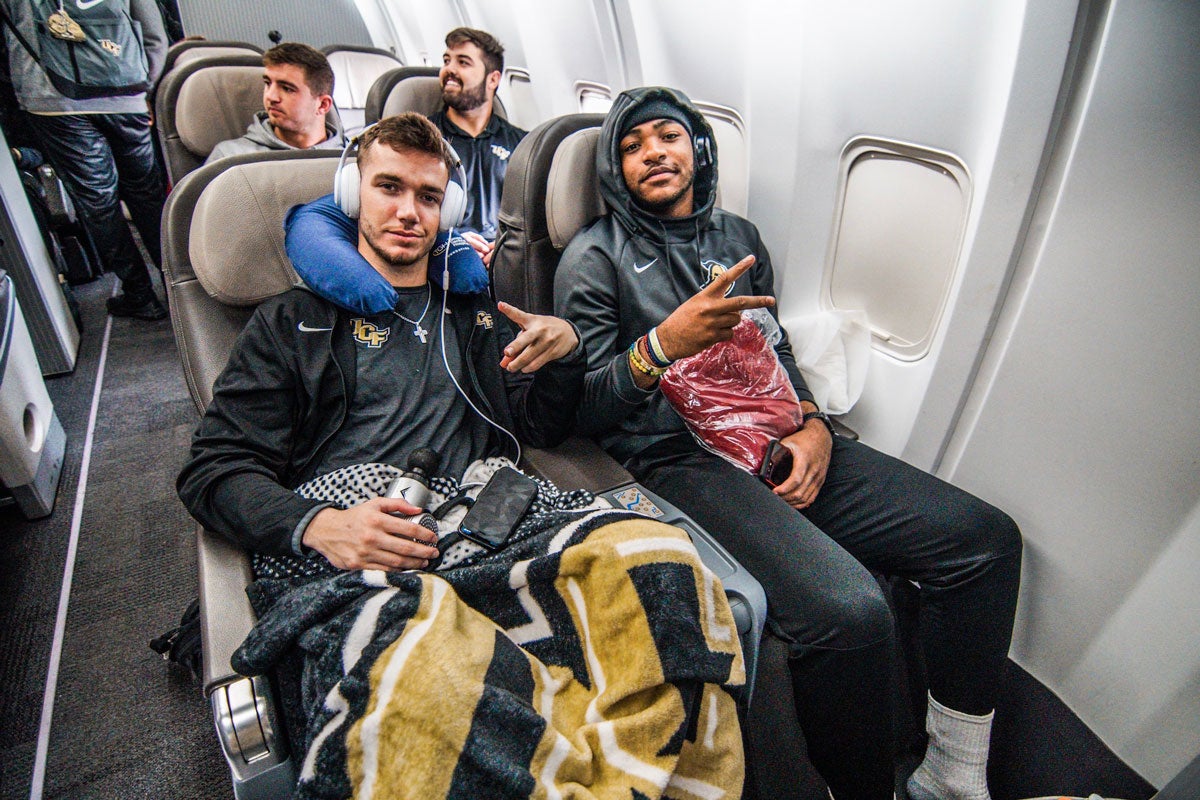 Milton Leads from the Sideline
There was no way quarterback McKenzie Milton was missing this bowl game.
Following his season-ending injury on Nov. 23, Milton traveled with the team to Arizona and hasn't missed a beat as a leader. Heupel says Milton has been involved in practices and engaged in the meeting room with Darriel Mack Jr. and the other quarterbacks as they form the game plan for the bowl.
"He's a big part of who and what we are as a program. Him being able to be out here and share in this experience is important because he's a big part of our success this season," Heupel says.
His teammates echo the same sentiments.
"We don't need any extra motivational factors, but McKenzie is a leader on this team, and we're not the same team when he's not on that sideline," Miller says. "McKenzie is one of those guys that, when he speaks, people listen. We're going to be behind him in whatever he says."
And according to Heupel, that voice will be back on the playing field in uniform in the future. During the coach's press conference Dec. 30, he said there was no doubt in his mind that Milton would play at a high level once again.
"He's got a bunch of hurdles to still clear to get back on the football field, but everything that has unfolded has pretty much been best case scenario," Heupel says. "He is well on his way back to rehabbing and getting better and be in the position to eventually get back on the football field."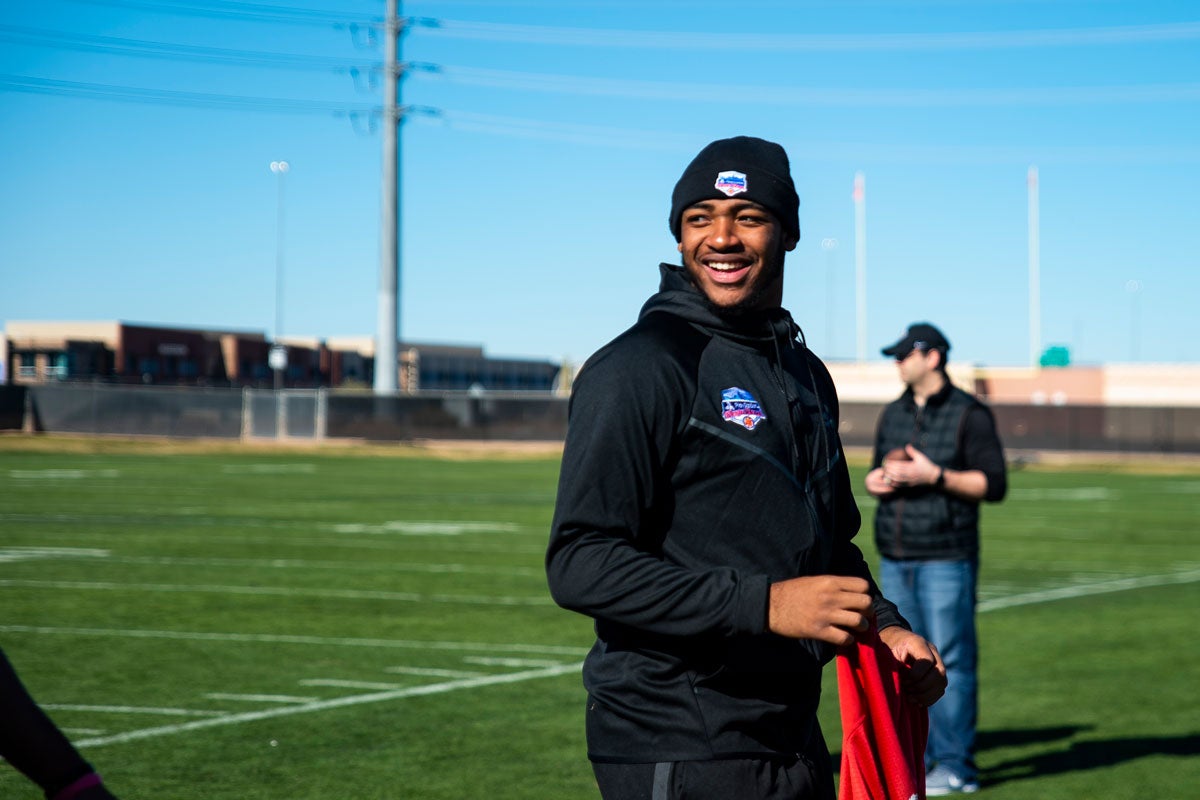 After stepping up to lead the UCF to victory against rival USF and breaking out with six touchdowns against Memphis in The American title game, Mack is ready to once again take hold of the Knights' offensive attack in the biggest game of his young career.
Heupel says the coaching staff has great confidence in putting the ball in his hands and allowing him to make plays in both the pass and run game.
Michael Colubiale, who is the only Knight that was on the squad for the 2014 Fiesta Bowl, says he respects how much work Mack has put into preparing for the Jan. 1 showdown and knows the Knights will be completely behind their quarterback.
"He knows that we have his back and he has our back." — Michael Colubiale, senior tight end
"He's just handled himself so maturely and his leadership skills have definitely grown a lot. It is nice to see a lot of the team rally around him, and he knows that we have his back and he has our back," Colubiale says.
Which, when it comes right down to it, has been the secret of the Knights' success over the last two years.
"The love, the brotherhood that existed inside of our locker room — it's a huge key to our success," Heupel says. "They love being around each other. They love playing together and playing for one another."