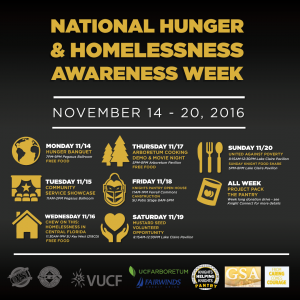 UCF faculty, staff and students are invited to participate in National Hunger and Homelessness Awareness Week, Nov. 14 – 21, 2016.
Volunteer UCF, Graduate Student Association, Knights Helping Knights Pantry, and various campus partners collaborated to host events to raise awareness of hunger and homelessness on our campus and in our community.
Events include interactive educational events, a week-long donation drive, resources to assist those in need encourage people to get involved to help overcome these social issues, and impactful service projects focused on hunger and homelessness issues. events will feature engaging activities, powerful speakers, community resources and giveaways.
The Greek Leadership class will be collecting canned foods and toiletries to stock Knights Helping Knights Pantry. "Cram the Van" will take place on Wednesday, November 16 from 10:30 a.m. to 1:30 p.m. on Memory Mall and then 1:30 – 4 p.m. outside of Office of Fraternity and Sorority Life on Greek Street. The concept is a goal they hope to reach by filling a van with canned goods and toiletries in one day.
The events are worth up to 1000 LINK Loot points and qualify as LEAD Impact events. For more information on our events as some require an RSVP, visit: https://scs.sdes.ucf.edu/ or the UCF Cares Facebook page at: https://www.facebook.com/UCFCares/