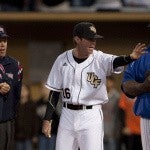 The funnel effect is beginning for the field of 64. Now, just like the latter stages of February and early March in basketball, college baseball fans are going to hear the phrase "on the bubble" a lot in the coming weeks. So now is a good time to take a look at the teams that are sitting square on the bubble for pulling an at-large bid to the Big Dance (if they don't win their conference tournament, of course).
Ten teams that need to win and win now:
Central Florida
RPI: 28
Record: 29-19, 7-11 Conference USA
Pluses: First and foremost, those two wins over Florida were huge. Additional W's vs. Stetson, Alabama, Rice (two) and East Carolina are rocket-launchers, too. The RPI is pretty solid and it likely won't plummet out of consideration. This is an up-and-coming program.
Minuses: The biggest eyesore — and the main reason the Knights are on this list — is that losing mark in conference play that has the Knights in second-to-last place. If they trip further down, grab the golf clubs. The early nonconference slate came against a lot of snowbirds, building mostly easy W's.
What they must do: Use the last two weekends to get above .500 in C-USA play. Go ahead and beat Stetson again on May 17, just in case. Like most teams here, the Knights can't go belly-up in the conference tournament.
For the full story, visit NCAA tournament bubble watch by Eric Sorenson. Originally Published: May 12, 2011.
Source: Special to ESPN.com