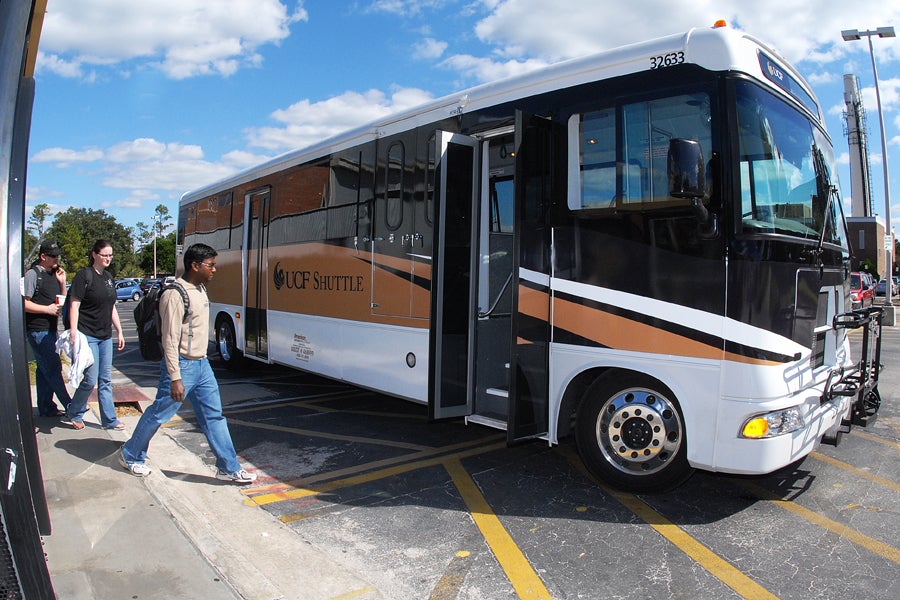 About 10,000 students who ride the UCF shuttles daily no longer have to guess when a shuttle will arrive at their front door.
UCF Parking and Transportation Services has launched a new mobile website that features a GPS service for each of the shuttle routes, making the service more convenient for students. Shuttle riders now can track the location of the buses and estimate the time of arrival at a particular stop.
Data are updated every 10 seconds. The site includes several helpful features, including the ability to save favorite stops and help and feedback pages.
"GPS service enhances our commitment to better serve our students while promoting sustainability efforts, safety and technology" said Andy Rampersad, assistant director of operations for Parking and Transportation Services.
Last year, more than 2 million students used the 11 off-campus shuttle routes that offer complimentary transportation to and from the campus and 17 student apartment complexes. The shuttles also provide students with transportation to and from the Rosen College of Hospitality Management and Lake Nona.