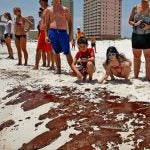 Radiation similar to that used to treat cancer may someday help clean up environmental disasters such as the oil spill and detect explosive powder hidden underneath clothing.
The novel radiation mechanism developed by University of Central Florida physicist Richard Klemm and a team of scientists in Japan also could help doctors more directly target cancer and many other diseases, reducing the impact of treatments on healthy parts of the body.
The mechanism operates in the Terahertz gap – the range between microwave and infrared frequencies. Until now, scientists have not been able to tap into these frequencies with much success.
"It's a small range, but these frequencies are the important ones absorbed by biochemical molecules," Klemm said.
Instead of simply using radiation to kill tumors, this technique may offer a more direct way track down what's ailing a patient. "Our mechanism could be used to detect the amino acids in DNA, which may be linked to specific diseases. That means it's a good diagnostic tool."
Medicine is just the beginning. The mechanism could be used to track miniscule traces of explosives hidden under clothing, a tool national security experts may find useful in preventing terrorist attacks. The technique also could be used to trace and potentially destroy specific chemicals that damage the environment and our bodies.
Results from the study have been published in Physical Review Letters, one of the most prestigious and highly ranked physics journals.
"These applications are still years away, but this is significant progress and we're very excited," said Klemm, a pioneer in the field of layered superconductivity.
The co-authors of the study (Manabu Tsujimoto, Kazuhiro Yamaki, Kota Deguchi, Takashi Yamamoto, Takanari Kashiwagi, Hidetoshi Minami, Masashi Tachiki and Kazuo Kadowaki) are based at the University of Tsukuba. The city is home to more than 60 research institutes known for making breakthroughs in nanotechnology and physics.
Klemm, who grew up in Eugene, Ore., has taught at UCF since 2008. He has worked with two Nobel Prize winners and scientists in Russia, Germany, Canada, China and Japan. He has earned degrees from Stanford and Harvard universities.
UCF Stands For Opportunity –The University of Central Florida is a metropolitan research university that ranks as the 3rd largest in the nation with more than 53,500 students. UCF's first classes were offered in 1968. The university offers impressive academic and research environments that power the region's economic development. UCF's culture of opportunity is driven by our diversity, Orlando environment, history of entrepreneurship and our youth, relevance and energy. For more information visit http://news.ucf.edu