NASA has selected research from a University of Central Florida planetary scientist to fly on upcoming zero-gravity flights as part of the space agency's Flight Opportunities funding program.
The research project is led by Adrienne Dove, an assistant professor in UCF's Department of Physics, and explores regolith behavior at zero and low gravity.
Regolith is loose, unconsolidated dirt and rocks and can be found on the surface of the moon, asteroids or other objects in space.
NASA announced the funding selections this month, and Dove will receive $440,000 for the 18-month project.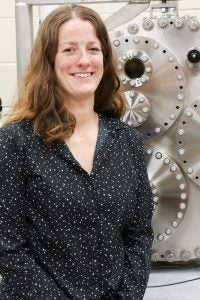 "This project is focused on understanding how tools, probes and other interactions with regolith are similar and different at various gravity levels," Dove says. "We hope this will help us improve designs for operating on the lunar surface and at least better understand how objects and the surface will behave."
The flights are planned in November 2021, and the experiment will run on four flights during the flight week.
The funding will also allow for a teacher-in-residence summer experience for some local kindergarten through 12th grade teachers who will develop curriculum for their classes.
Dove's research is one of 31 space technologies NASA selected for Flight Opportunities funding, which supports tests aboard parabolic aircraft, high-altitude balloons and suborbital rocket-powered systems.
This is the third time Dove has received Flight Opportunities funding as a project principal investigator. She has had research fly on trips with Blue Origin, Virgin Galactic and SpaceX and has an upcoming flight scheduled with Masten Space Systems. Dove's new funding will be for trips with weightless flight company ZERO-G's G-Force One plane.
In addition to UCF, universities selected to receive the NASA Flight Opportunities funding were Massachusetts Institute of Technology, Purdue University, Stanford University, Arizona State University, University of California-Davis, University of Florida, University of Louisville, West Virginia University, Montana State University, University of California-Berkeley, Carthage College, Florida Institute of Technology and the New Jersey Institute of Technology .
The technologies that were selected address NASA's priorities of lunar exploration and the use of commercial suborbital and low-Earth orbit platforms for research, according to a NASA press release.
"By supporting suborbital flight testing, our Flight Opportunities program aims to help ensure that these innovations are well-positioned to address challenges and enable NASA to achieve its lunar ambitions, while also contributing to a growing and vibrant commercial space industry," says Jim Reuter, associate administrator of NASA's Space Technology Mission Directorate, or STMD, in the release. The Flight Opportunities program is part of STMD.
For the experiment, Dove will test how tools and probes interact with different regolith conditions and at different gravity levels, such as Martian, lunar, asteroid and zero gravity. The flights will be parabolic, meaning a plane goes up and then down at a rate that achieves a brief period of reduced gravity. And by changing the shape of the plane's arc, the flights allow for the testing at different gravity levels, Dove says.
"We've flown the basic hardware a number of times, so this flight will give us a chance to test instruments that might be used on future lunar exploration missions," she says. "We're obviously focusing on lunar applications this time around because of the increased interest in lunar activities and in creative ways to test how things will behave on the lunar surface."
Dove received her doctorate in astrophysical and planetary science from the University of Colorado at Boulder and her bachelor of science in physics from the University of Missouri. She joined UCF's Department of Physics, part of UCF's College of Sciences, in 2012.