Manette Monroe was a beloved UCF College of Medicine teacher and mentor, who used her passion for horsemanship to help combat-injured veterans regain their mental and physical health. Future medical students will be able to follow in her footsteps, thanks to a scholarship announced today in the late doctor's honor.
Monroe's husband, Mike Gaither, donated an endowment to create the Dr. Manette Monroe Endowed M.D. Scholarship in memory of his wife, who died in 2022 after a courageous battle against Parkinson's Disease. His gift is part of UCF's annual Day of Giving on April 13, where donors can give to a wide variety of funds that support students, faculty research, community needs and much more.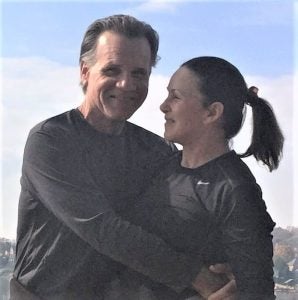 "I believe the most important job on the face of the earth is to heal," Gaither says. "And the second most important job in the world is the people who teach and train that doctor. During her life, Manette taught junior high kids, community college students, medical students, veterans. Teaching was her calling. Manette was a truly remarkable and gifted person and she cared tremendously about her students."
Monroe's grandfather put her on a horse when she only 2. She rode professionally and after a career in teaching, she gave horseback riding lessons to put herself through medical school when she was in her forties. She was a pathologist by training and did her residency and fellowships at the University of Florida. She was a founding faculty member at UCF's medical school, where she also served as assistant dean for students.
She gained national attention for her efforts to use and research equestrian therapy to treat combat veterans with conditions including post-traumatic stress disorder, lost limbs and traumatic brain injury. Thanks to her advocacy, Osceola County Commissioners approved construction of a $1.6 million therapeutic riding center at Chisholm Park, about 15 minutes from Medical City — making UCF the only medical school in the nation to provide on-site equestrian therapy.
She partnered with the McCormick Research Institute, Heavenly Hooves and SADLES of Umatilla to run Horses and Heroes, an equestrian therapy center. Veterans and their families talked often about how working with horses helped them address hypervigilance, anxiety, isolation and fear and Monroe's research provided evidence of their improved mental and physical health.
Kelly Smith is one of those veterans. A Navy corpsman for 16 years, she did tours in Afghanistan and Iraq. A 2007 IED explosion shattered her left arm and after about 100 surgeries, doctors amputated the limb. She was angry and having trouble coping with life away from the military — until she met Manette Monroe and her horses.
"I was very skeptical at first," she says of the horse therapy. "I had pretty much made up my mind before I came here that this was not going to work for me. But you will be amazed at what it can do for you, whether you like horses or not. It's a connection that you will never ever forget. This is safe. It reminds you how to be a person again."
To give to the Manette Monroe Endowed M.D. Scholarship for UCF Day of Giving 2023, visit dayofgiving.ucf.edu/vip and type "Manette" into the search bar. Scroll down and select the fund titled Dr. Manette Monroe Endowed M.D. Scholarship.
A poster showing Monroe, Kelly and one of the therapy horses hung in the Monroe-Gaither home. After his wife's death, Gaither donated it to the horse barn Monroe helped build at the riding center.
Monroe spoke often about why horses were such good counselors. Their unconditional love provides support. And because they are flight animals, horses become skittish around sudden movements or noises. Wave your arms, raise your voice, become too tense or animated and horses flee or back off. Because the animals mirror the feelings around them, they teach veterans how to manage their emotions and energy, to slow down, be intentional and understand how their actions and attitudes are impacting others. Those lessons also helped UCF's doctors-in-training. Monroe's Medicine and Horsemanship elective taught medical students how to better use nonverbal communication to care for their patients. The equine therapy program also served as a site for student research and Monroe was an honored advisor in the medical school's Focused Inquiry and Research Experience module.
"This will be a very special scholarship, honoring a very special founding faculty member," says Deborah German, vice president for Health Affairs and founding dean of UCF's medical school. "The College of Medicine is grateful for all of Monroe's contributions and now for this scholarship in her name."
Charles "Chip" Roberts, assistant vice president for Advancement at the College of Medicine, says he never saw Monroe without a smile on her face.
"Behind that smile was a quiet intensity to use every tool available to her to help people grow and learn," he says. "She had a gift to make learning a rewarding and deeply meaningful experience. I am honored to have worked with her and to work with Mike to extend, in perpetuity, her values and ideals to our students through this scholarship."
To give to the Manette Monroe Endowed M.D. Scholarship for UCF Day of Giving 2023, visit dayofgiving.ucf.edu/vip and type "Manette" into the search bar. Scroll down and select the fund titled Dr. Manette Monroe Endowed M.D. Scholarship.