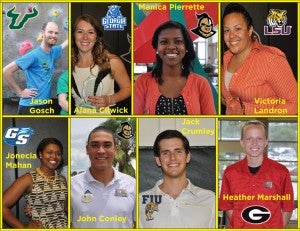 The Recreation and Wellness Center is proud to announce eight of its graduating seniors have accepted graduate assistant positions at various universities including at UCF and across the Southeast Region of the United States. Over the past two years, 17 RWC student staff seniors have now accepted graduate assistantships across the country in the past two years.
Graduate assistants play a vital role in helping recreation facilities to reach annual goals. GA's gain experience in operating recreation programs while having a chance to earn their master degrees. Institutions waive their tuition in exchange for their work.
The seniors and their new universities include: Alana Cilwick, Fitness (Georgia State University), John Conley, Intramural Sports (UCF), Jack Crumley, Fitness (Florida International University), Jason Gosch, Outdoor Adventure (University of South Florida), Victoria Landron, Intramural Sports (Louisiana State University), Jonecia Mahan, Member Services (Georgia Southern University), Heather Marshall, Intramural Sports (University of Georgia) and Manica Pierrette, Facilities (UCF).
The 2013 crop of graduate assistants are all recognized and honored on the RWC Wall of Fame including: Pierrette─2013 Employee of the Year; Cilwick─2013 Wellness Champion Award Winner; Landron─2013 Team Champion Award Winner; Mahan─2012 Facilities Employee of the Year and 2011 Team Champion Award Winner; and Crumley─2011 Program Employee of the Year. Marshall and Gosch were honored by their peers as Employees of the Month in 2012.
The recognition goes beyond the walls of the RWC, Conley, for example, is a 2011 All-American Basketball Official. Marshall says the officiating program is just one reason for her success at UCF, "My four years as an official and three years as an intramural sports supervisor here at UCF has taught me about leadership, management and professionalism. I can't imagine entering another career after I finish my masters at Georgia in 2015."
RWC is funded by the Student Government Association. Its continuing mission is to enrich campus life through efficient services, comprehensive programs and high-quality facilities programs that foster healthy lifestyles.
The RWC is a department in the Division of Student Development and Enrollment Services.