A handful of Knights will travel to Tokyo for the 2020 Summer Olympics (July 21 – August 8) and Paralympics (August 24 – September 5). UCF has a storied history of Olympians through the years, and this year will be no exception. Several alumni look to achieve their moment of glory on the podium while another will maintain the integrity of the sports as an official.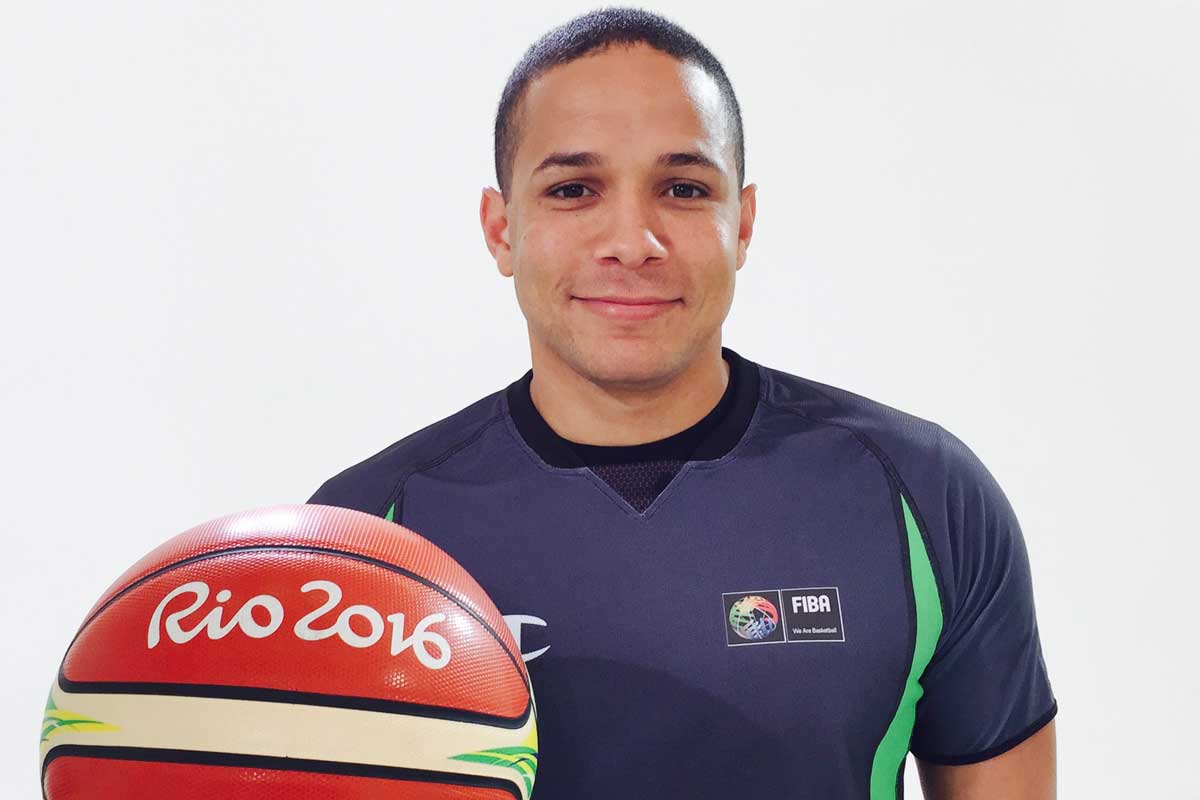 Steve Anderson '05 '07MA
Referee, men's basketball
After attending the 2016 Rio Olympics as the only U.S. referee for the men's basketball competition, Anderson returns to the Summer Olympics in Tokyo. His career as an official has taken him around the world through his work with FIBA, the NBA and NCAA college basketball.
Anderson is one of the most successful graduates of the Recreation and Wellness Center's intramural officiating program and the UCF Basketball Officiating class, which is celebrating its 25th year. After earning his bachelor's degree in sports and fitness in 2005, Anderson accepted a graduate assistant position at UCF's recreation department, allowing him to earn his master's degree in educational leadership. In addition to his continued work as an official, he also served as a mentor to younger referees within the program.
Anderson officiated the bronze medal match between Australia and Spain in 2016, which he considers to be one of the highlights of his career.
"I had the game-deciding call with seven seconds left that put Spain on the [free throw] line down one," he says. "Everyone that I talked to was like, 'That's a good call. You needed to make that call.' And you'll never forget that because those are the plays that you want to have. … Those are the plays that make or break your career."
Men's basketball will tip off July 24 and conclude Aug. 6.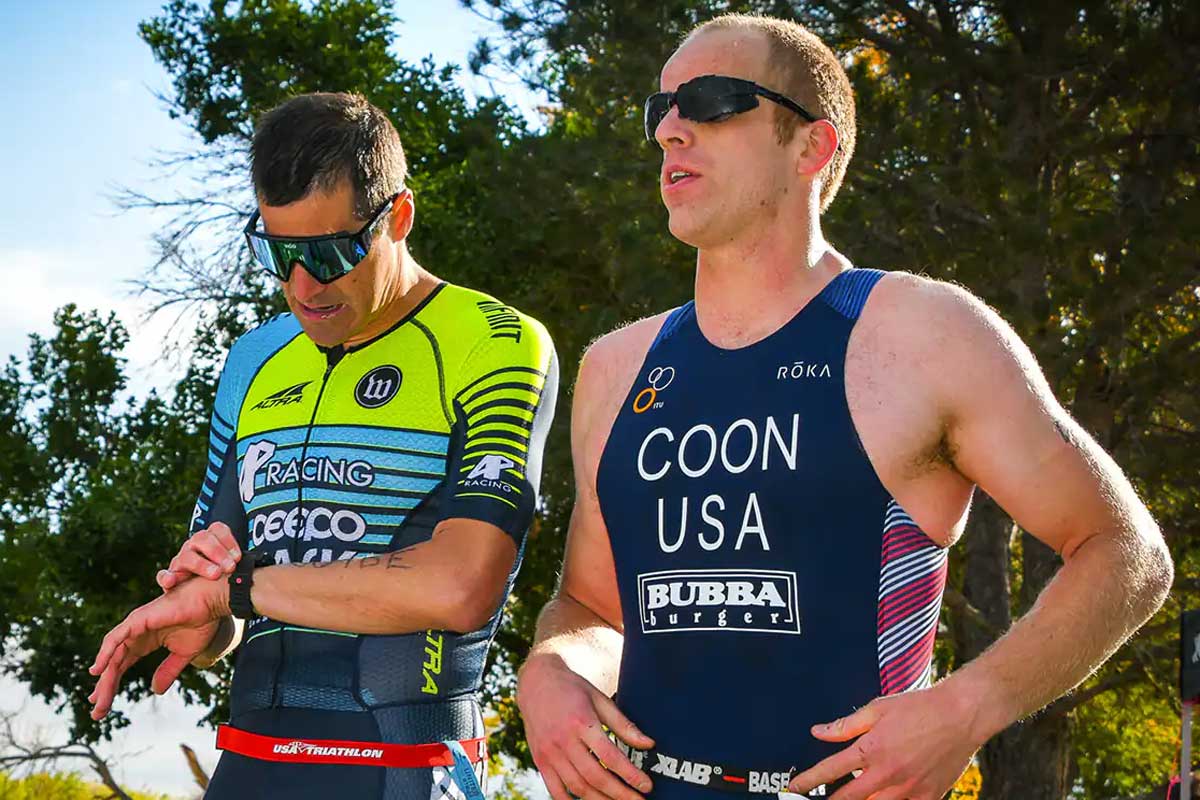 Kyle Coon '13
Team USA, Paratriathlon
Coon will appear in his first Paralympics as part of the 17-member Paratriathlon team that will try and match or exceed Team USA's four medals in 2016 when the event debuted at the summer games.
Coon was profiled in Pegasus magazine in the Summer 2019 issue. At 10 months old, Coon was diagnosed with bilateral sporadic retinoblastoma, the most common form of eye cancer for children. By the time he turned 7, both of his eyes had been surgically removed.
Shortly after the procedure, his father introduced him to Erik Weihenmayer, a blind extreme athlete. It was the first time Coon met an adult who was blind, providing him an idea of the possibilities that lay ahead. Weihenmayer encouraged Coon to envision life without limits and suggested he try rock climbing.
Coon did that and more — from downhill skiing to hiking the Ancascocha Trail to Machu Picchu to summiting Mt. Kilimanjaro. After graduating from UCF with a degree in communications, Coon became an endurance athlete, competing in numerous marathons and triathlons.
He is a two-time World Triathlon Para Series medalist and became a resident at the Olympic Training Center in Colorado Springs, Colorado, in January 2019 in pursuit of his goal of qualifying for Tokyo.
Coon competes alongside his guide, Andy Potts, a 2004 U.S. Olympian, 2007 Pan American Games gold medalist and decorated IRONMAN.
The paratriathlon competition in Tokyo consists of a 750-meter swim, 20-kilometer bike and 5-kilometer run. Competition takes place Aug. 28–29.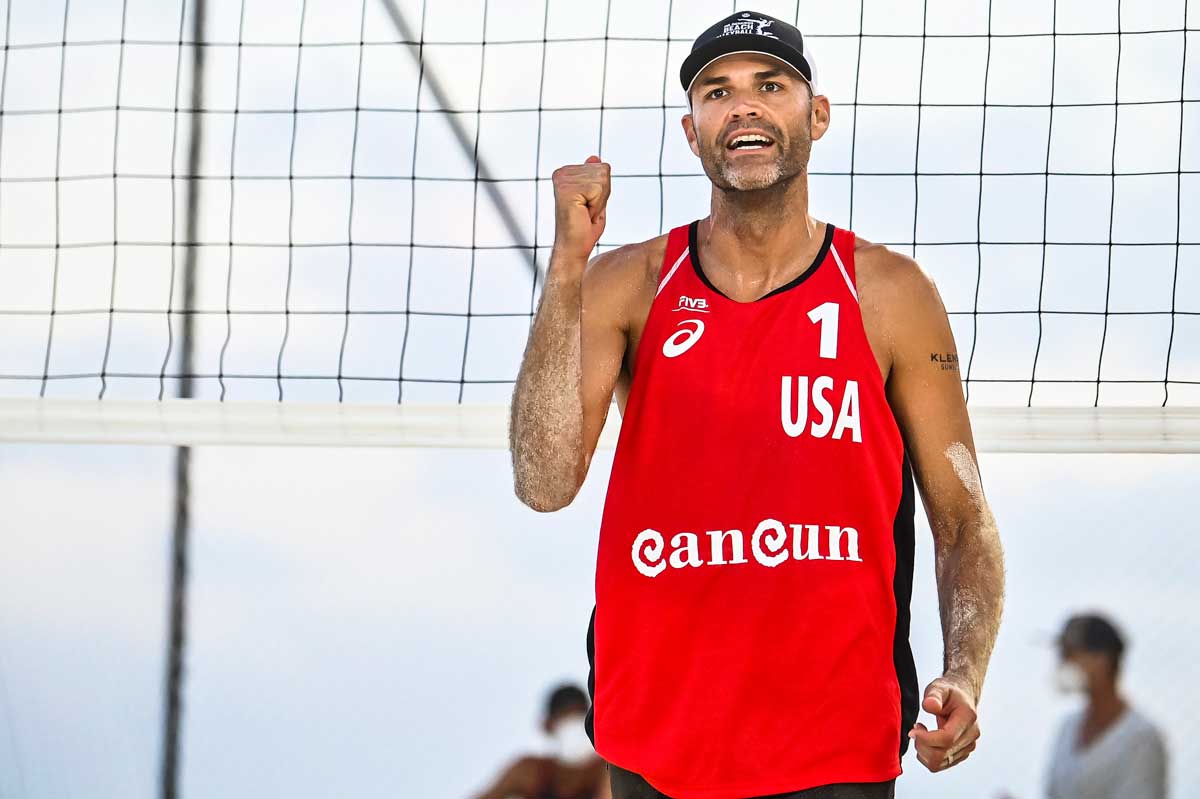 Phil Dalhausser '02
Team USA, beach volleyball
A veteran Olympian, Dalhausser will make his fourth appearance at the Olympics at the age of 41 and is on the hunt for a second medal.
In his first appearance in 2008 in Beijing, he not only won gold but was also named Most Outstanding Player for beach competition.
"It feels like it was yesterday. It's crazy to me that it was 13 years ago," he says. "What keeps me motivated is both myself and my partner are 41 and we're competing against guys in their mid-20s and early 30s. I want to prove that age is really only a number and you can still be a pretty good athlete later into your years."
Dalhausser earned his business degree from UCF and his fondness for beach volleyball grew during his college days when he played club indoor volleyball and found ways to get extra practice on sand.
In addition to his many career highlights, he is a Michelle Akers Award winner (2009), which is UCF Alumni's highest honor given to graduates who have brought international, positive attention to UCF through their accomplishments.
Competition for beach volleyball will start July 24, one day after the opening ceremony, and conclude Aug. 7, one day before the closing ceremony.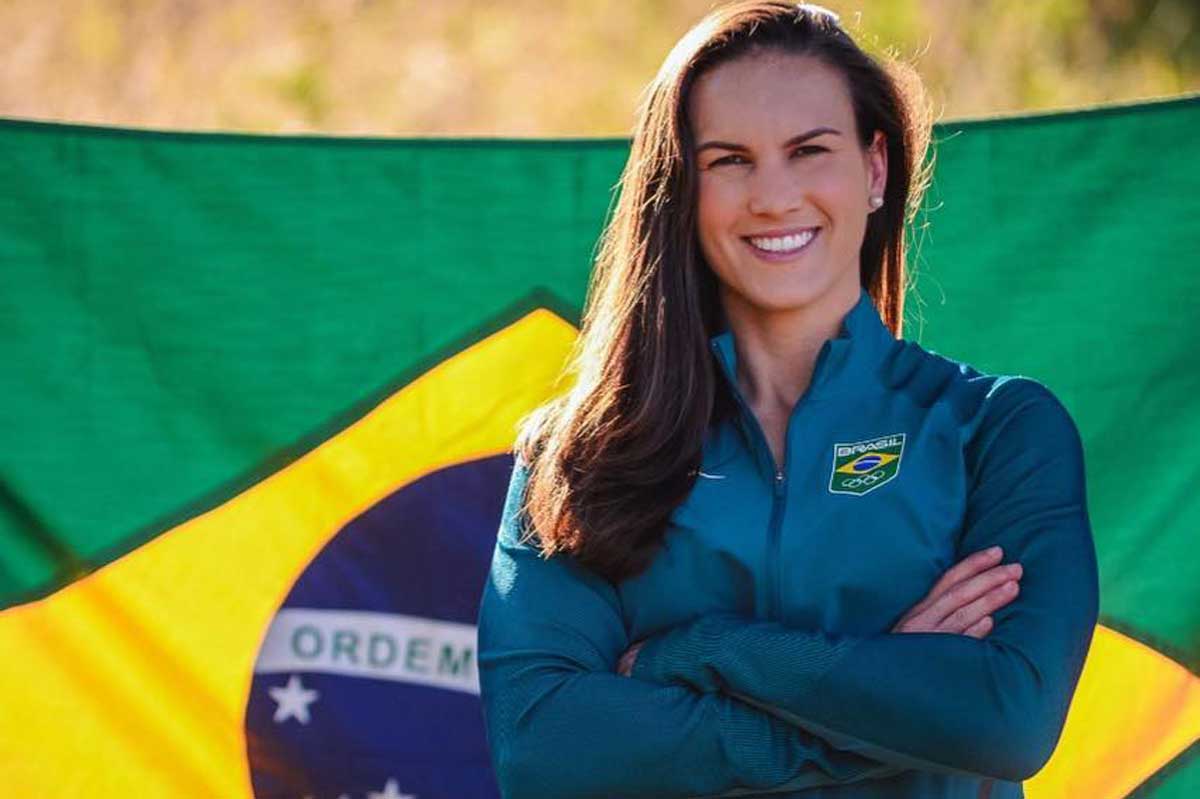 Aline Reis '11
Team Brazil, women's soccer
Reis, who competed at the 2016 Rio Olympics, graduated in 2011 as one of UCF's most decorated student-athletes and was inducted into the UCF Athletics Hall of Fame in April 2019. She earned her degree in interdisciplinary studies with cum laude honors.
A native of Campinas, Brazil, Reis was recognized as an All-American goalkeeper both on the field and in the classroom during her career at UCF from 2007 to 2011. She also led UCF to the NCAA Tournament in four consecutive seasons, which included the program's first trip to the Elite Eight in more than two decades in 2011.
Following graduation, Reis served as a volunteer goalkeeper coach for UCLA's women's soccer team before she decided to chase her dream of earning a spot on Brazil's women's national team ahead of the 2016 Summer Olympics in Rio de Janeiro. Reis was named to one of the two goalkeeper spots for the Olympic roster and had her shining moment on Aug. 9, 2016, when she received a starting nod against South Africa and recorded a shutout for her team. She later was one of four Knights to compete at the 2019 FIFA Women's World Cup.
The Brazilians are one of the few national teams never to have missed a Olympic women's soccer tournament. Women's soccer begins July 21 ahead of the opening ceremony and concludes Aug. 6.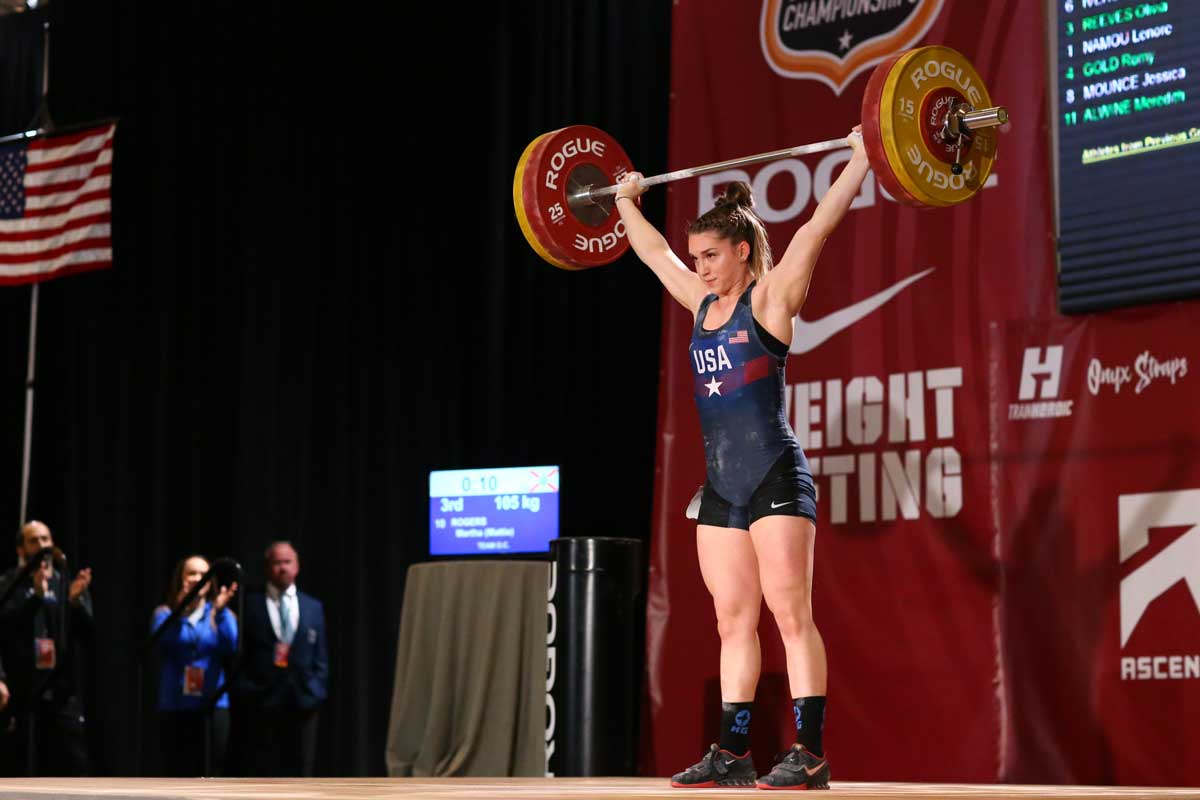 Mattie Rogers '20
Team USA, weightlifting
Rogers, an Apopka native who graduated with her degree in sports and exercise science with summa cum laude honors, has been training for the Olympics ever since she was in grade school. She spent a large part of her childhood competing as a gymnast, but when she grew taller, instead of giving up on her dream, she found another route to get there.
Her father, who died from cancer when she was 5, left a letter for her to read on her 18th birthday, in which he wrote: "I'll see you at the Olympics."
Rogers attended the 2016 Rio Olympics as an alternate, and she says that experience fueled her drive to ensure she wouldn't miss out on competing at this year's games.
"I was so upset sitting in the stands watching what could have been," she says. "At the time I didn't realize that was going to be helpful, but it's what helped get me through the tougher parts of this [training and qualifying period] because I did not want to be in that position ever again. I knew I needed to continue to work hard and push so I made sure that didn't happen."
She has pushed through some immense challenges since then. She fractured her spine and herniated a disc during competition in May 2019. Because she was still in a qualification period, she was back competing two months later. She moved up three weight classes to secure a spot on the team, and consumes about 4,000 calories a day to maintain her competition weight.
When the pandemic delayed the Olympics for a year and quarantine closed training facilities, she had to modify her garage — which was slanted — by cutting her living room carpet and layering it in the garage to account for the slope.
"I think I've overcome a lot, and I'm really proud of learning and growing more as a human than as an athlete because I think had I not done that, I wouldn't be the athlete that I am right now," she says.
Rogers' weight class (women's 87 kg) competes Aug. 2.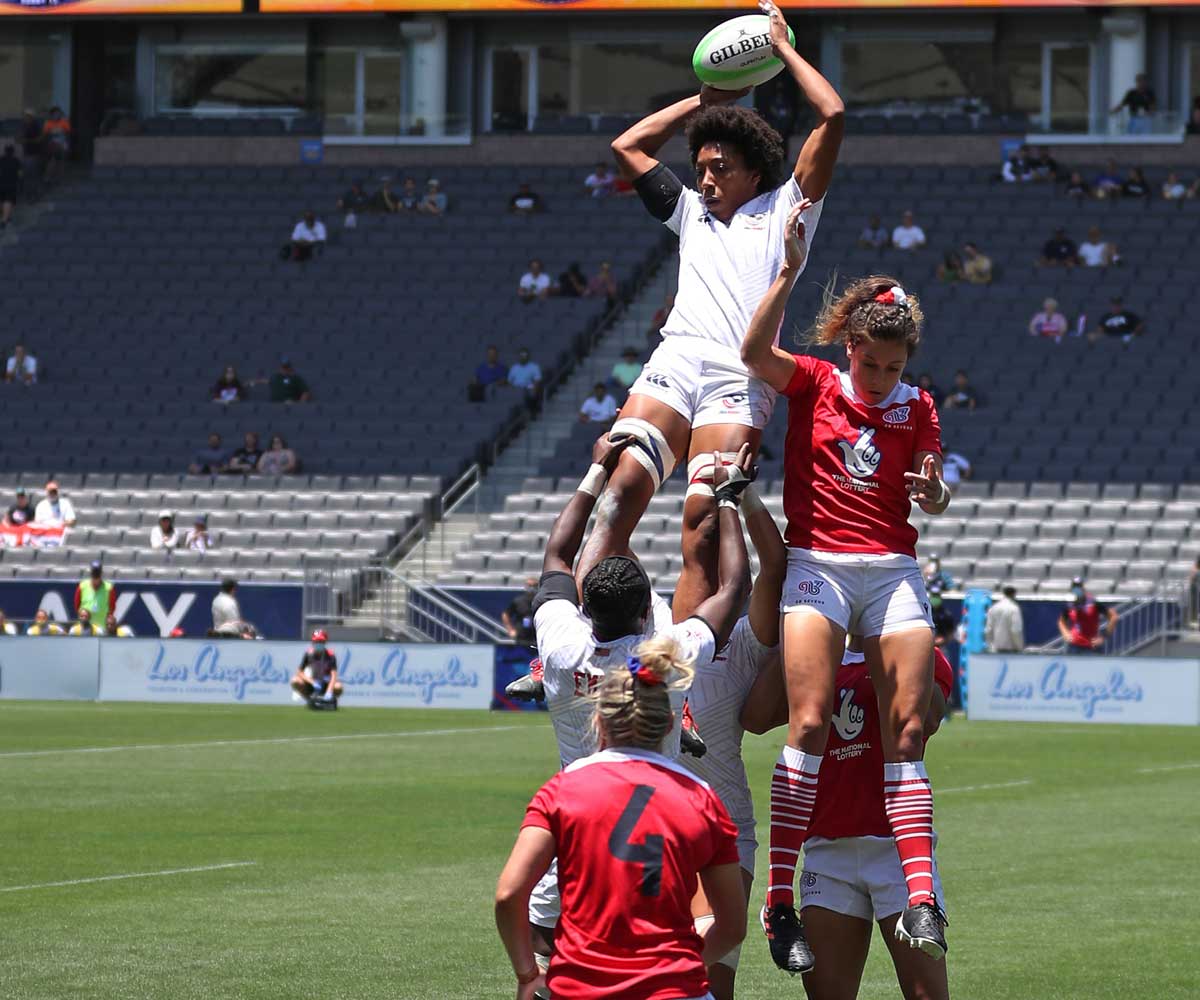 Kristen Thomas '16
Team USA, rugby sevens
Thomas never played rugby until she arrived at UCF as a theater studies major in 2011. The Philadelphia native signed up for the Recreation and Wellness Center's club team during her first week of school — a decision that put her on the path to joining the USA national team just two years later.
"UCF was pretty instrumental in developing me as a player," she says. "Our coach, Raoul Besse, really harped on our skills. The physicality of the game I think I get a lot from him because you need to be physical in a contact sport. He was the first one to nominate me for the under-20 national team and if he hadn't done that, I don't know if I would be where I am today."
When she was called up to the national team in January 2015, she had to move to California and finish the last year of her degree online. She knew it would be a challenge to be a professional athlete while carrying a full course load, but she was committed to pursuing both dreams.
She says she is grateful to the national team for allowing her to juggle both responsibilities, especially when she had to miss a week of practice once a month to return to UCF to complete academic requirements related to her scholarship.
"My first goal was to get a college degree because I want to be able to take all of the opportunities that are afforded to me, and I got a scholarship to attend UCF so I wanted to finish what I started," she says. "My entire life, I've always placed as much emphasis on schooling as I did sports. I would not have joined the national team if I couldn't figure out a way to also finish school."
Although she has been a fan of the Olympics her entire life, the former high school track athlete says she was very realistic about her odds of actually competing in them one day — that was until she started playing rugby.
An injury forced her to sit out of the 2016 Summer Games, which marked rugby sevens' debut at the Olympics — the first time in 92 years that a form of rugby was contested at the Olympic Games. Now, she will not only have a chance to compete in Tokyo, but serve as a leader as the team's co-captain in their quest for their first Olympic medal.
"This is really a dream come true," she says. "I'm really excited, especially after missing out on the last one. It was a little bit tough to get yourself to dream again after you have it snatched away so quickly, but I think I've overcome that and at this point I'm excited to be given the opportunity. I think the team has been vibing really well together. I think with the combination of our culture and the things we've been working at on the field, we have a really good shot at getting gold.
Most of all, she wants the team to represent the beauty of America's melting-pot culture.
"I think it's important to show the world the makeup of the country," she says. "On our team, we are diverse in a variety of ways and we're just so open-minded and loving and caring. I just think if we can go out there and be the way that we are, it shows the world and the U.S. that, hey, you can embrace these differences and it can make you better for it. I think you find that commonality when you actually learn about each other. I think that's a big statement we can make as a team."
Women's rugby sevens competition will be held July 29­–31.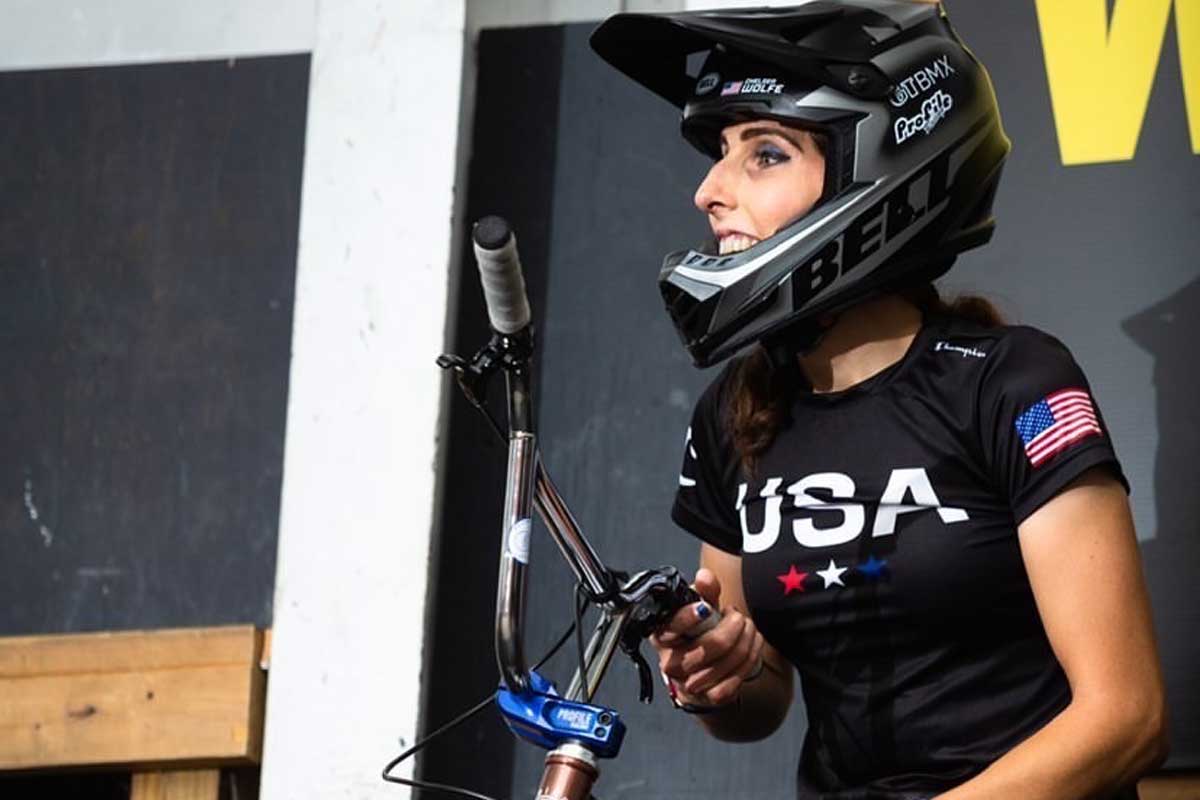 Chelsea Wolfe '16
Team USA, BMX freestyle (alternate)
BMX is making its debut at the Tokyo Olympics, and Wolfe, who graduated with a degree in political science, will be on hand as an alternate for the U.S. women's squad. If one of the two qualifying riders (Hannah Roberts and Perris Benegas) drops out, she will be the first openly transgender member of Team USA.
Wolfe placed fifth in the BMX Freestyle Park finals at the UCI Urban World Championships in Montpellier, France, in June, which placed her third overall in the U.S. Team rankings and secured her spot as an alternate on the team.
According to her Team USA Cycling biography, Wolfe began BMX racing at 6 years old.
She got her start in freestyle competitions in 2014 in the Florida BMX park series and spent the next several years competing at the state level.
In 2016, she had just begun to travel nationally for BMX freestyle and the announcement came that the sport would be included in the 2020 Olympic Games. She began work to start competing internationally and ranked fifth in the world after her rookie UCI World Cup season.
In 2019 she finished third place at both the 2019 U.S. National and Pan-American Championships.
BMX competition will be held July 29–30.