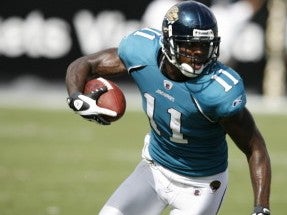 Former UCF standout wide receiver Mike Sims-Walker's NFL career looked bright after being selected in the third round of the 2007 NFL Draft by the Jacksonville Jaguars. After being a two-time All-Conference USA selection and setting a UCF school record with 90 receptions as a senior, Sims-Walker looked to bring his physical play to the NFL.
Unfortunately, Sims-Walker's first two seasons in the NFL were plagued with injuries. He missed all of the 2007 season after re-aggravating a knee injury he suffered in college. He played well in nine games in the 2008 season and finished with 16 receptions for 217 yards. His season was highlighted by a six catch, 107 yard game against the Pittsburgh Steelers. The game was cut short though due to an ankle injury. The injury caused him to miss the next four games, and other injuries limited his play the rest of the season.
As Sims-Walker approached the 2009 season he sought to avoid the injuries that had hampered him in his first two seasons. He dedicated himself to working in the weight room and playing with a clear mind.
"I tried to make no more excuses for what happened in the past with injuries," Sims-Walker said. "I wanted to not to have another year full of excuses for why I was not making the plays or being the player I knew I was."
During the 2009 offseason Jacksonville got rid of three of its leading receivers from the previous season, and selected three more receivers in the draft. The team brought in polished veteran receiver Torry Holt to work with the young receiving core. Sims-Walker was given the opportunity to learn from the savvy veteran Holt.
"I have learned a lot [from Torry Holt]," he said. "Number one is learning how to be a professional. You are your own business so you need to take care of yourself first before anything else."
Sims-Walker had a breakout 2009 season as he led the Jaguars in receptions and receiving yards. He started 14 of the 15 games he played in and finished with 63 receptions for 869 yards and seven touchdowns.
His performance garnered national recognition, as he is a finalist for the Vizio Top Value Performer. The award is given annually to the breakout NFL player who has played beyond expectations relative to their contract. Past winners include Sims-Walker's teammate David Garrard (2007) and Matt Cassel (2008).
"I am honored," Sims-Walker said of his nomination. "It has been a long road. To be in the names of Ray Rice, Vincent Jackson, and Steve Smith. I'm happy to be in that circle of guys. I know those guys are great players. Thank you to all of the fans who nominated me and voted."
At UCF, Sims-Walker was a two-time All-Conference USA selection. He ranks third in school history in career receiving yards with 2,561 and fourth in receptions with 184. Sims-Walker also accounted for 17 touchdowns.
Sims-Walker credits UCF for preparing him for the NFL.
"We worked very hard," he said of UCF. "All the work we did at UCF makes the work on myself a little easier. They prepared us mentally and physically for the next level."
He still keeps up with the UCF football program and with many of his former coaches and teammates adding that "I still talk to Rocky Ross. I talk to the trainers, coaches, and Coach O'Leary."
Sims-Walker also keeps in contact with many of his former teammates who are currently in the NFL.
"Brandon [Marshall] is my best friend," Sims-Walker said. "I talk to Brandon about every day. I talk to Joe Burnett and Darcy Johnson. We are all good friends. We always keep in contact."
As he prepares for the 2010 season, Sims-Walker looks to improve on his solid 2009 season. Asked of his outlook for the 2010 season he said, "the number one goal is to win the division and the Super Bowl. If we can get that accomplished I think the personal goals will follow."
Source: UCF Athletics, From UCF to the NFL: Catching Up With Mike Sims-Walker, by Christian Edwards