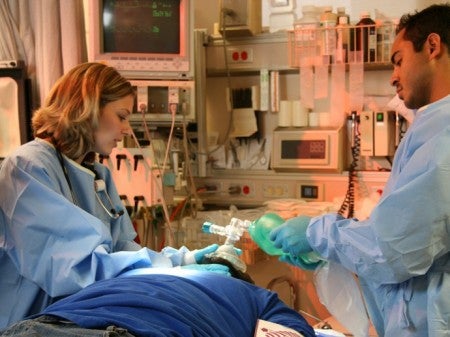 Individuals interested in pursuing either a Doctor of Philosophy in Nursing (PhD), a post-master's Doctor of Nursing Practice (DNP), or the college's new post-baccalaureate Doctor of Nursing Practice (DNP) should attend a doctoral program open house session in December.
Each doctorate degree option will be explained to prospective students in great detail. Nursing faculty and current doctoral students will be on hand to answer individual questions. Current doctoral students will also share what to expect.
Dates, Times, Locations:
Saturday, December 12, 2009
10 a.m. – 12 noon
Health & Public Affairs I, room 126
UCF's main Orlando campus
Thursday, December 17, 2009
6:30 – 8:30 p.m.
Health & Public Affairs I, room 107
UCF's main Orlando campus
Brief Program Overviews:
Doctor of Nursing Philosophy (PhD):
The nursing PhD doctoral program prepares nurse scholars to possess a body of knowledge about theory, processes and methods of inquiry in the discipline of nursing. Candidates can enter the nursing PhD program with a MSN degree in any specialty. More…
Post-Master's Doctor of Nursing Practice (DNP):
The post-master's DNP doctoral program is designed to prepare nurse clinicians and nurse practitioners for leadership roles in specialized areas of advanced nursing practice. This program prepares nurses at the highest level of practice for the current health care environment. Candidates must have a MSN degree with specialization as a nurse practitioner or clinical nurse specialist. More…
Post-Baccalaureate Doctor of Nursing Practice (DNP):
The post-baccalaureate DNP program allows nurses with a bachelor's degree in nursing to enter directly into DNP study, preparing them for advanced practice as adult-gerontology nurse practitioners, family nurse practitioners or adult-gerontology clinical nurse specialists. Students earn a master's degree while completing their DNP degree, allowing them to take required certification exams, become licensed as advanced practice nurses and begin working in the role as they complete their doctorate. The DNP follows a national trend toward clinical doctorates in other fields. More…
* The doctorate degree programs are offered "mixed-mode" or a combination of online and face-to-face instruction. A competitive GRE score is required for each doctoral program option.