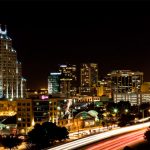 Orlando, Gainesville, Miami and Naples are among the top 75 college destinations in new report rating the best places to attend college released by the American Institute for Economic Research, which is based in Great Barrington, Mass.
The organization's 2010-2011 College Destinations Index ranks cities based on 12 criteria in the categories of academic environment, quality of life and professional opportunity such as earning potential.
Gainesville is fifth and Naples 16th in the small city rankings. Orlando is ranked 18th among the mid-size metros. Miami is ranked 13th among major metro destinations.
The index is based on data from the U.S. Census Bureau, the U.S. Bureau of Labor Statistics and the National Science Foundation.
Source: Orlando Business Journal, Orlando among best for college students