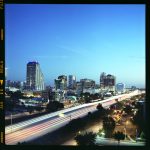 America's 100 largest metropolitan areas wield more economic clout than any other nation in the world, and Orlando ranks as the No. 28 U.S. market.
The gross metropolitan product of the top 100 markets equals $10.56 trillion, according to a study of U.S. Bureau of Economic Analysis data by The Business Journals, the online arm of Orlando Business Journal's parent company, American City Business Journals Inc.
That's roughly twice the economic power of the most powerful foreign country.
The New York City area is the national leader, with GMP of $1.21 trillion. Next are Los Angeles at $731 billion and Chicago at $509 billion.
The metro Orlando area's GMP is $100.71 billion. Other Florida cities and their rankings include Miami, No. 11 with $252.65 billion; Tampa, No. 23 with $111.37 billion; and Jacksonville, No. 47 with $58.3 billion.
The Business Journals analyzed GMP data for 2009, the latest year for which official figures are available.
GMP is a local-level version of gross domestic product. Both measures reflect the total output of goods and services within a given area in a given year.
Twenty-eight U.S. metros have GMP of $100 billion or more, and another 23 are above $50 billion.
A 2010 report from the International Monetary Fund named China as the world's second-biggest financial power, with GDP of $5.9 trillion. The World Bank said in 2009 that Japan was No. 2 worldwide with GDP of $5.1 trillion. The United States reported GDP that surpassed $14 trillion in 2009.
Source: Orlando Business Journal, Orlando No. 28 for economic clout, by G. Scott Thomas, Business First of Buffalo, N.Y. Date: Tuesday, May 3, 2011, 12:59pm EDT – Last Modified: Tuesday, May 3, 2011, 1:55pm EDT