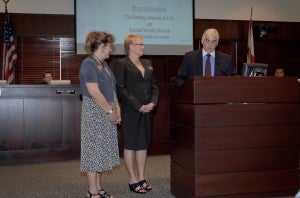 The Osceola County Board of Commissioners recently recognized the Master of Social Work program at UCF's Valencia Osceola campus with a formal proclamation.
During the board's March 19 meeting in Kissimmee, Board Chairman John Quiñones read a proclamation declaring March 2012 as "Social Work Month" in Osceola County to recognize the M.S.W. program's role in meeting the county's "vital need" for social workers.
The proclamation states the primary mission of the program: "to enhance human well-being and help meet the basic needs of all people, especially the most vulnerable in Osceola County." It also refers to the program's "great promise" of graduating its first group of students in 2013.
An M.S.W. prepares social workers for leadership roles and is usually required for supervisory, administrative and staff training positions.
On hand to receive the written proclamation were Sophia Dziegielewski, interim director of the School of Social Work, and Marixa Salgado, an instructor and coordinator of the Osceola County program. Read the proclamation
The School of Social Work established the M.S.W. program at UCF Valencia Osceola in the fall of 2010. It is the first master's degree program offered in Osceola County.