If you ask LeRoy Langston how he describes himself, a "scrapper" might be one of the first words that comes to his mind. When reading for a leadership course earlier this semester, the 64-year-old student recognized the defining quality of a "scrapper" — the determination to push through any and every challenge — as an integral part of the former felon and drug addict's path to graduating from UCF this semester.
"I really want to be an addiction counselor, that's my ambition." — LeRoy Langston, UCF student
"I really want to be an addiction counselor, that's my ambition," says Langston, who has earned a bachelor's in integrative general studies with a focus in social work. "I realize that is going to be another challenge because I can see how some people may not want to bring a 64-year-old intern into their organization. I'm a learner and I'm still learning how to trust and have faith in God in regard to what it looks like down the road, but I know God got me."
Part of that faith and trust comes from Langston's focus on progress over perfection — and knowing that no matter what's ahead, the future is much brighter than what's behind him.
Difficult Beginnings
Growing up in DeLand, Florida, Langston says his mother died before he even really knew what a mother was, leaving his father to care for him and his three siblings. Langston's father held small jobs from time to time, but more often he gambled.
"My dad is my hero. I love him, but he wasn't educated and he had to go through a lot to keep us because in those times it was a different world then," Langston says. "He didn't have much help and he was trying to raise four kids. Uneducated, no skills, he did what he could do. I spent a lot of time in the gambling joint with him to keep up with him and know where he was."
When it came to school, Langston says he did well academically, usually finishing his homework before he went home, and he loved to play sports, especially basketball in high school.
"I always excelled at sports because I didn't have anything else to do and that was a way for me to validate myself," he says. "I always wanted to be the best. None of that was even put on the table, and with my dad being uneducated I had no type of support whatsoever."
But at the time, Langston felt good grades and athletic performances weren't enough to compensate for the poverty he had lived with his whole life. Looking for a way out when he was a teenager, he joined his younger sister's boyfriend in robbing a bar in New Smyrna Beach and they were caught. At 17 years old, Langston was convicted as an adult with a 15-year sentence, before he could even finish the 10th grade.
"At the time it didn't make sense why I was tried as an adult, and now through my classes I've learned about the school-to-prison pipeline so I see how I may have been a part of that," Langston says.
Criminal Past
While in prison, Langston did his best to adapt to his new reality. Whenever there were athletic events, he would compete and win money prizes. Using that, he would use the gambling skills he learned through his father to sustain himself. He also began pursuing his GED, which sparked a new interest.
"I got hooked on reading, novels by Smoke Jensen helped me get through that time," he says. "I was able to escape through those mountain man stories."
"I was the description of an addict. You live to use and use to live, that was what I did." — LeRoy Langston, UCF student
After three years in prison and while on a work assignment outside of the prison, Langston says he was approached by someone who told him he could make good money smuggling and selling marijuana inside. After a few months he got caught and faced his first drug charge, resulting in two years added to his sentence.
"My parole officer said that when looking at my situation that I probably shouldn't have been in prison in the first place and he did what he needed to do to get me out after five years," he says.
By the early 1980s, Langston moved to Orlando and began working in a gambling establishment, and after a few years he began using cocaine. In 1989, Langston was caught selling the drug for the first time, but it wouldn't be his last. During the next 15 years he would continue using and selling, resulting in more than five arrests and congestive heart failure, for which he is receiving disability benefits.
"I was the description of an addict," Langston says. "You live to use and use to live, that was what I did. I sold to keep using. I was so twisted in the head [using and] selling drugs. [During my last arrest] I'm looking at the undercover officer with a mustache falling off and I ignored that he was the police, that's how much that thing got to me."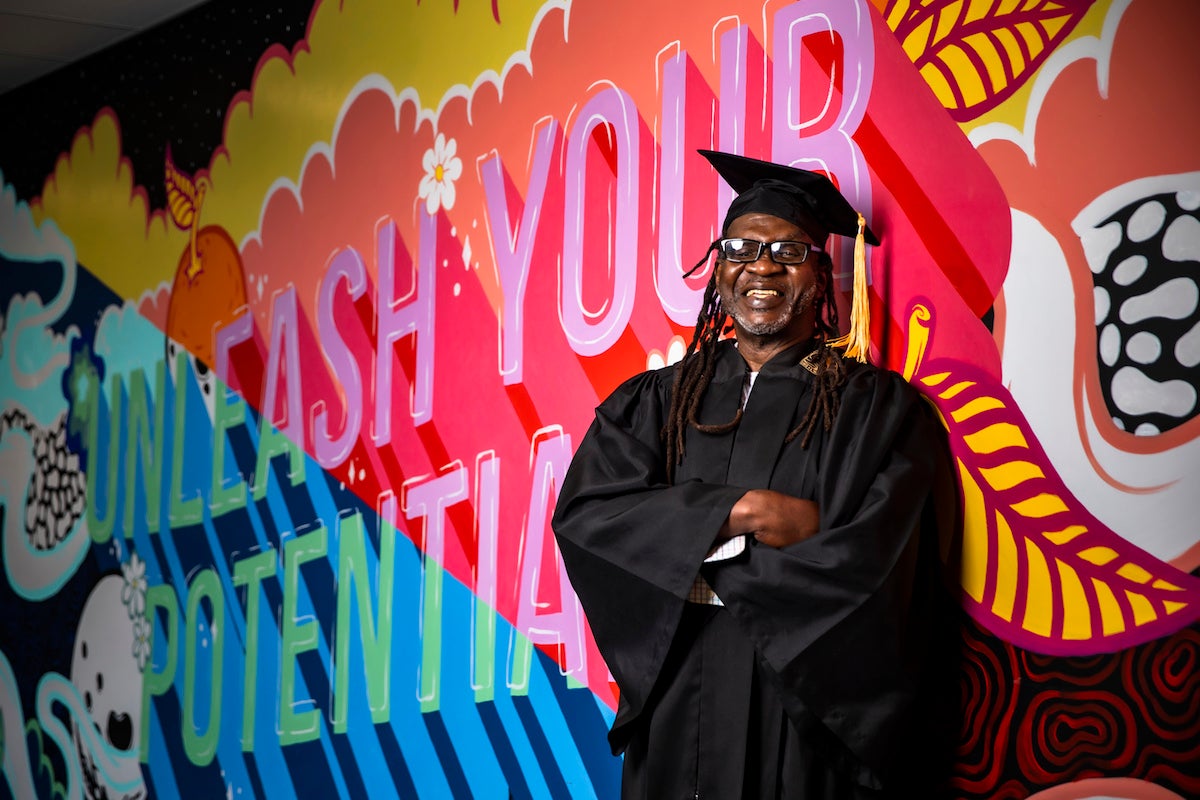 Making a Change
In 2013, Langston knew he needed to make a change after realizing how his lifestyle impacted his eldest son. He went to the Coalition for the Homeless of Central Florida, located in Orlando's downtown Parramore neighborhood. After proving he stayed clean for his first three weeks, he enrolled in a rehabilitation program and eventually became a teaching aid for the GED program offered there. One day a representative from Orange Technical College came in and presented about a Pell Grant program that would pay for college. Langston qualified and even tested into accelerated courses at Valencia College.
"Now that I can think clearly, I can recognize that it wasn't my doing, it was God because there was no way I would have walked away from the situation I was in and do something different," he says. "That first semester they put me in flex classes, which were accelerated classes at the time, but after being out of school for 40 years and coming back my first semester I flunked every one of those classes. They wanted to know what was going on and I explained I had been out of school for 40 years and they allowed me to continue on."
After a second failed semester, Langston lost his Pell Grant eligibility, but he says a school counselor recognized his strengths and potential and found a way for him to continue taking classes. During his second year, Langston began doing better in his courses and continued improving his GPA over the next five years until transferring through the DirectConnect to UCF program in 2018.
Once a Knight, Langston spent two hours commuting by bus to and from the main campus daily to attend class and to use the library computers to complete his coursework. Through his studies he completed volunteer work at an adult daycare facility in Winter Park, which Langston says was an eye-opening experience as to other ways people can receive support through social work. After the UCF Downtown campus opened two years ago, Langston, who lives in Orlando's Parramore neighborhood, had easier access to the resources he needed to complete his courses, especially during the pandemic.
"I'm going to help people regardless — because I can show people kindness and do whatever I can to bring them a little joy — but that's probably why I love social work, for the chance to help others." — LeRoy Langston, UCF student
"For my final assignment, I'm using things I've experienced at the coalition, where I saw the positive impact of their focus on addiction treatment," he says. "Through my community-engagement course I've learned the importance of listening to the community to address their needs. All of these social work classes have given a label to the things I have seen going on throughout my life. I'm going to help people regardless — because I can show people kindness and do whatever I can to bring them a little joy — but that's probably why I love social work, for the chance to help others."
As he prepares for job interviews, Langston is optimistic about his next steps. No matter where he lands he's ready to pass on the life and educational lessons he's learned to other "scrappers."
"Don't give up, keep pushing," he says. "I learned it isn't about perfection, it's about progress. And I found out that progress for an addict is not using [drugs] because life can go one way and then another, but as long as you stay clean — which is not an easy journey — you'll be able to think clearly and take life as it comes."