UCF is one of two American colleges participating in a European scientific exchange designed to bridge the gap between academic research and the development of tomorrow's medical therapies.
The Orbis (Open Research Biopharmaceutical Internships Support) project was created to address the scientific and economic challenges of bringing new drugs to market and was implemented under the European Union's Horizon 2020 Marie Sklodowska-Curie-Research Innovation Staff Exchange. It has participants from Poland, Ukraine, Germany, Finland, Ireland, the Czech Republic, Slovenia and the U.S. and has weathered a pandemic and a war to bring together professional, student and academic researchers for collaboration.
College of Medicine faculty researcher Michal Masternak and researchers from Rutgers University are the two U.S. partners. Masternak has had 13 European researchers working in his lab in the last 18 months.
"If you want to accomplish something in research, you can't do it alone," he says of the program. "You need to work with others."
The European Union began Orbis in 2018 with an investment of $2.2 million Euros. Funding pays for researchers to travel between Europe and the U.S. and their living accommodations. Travel was halted during the pandemic and the war in Ukraine has kept participants from traveling to that country.
But despite the challenges, the partnership has successfully joined hundreds of academic researchers who do much of the basic science in medicine and pharmaceutical researchers at universities and industry focused on using that basic science to create tomorrow's cures.
Because the two groups often work in isolation, they lose opportunities to streamline the research process to create discoveries faster, says Professor Janina Lulek, the program's primary investigator.
"Working together helps us better address the different problems that take place in translational research," she said during a recent meeting at Dr. Masternak's lab at the Burnett Biomedical Sciences building in Lake Nona. "Orbis helps us share each other's expertise."
Participants from across the world will meet in Poland in July to report the results of their collaborations, including joint research projects and grants.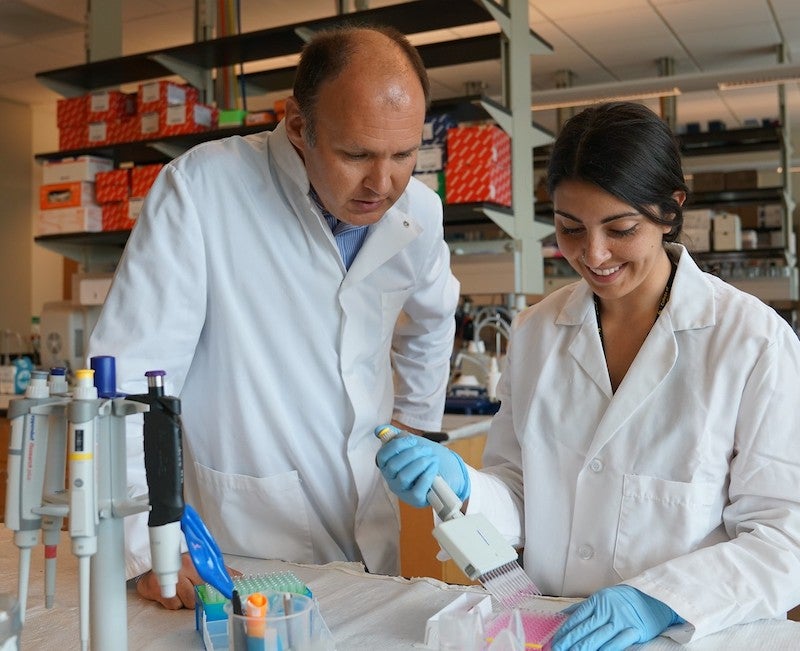 Masternak says the partnership has brought multiple new opportunities. First, academic and industry researchers have shared scientific technology and techniques, innovations and perspectives. When his research team encountered a challenge in a gene targeting analysis, pharmaceutical researchers who had worked in the lab as part of the exchange offered advice based on their own technologies. And because Europe has its own source of grant funding for medical research, the exchange helps UCF scientists find research partners abroad to develop projects with potential new funding opportunities.
"They learn from us and we learn from them," he says.
Katia Sirna is a Ph.D. candidate from the University of Helsinki in Finland, who is spending four months doing research at UCF. She spent time in Masternak's lab working on anti-aging research and participated in a recent NASA visit as part of UCF's clinical research on the medical effects of human space travel. She will also work with College of Medicine researcher Otto Phanstiel, a medicinal chemist working on treatments for a variety of diseases including pancreatic cancer.
She says her research experience at UCF is "amazing."
"I guess you could say I came here because of the American dream," she says. "Research is a big thing in America. And I have learned so much about biochemistry and technology here. The environment at UCF is great. The researchers give you opportunity. They give you the freedom to try new approaches, a new hypothesis. That's the basis of research — that's how you learn and grow."