Jamie Foxx mentored the finalists this week on songs from the cinema. Lynche selected the late Michael Jackson's "Will You Be There" from the movie "Free Willy" and turned in a soulful gospel-inspired rendition. Alas, however, he did not survive the voting process and was eliminated from the show.
"I think that I was consistent every week and always gave my heart when I sang," he said of Tuesday's performance and his time on the show as a whole. "The only thing with giving your heart is it can get broken. But, if it gets received well, it can be something really magical and special and it was that a couple of weeks. I think that the way the wind blows the votes, you just never know. It's really up in the air and you never know."
Lynche played defensive tackle for the Knights from 2001-02. He made an immediate impact as a freshman out of St. Petersburg's Gibbs High School which also served as UCF's practice site for the 2009 St. Petersburg Bowl. Lynche had 24 tackles in 2001, 17 of them solos, with eight tackles for loss and a sack. As a sophomore in 2002, Lynche played in all 12 games and started each of the last three. He had at least one tackle in 11 of those contests and finished the year with 46 tackles in all, including a pair of sacks and six TFLs. He left the team just before the start of the 2003 season, returned to his native St. Petersburg and helped care for his ailing mother, Michele.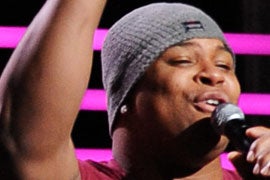 He credited his time playing football at UCF with helping foster the competitive spirit that helped him advance on American Idol.
"It's the way that I mentally prepare," he said today. "It's really my only experience with game planning or making a plan and being goal-oriented. Also, I wanted to have a warrior's mentality while I was in the competition. I took the approach of having a game plan, sticking to that game plan not matter how the wind blows you, and also being able to adapt to change the game plan as the game goes on. That was my approach. It was the approach that I took. It served me well up until this point. Top four is not a bad place to be. I feel good about it."
Along that line, earlier in the call he mentioned that the weight of the show's ramifications on his future playing out before a live audience of 20 million Americans a week didn't really faze him.
"I live for pressure," he said. "I think if you're going to be something great, you have to be able to deal with a pressure situation. On Tuesday night I sang well, performed well and felt good about what I did. It just so happened that it didn't happen for me to be in the top three. But, I'm where I'm supposed to be and God definitely has a plan on my life and on all of our lives. I really feel that I'm where I'm supposed to be, regardless of what that is. I don't feel like I let anyone down. I came out and did what I do. The people just didn't vote that way."
Lynche shared some recollections of his time at UCF as well for the national media outlets on the call.
"My memory of UCF is all of the construction – it always looks different every time you get there," said Lynche, a notion that still holds true today on the burgeoning campus. "My wife and I moved away to college four days after we graduated high school. We moved into Lake Claire Apartments. That's a memory I always feel, how that dorm room looked when I first walked in never having lived on my own. Now here I am and I had nothing to really decorate my room with. I got as many posters from the football office as I could and I wall papered my wall with football posters. That's kind of a memory and a vision that I see when I think of UCF.
"Everybody should go to college. It's the best time to get out and start living on your own and finding out who you are outside of your family in this world. It really matured me in that time from being in high school and focused me more. I was very focused in college. I was never really into partying and I had my wife there. We were really homebodies. It did make me realize how much I missed home and my family. I didn't realize how much I would miss them until I was away."
He had a particularly good reason to miss his family as well. Lynche's mother, Michele, was suffering from cancer, a disease which would claim her life in 2004, and the thought of being away for her was too much for the rising junior to bear.
"My mom had failing health for a long time," Lynche recalled on Thursday. "She was diagnosed with cancer and my heart was really missing home and missing my mom and being with her. My plan at that time was to transfer to the University of South Florida because that was much closer, it was just the next town over, and then my mom ended up passing away. It threw me for a loop for a bit. I lost my way.
"I started working with special ed kids at a middle school. It was the best thing for my heart at the time and was the best work I've ever done in my life. At that same time I bought a guitar again – I hadn't had a guitar in a while because my plan was to play professional football. I bought a guitar again and started writing music. That side of me started growing again. It had been there all along, I just hadn't explored it because I was focused on athletics. When I left UCF it was just a really confusing time in a young guy's life. I was really trying to find my way. I got to spend some great last time with my mom which was super important. We'd sit up late night and watch infomercials. She loved to stay up all night long. That was really a highlight of my life in general at that point. I got to stay at home with her for the last little bit of time that she had left on the Earth."
In the summer of 2002, while Lynche was preparing for what would be his final season at UCF, American Idol had its debut season on FOX with Kelly Clarkson walking away with the top prize, launching what has been a highly successful music career for her. Lynche didn't win it all but he was able to advance as far as he did because the judges used their "save" on Lynche after he was voted off a month ago after performing "Eleanor Rigby" by The Beatles. Not fazed by the pressure of the moment, Lynche reached back and belted out another powerful version of Maxwell's "This Woman's Work" to retain his spot on the show.
"I wasn't terrified," Lynche said recalling that moment live on stage. "I felt like going into the season that I liked that concept of 'sing for your life.' Every week to me was 'sing for your life' because nothing is guaranteed for you on the show. I never wanted to take anything for granted. When I got to that point it was literally 'sing for your life' – the life of your family and your future. Here's your one chance. I thought going in that I could stand tall in that moment. When it got down to Andrew and I, I wanted it to be me in that moment because I didn't want him to have to go through that. He's a buddy of mine and I felt strong enough and prepared enough to take that moment on. It worked out. I wasn't surprised that they saved me. I was just extremely grateful to still be around."
And Lynche's family was indeed a big part of his American Idol storyline. The show's "Hollywood Week" from which the Top 24 finalists are dramatically culled overlapped with the final days of his wife's pregnancy. Lynche kept them as close as he could during the contest and his infant daughter could be heard on occasion in the background of his teleconference on Thursday. The Lynche family was all together on stage at the end of Wednesday night's show as Lynche said his farewells to American Idol.
"It meant a lot because it started out with them," he said. "Hollywood Week was when this whole experience got real. It wasn't about hoping that you do well any more – I HAD to do well. Because of the sacrifices I was making at that time, it was very important for me to do well. To have them there (was great). They would have been there for me if I was working at Home Depot or Domino's Pizza. My wife always supports me no matter what. It's nice that I get to be the family man. I'm not anybody else but that. That's what I am first. It was nice that that was my story and people really saw that. Having my wife there really helped my heart out in a tough moment…
"I don't think you can ever say anything is worth missing the birth of your child and only time will let those wounds heal. I think it's definitely giving my family a good chance in the future and it gives my daughter a better chance that I did it and took that sacrifice. Me personally, of course I didn't want to miss it but it wasn't a choice. It was what I needed to do for the family at this time. I am definitely looking forward to spending more time with them."
Next up for "Big Mike" is a quick trip to New York City and then rehearsals starting on Tuesday back in Hollywood for this summer's American Idol Concert Tour. The show unfortunately is not coming to Orlando but does make a stop on August 4 at the St. Pete Times Forum in Tampa. After that it is time to record an album and finally a chance to get back to Florida.
"I can't wait to get back home and heal a bit and feel the love down there and spread a little love in St. Pete," he said. "I love my town. As soon as my schedule permits I'll be back."