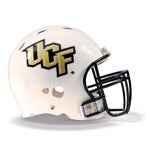 The UCF football team, fresh off of a school-record 11 wins in 2010, including an AutoZone Liberty Bowl victory over Georgia, completed an elite signing class on Friday afternoon with the addition of DaMarcus Smith, a four-star quarterback from Louisville's Seneca High School.
UCF, which finished the 2010 season ranked No. 20 in the final Top 25 coaches' poll, had announced an impressive collection of six mid-year enrollees and 21 National Letter of Intent signees on Wednesday. That initial list was bolstered on Thursday with the addition of Rayshon Williams and Leilon Willingham, both stars at three-time defending Colorado state champion J.K. Mullen High School, who were unable to submit their NLIs on Wednesday due to heavy snowfall in Denver.
UCF head coach George O'Leary was excited Friday to complete a signing class that could end up ranking amongst the top 40 nationally and the best nationally for a school that is not a current or future member of an automatically-qualifying BCS conference.
"With DaMarcus' decision, it is a great addition to a solid recruiting class," O'Leary said. "He has so many great quarterback skills that will make him a very productive player at UCF.
"The key to any recruiting class is, one, identifying your needs, and, two, securing those needs. I think the coaching staff did an outstanding job in both areas. It is an outstanding recruiting class in that addressed our offense, defense and kicking game."
Visit UCF Athletics for a short biography of each new UCF athlete here.