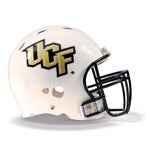 [UCF Today: The St Petersburg Bowl was ranked 25th out of the 34 bowl games. Here's a UCF slice from the FOX Sports story.]
Three Reasons To Watch This Bowl: 1) UCF is good. It might not have been C-USA title good, but it has the league's best defense and a tremendous pass rush. The Knights won five of their last six games. 2) Rutgers always shows up for the bowls even again inferior competition. The Scarlet Knights have won their last three bowl games. 3) Rutgers is second in the nation in tackles for loss. The defense on both sides will be aggressive.
And Why You Should Spend Your Time Roasting Your Chestnuts: Rutgers finished the season 99th in total offense, UCF finished 84th. Neither one lights up the scoreboard except against miserable Ds.
First-Thought Pick That Might Change In The Next Few Days On A Whim: Rutgers 27 … UCF 13
Source: For the full story by Pete Fiutak on FOX Sports visit the Web site.