During the past two decades in his role as associate vice president of Student Health Services at UCF, Michael Deichen has navigated various public health threats, from anthrax to H1N1, SARS, Zika and, unforgettably, COVID-19.
Deichen is uniquely suited to guide UCF through the COVID-19 pandemic because for the past six years, he has served as a board member — including a stint as chair for two years — of the American College Health Association Emerging Public Health Threats and Emergency Response Coalition. The national organization connects 500 colleges and universities across the country and is a valuable resource for emergency-response best practices.
"My experience with the coalition was huge because a lot of the focus prior to COVID-19 was on planning for pandemics and emerging infectious diseases," says Deichen, who earned his medical degree at the University of South Florida and completed his residency in Family Medicine and Public Health at the University of Florida.
Deichen's expertise in emerging public health threats and emergency response helped him immensely during the past year in effectively managing in the COVID-19 crisis. When the pandemic came to the United States in March, ACHA swiftly put together a COVID task force, which Deichen was assigned to.
During this week last year, UCF announced it would transition to remote instruction and life has yet to return to "normal" — although hope is on the horizon as vaccinations begin to roll out more broadly. As we hit the 1-year mark of this historical event, Deichen reflects on life at UCF during the pandemic and what the future holds.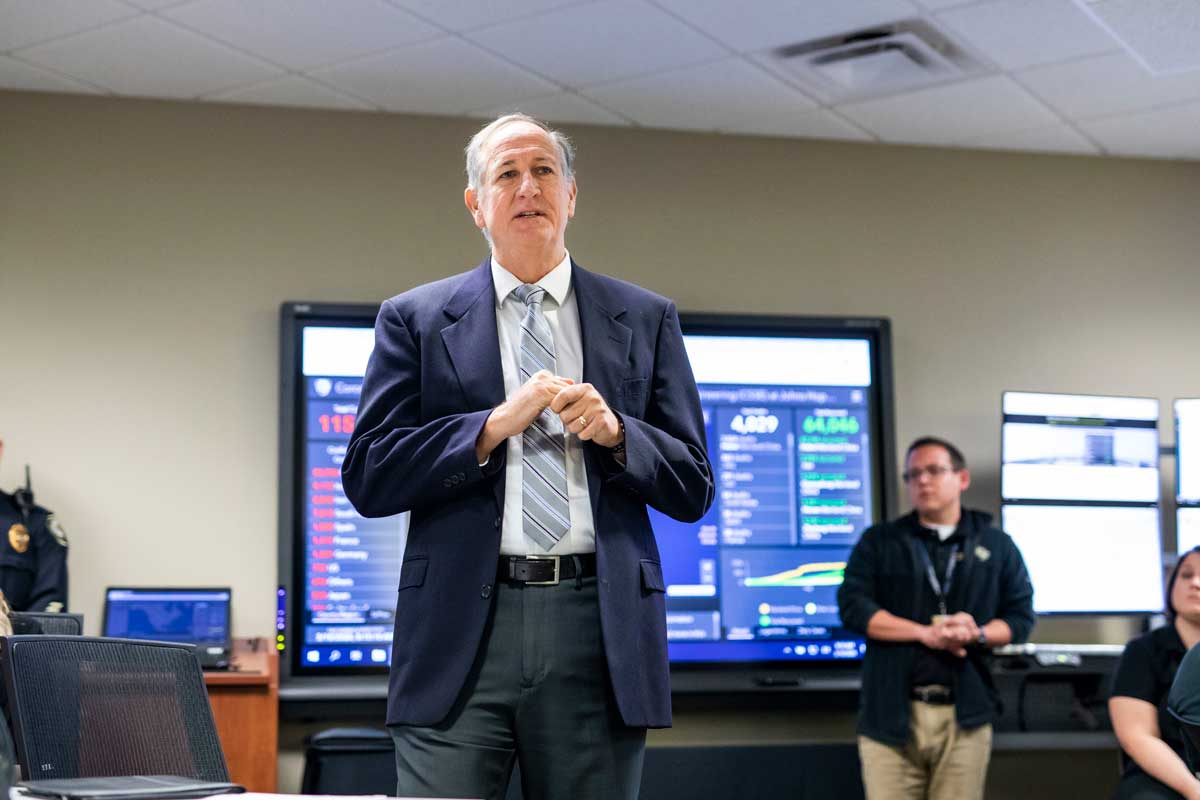 What did your role entail on the American College Health Association's COVID task force?
The task force has various responsibilities, and it has met every two weeks, sometimes more frequently, over the past year. It is basically a work group for all things COVID. When we meet, we share ideas on how to best advise our ACHA members. We wrote three advisory papers that were published nationally for colleges and universities on planning and response to COVID. We also published a weekly COVID update that included information about timely items of note, such as testing and vaccines. The task force hosted a plethora of webinars.
This group has evolved over the last year. When it started, there were just nine of us and now there are probably closer to 18 people from across the country representing a variety of universities.
When you reflect on the last year, what did colleges and universities get right? What could have been improved on? What lessons were learned?
One of the things I think we were really good at was finding a way to rapidly close down and go remote. That was a formidable task. Closures happened briskly and that was very beneficial. The past year has been so dynamic. I think colleges and universities have done a great job of rolling with the changes. Especially because we have never experienced this before. We all got through campus closures, and then we had to navigate the difficultly of reopening. Colleges and universities were very adaptable to the challenges that they faced. I think we also created some great health standards for communities such as promoting facial coverings and physical distancing.
As for what we could have done better, it's hard to be critical because it was such a unique situation. I think one of the biggest challenges within the college world is that students are so social. It's hard to stop that, especially when it's off-campus. That was an issue that we tried our best to control in all sorts of different ways, but socialization is such a drive for young adults. Something that we could have done better was being better prepared with PPE inventory. The lack of PPE inventory early on was a real challenge. I hope that having gone through this that next time we'll have adequate supplies. Early on there were also some poor basic science knowledge. There was this thought that masks benefitted others but not the user. A number of scientific authorities said that, and it proved not to be the case — masks benefit everyone.
Certainly, some of the most important takeaways for the future are the necessity of leadership groups and communicating in an effective and timely manner. From a college health perspective, within the ACHA, we established a leadership group quickly that was able to provide guidance, both written and with presentations. At the university level, there also has to be a core leadership group that represents all the main areas of campus. We have a great COVID leadership team at UCF.
How has UCF compared to other colleges around the country in its response?
I think UCF compares very well. We have excellent layered mitigation efforts that include improved HVAC systems; physical distancing in conference rooms, workspaces and classrooms; routine testing availability on campus with the Garage A drive-thru. We built a very close working relationship with Orange County Public Health, which includes student volunteers assisting their epidemiologists and frequent exchange of information. We employed students as Armor Up Ambassadors to encourage compliance with facial coverings. Our Mobile Strategy and UCF IT teams developed the COVID Self-Checker app from scratch. We established a COVID Line where nurses are available seven days a week, 12 hours a day. They arrange for testing and do contact tracing. Their contact tracing program is very robust, and that's so important because that's where you achieve some level of containment. The COVID Line gets 500 to 1,000 calls a week and actively manage every UCF student, faculty or staff member with positive cases. We established random testing surveillance and are now initiating wastewater surveillance and viral genomic surveillance. Most universities are not that engaged, and I think it's made a big difference here at UCF.
What do you think you will remember most from the last year?
The relationships. It's been amazing how I would call people to get their help and how quickly they were ready to step up to the plate to protect our UCF community. For example, in order to get the vaccine on campus, we had to get a sub-zero freezer that went to -70 degrees Fahrenheit. Dean [Deborah] German pointed us in the right direction on where to find one. Facilities made the installation happen, which was no small feat. We had to have a special electrical circuit set up in our health center. It's a very complex freezer. It took a lot of people working together just for that one project. But they did it with incredible speed and a great attitude. So when you consider all that's been done over the last year, and the level of collaboration, it's just been amazing.
What is the next public health threat we need to be on alert for?
That's a really good question because I did not predict any of the previous major outbreaks, like Zika and SARS. It just seems so random, but I would predict that there will be more. With climate change, we've experienced more mosquitos because of more wet areas. We're due for another mosquito-borne illness like Zika. There are plenty of emerging influenza viruses which could precipitate a pandemic. A lot of people don't realize that at any time there are often more than 10 potential emerging influenza viruses in the world that could cause a pandemic. The WHO and CDC closely monitor these emerging viruses as they are occurring in animals and could become a threat to humans.
Every time society experiences outbreaks, we get better at how we adjust and acclimate. Our response will likely be more rapid next time and hopefully we'll significantly contain it. We'll get better as we go forward.
Will wastewater testing continue?
Wastewater surveillance is a fascinating evolving public health tool. We are now continuously monitoring five of our residence halls for COVID. This testing will serve as a sentinel for the campus. If the rates are low, and then there's a sudden spike in the wastewater COVID measurements, it will give us forewarning of a potential outbreak. Cities around the country are starting to do this. Wastewater can also be tested for other infectious illnesses. In the future, I can foresee a panel of potential infectious agents that are routinely screened for in wastewater; things that would be threatening like meningitis, chicken pox, and so on. I know the university is interested in this area for research. It's a very promising field. As we continue to evolve this surveillance testing at UCF it will help us have the most assurance when we fully reopen.
"It's an eventuality that we will fully reopen. The vaccine is what makes such a huge difference."
The university recently announced a preparation for a full return to face-to-face learning for the fall semester. Why are we ready for that? What do you hope for the fall semester and beyond?
We've gone through various transitions. Our campus was shut down and transitioned to partially reopen. It's an eventuality that we will fully reopen. The vaccine is what makes such a huge difference. It's so highly protective against acquiring COVID or getting seriously ill. We have a lot of confidence that anyone who wants to will be able to be vaccinated in the near future. It's our belief that will happen to such a degree that the pandemic will be suppressed, there will be much fewer cases, so reopening will be appropriate at that stage. We'll still have to do things like wear facial coverings to reduce the potential for transmission and to protect people. We'll still have to have testing. We have to remain vigilant and if we do so, we can most safely phase back to a full return.