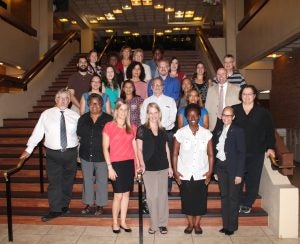 The Registrar's Office applied for and received a Diversity Activity Grant for this academic year from the UCF Office of Diversity and Inclusion. Diversity and inclusion will be the key theme to a Registrar's Office staff training event in January, and the grant will help cover costs related to training supplies and a dynamic speaker.
"Diversity and Inclusion are an important part of the UCF culture, the priorities of SDES, and the priorities of the Registrar's Office," said University Registrar Brian Boyd. "We are very excited to have received this grant that will help us further our professional development."
According to the Office of Diversity and Inclusion, the Diversity Activity Grants "assist organizations and units in sponsoring diversity speakers, programs, and activities in support of the UCF goal 'to become more inclusive and diverse.'"
The Registrar's Office is in the Division of Student Development and Enrollment Services.