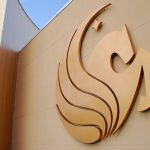 This year's April 1 was no day for fools at UCF; it was a day for cancer survivors, caregivers and other supporters at the American Cancer Society's Relay for Life event held at Memory Mall.
The event, which started at 5 p.m. and finished at 11 a.m. the next morning, raised about $87,000, surpassing the $82,000 goal.
"The committee really did a wonderful job this year," said Jenna Bonazinca, a community representative for the American Cancer Society. "The activities and entertainment throughout the night was just amazing. Every year keeps getting better and better."
In addition to surpassing the fundraising goal, the number of cancer survivors who participated — about 45 — also made the event more special for Bonazinca.
Junior micro and molecular biology major Samantha Tienda was one of those survivors. Tienda, who was the advocacy chair for the event's committee, served as the mission education chair in the two previous events, but there was something special about her participation this year — it was the first time she'd walked as a survivor.
"I've always been at Relay, but normally behind the scenes," Tienda said. "I felt like people on the sideline were cheering me on and it felt really wonderful."
Tienda, who was diagnosed with Acute Lymphoblastic Leukemia at the age of 5 and declared to be in remission at the age of 7, said that aside from the survivor's walk, achieving all her goals as a committee member was one of the highlights of the event for her.
Vice-event chair for the committee Tyler Moose said getting everything set up was a nerve-wrecking process, but a great experience at the same time.
"We started at 9 o'clock in the morning meeting up at Memory Mall just getting our vendors out there and as it comes together piece by piece, it just is a great experience and is very uplifting to see everybody out there supporting such a great cause," said the junior interdisciplinary studies major.
Moose said that the highlight of the night for him was the emotional Luminaria Ceremony.
The ceremony involves lighting candles inside bags filled with sand that bear the name of a person touched by cancer who has been lost to the disease. After the candles were lit, participants walked a lap in silence.
"That's my time as an [executive] member to just take that moment to myself and relax and remember the fight that was fought," said Moose who has lost an uncle to cancer and has a grandfather who survived. "Seeing the fight that the entire family took on when my uncle was affected by cancer, it's something that [my grandfather] knows is a really great cause. He's proud of the fight that we're all putting up."
Bonazinca also said the Luminaria Ceremony was one of her favorite parts of the event, but that the Miss Relay lap was a big hit this year.
The Miss Relay lap, which took place at 1:30 a.m., consists of a number of guys dressed up in women's clothing and walking a lap dressed as women to acknowledge how cancer affects women and their looks.
"When they're going through cancer, their skin changes and things happen to them," Bonazinca said. "This year we had more guys than in several years past participate in it."
The Miss Relay lap was held in conjunction with ACS's "Look Good … Feel Better" program that sends trained professionals to local hospitals to give those who have been affected by cancer style and beauty tips.
"We have licensed cosmetologists come in, and they give a certain amount of makeup to all of the cancer patients, and then they teach them how to apply it," Bonazinca said at this year's kickoff event on Feb. 1. "It's just helpful, and it lifts their spirits, and they get free makeup, so it's a great program that we have."
Moose said one of the more impressive parts of the event was the variety of people it brought out.
"The best part about Relay for Life is that you have every different age group imaginable," Moose said. "It's a rewarding experience just to see the hope."
Source: Central Florida Future, Relay for Life at UCF raises $87K, by Katie Kustura, News Editor. Published: Sunday, April 3, 2011, updated: Sunday, April 3, 2011 17:04