Here's a look back at the year that was 2020 through images that captured us.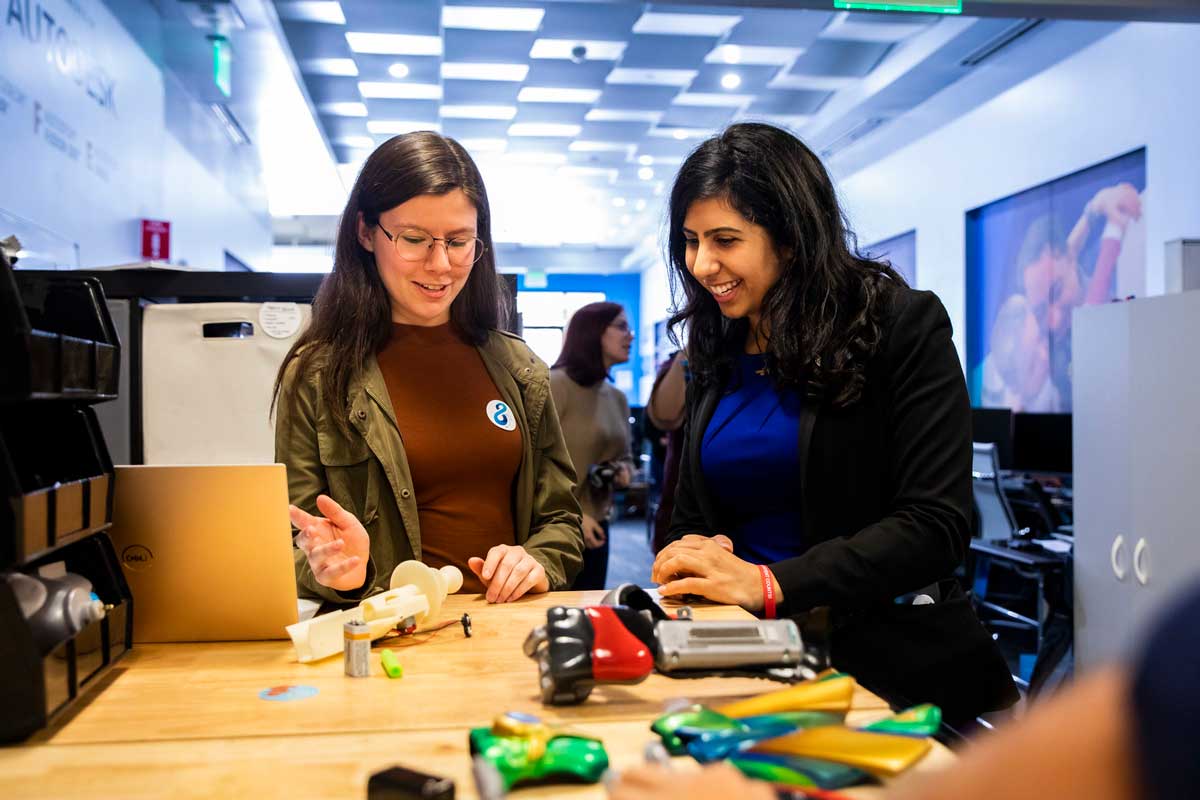 Florida state representative Anna Eskamani '12 '15MNM '15MPA (right) visited the Limbitless Solutions lab on campus. The nonprofit direct-support organization at UCF specializes in creating and donating personalized 3D-printed prosthetic arms for children.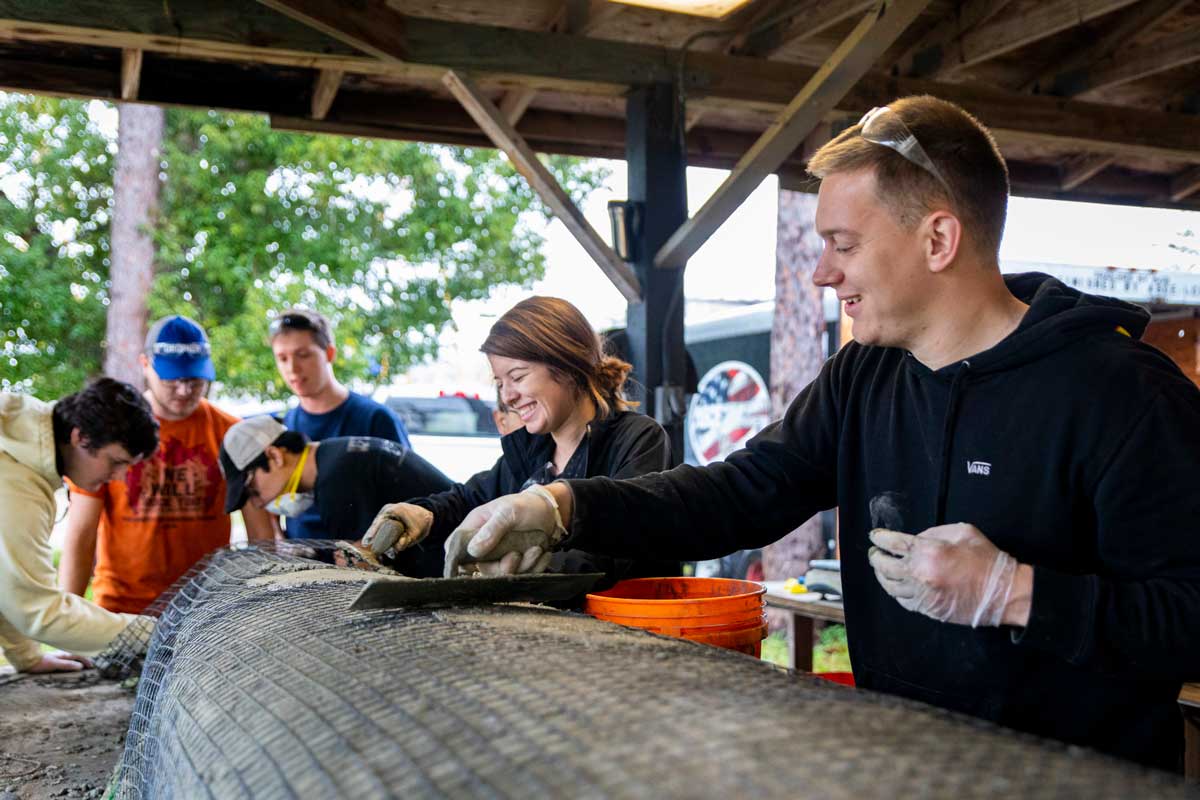 Civil engineering students built a canoe for the annual ASCE Concrete Canoe Competition in February.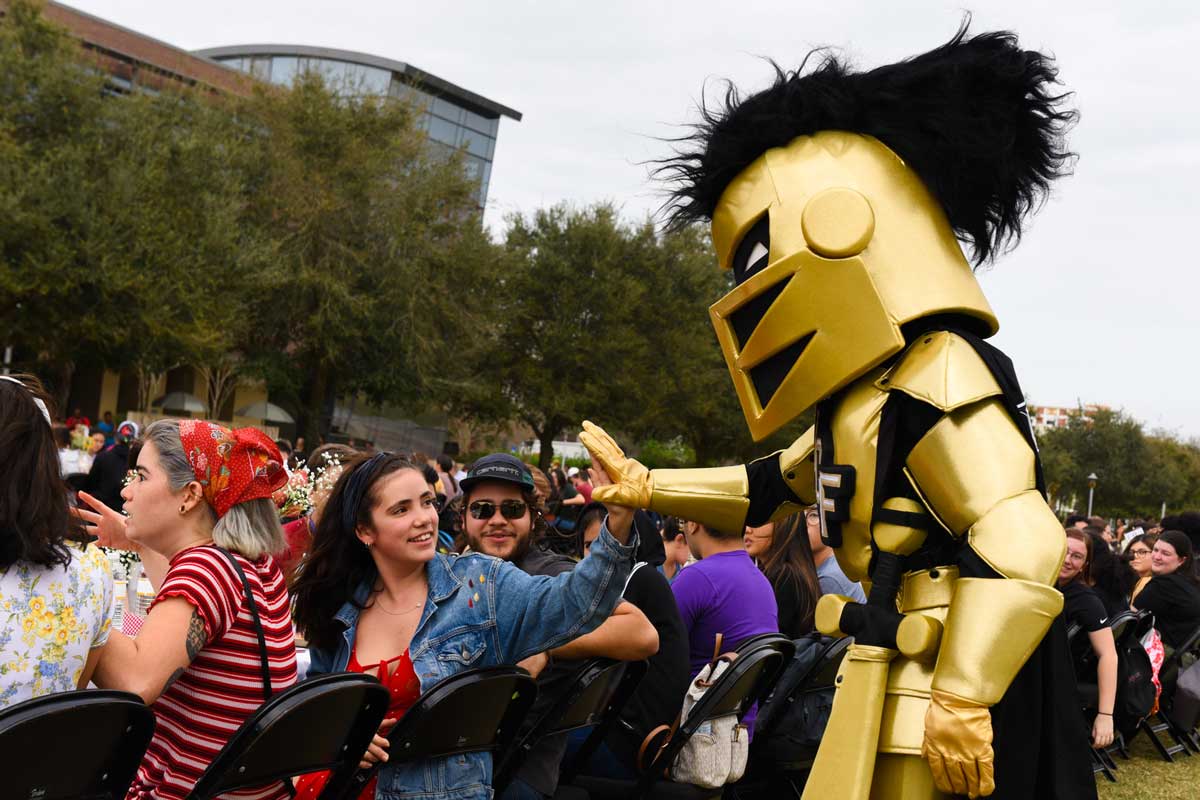 Nearly 500 students enjoyed a free meal together on Memory Mall during simpler times in early February for the fourth Gather Luncheon, an annual event organized by Wellness and Health Promotion Services and dedicated to community building among Knights.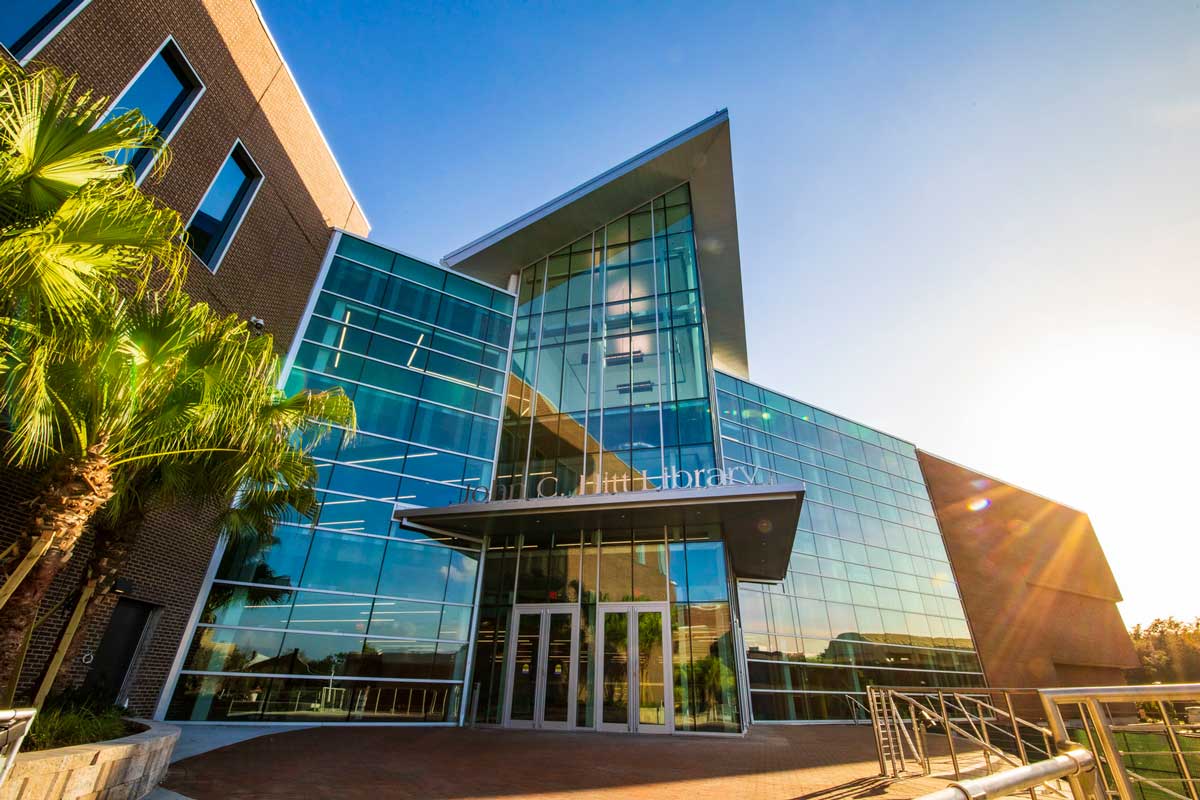 UCF's first building, the John C. Hitt Library, saw the completion of the first phase of its expansion earlier this year.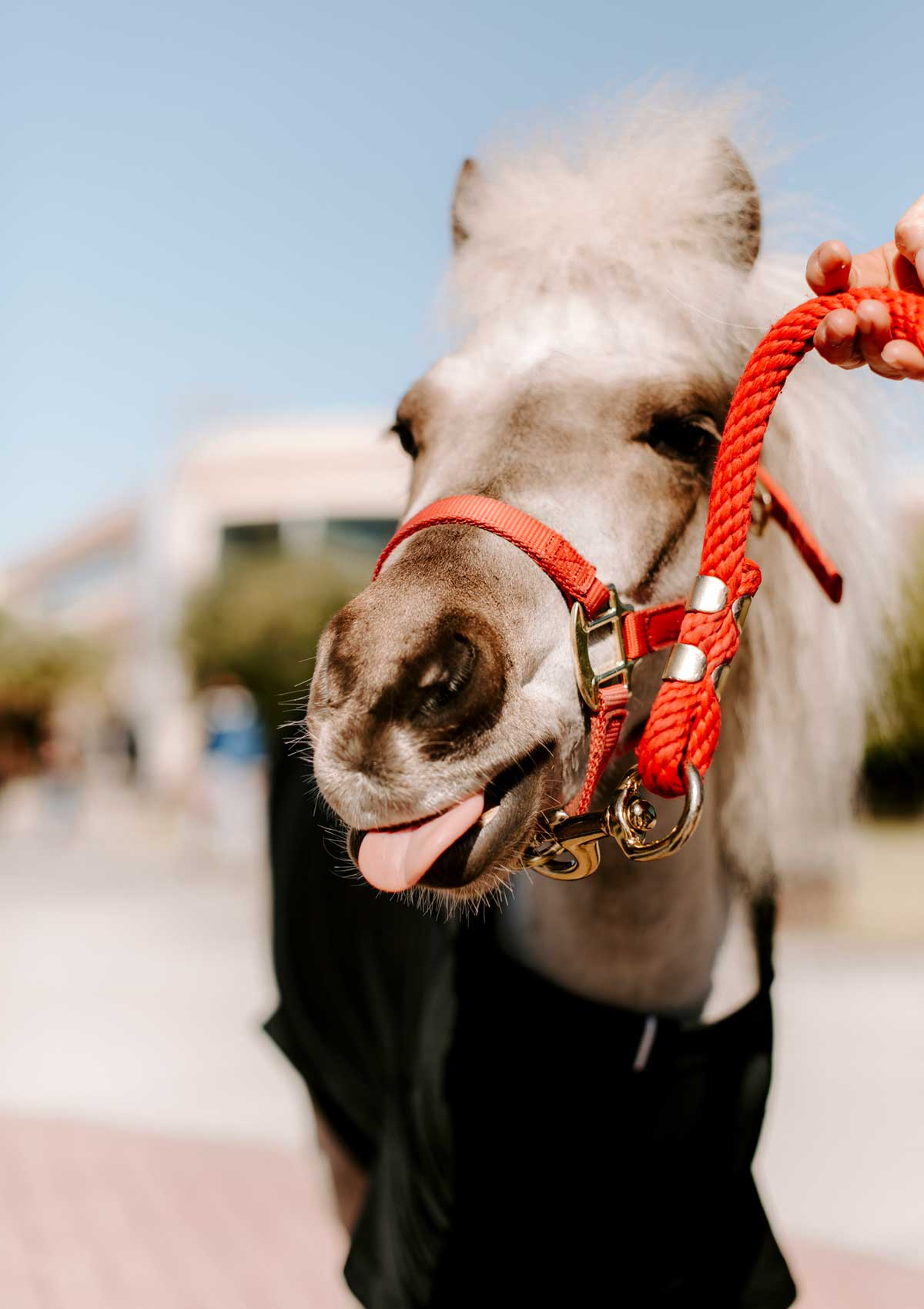 Knugget joined the UCF Police Department for a day to provide a little extra encouragement to students on Random Acts of Kindness Day.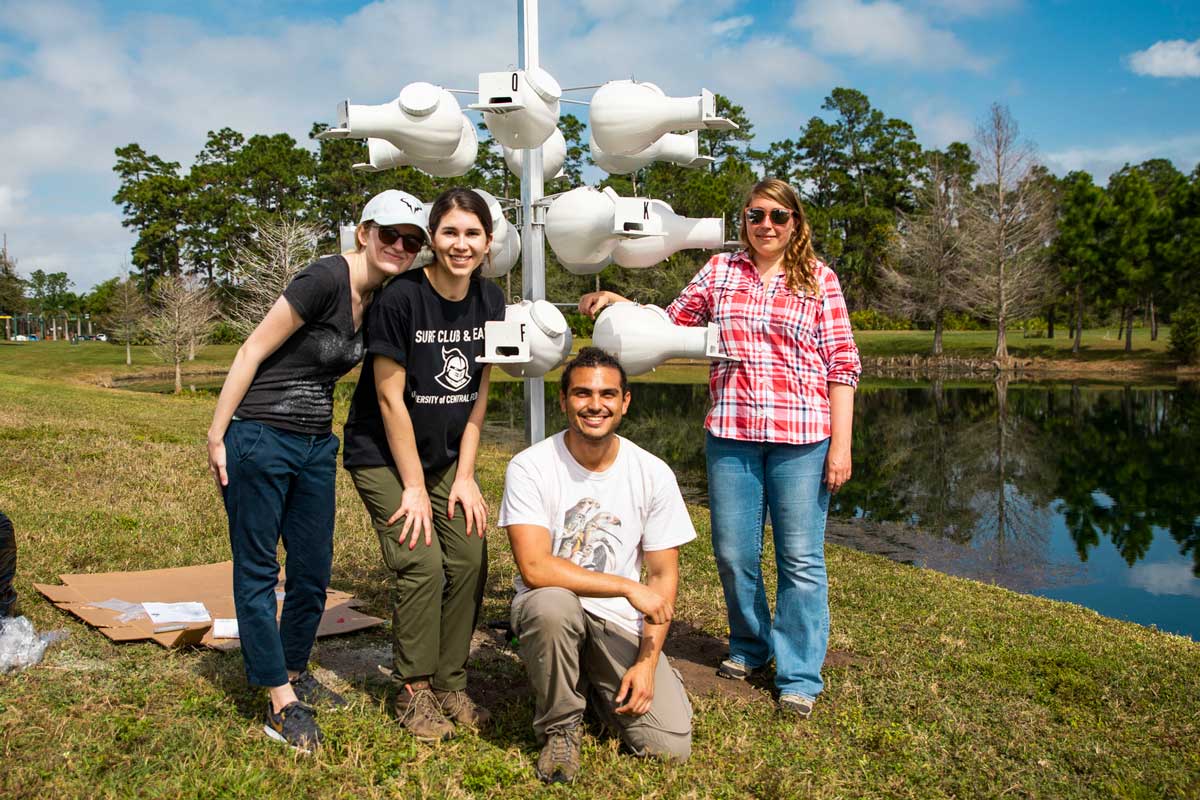 Led by a Department of Biology Research Scientist Anna Forsman, the Purple Martin Project — led by which aims to attract the bird using strategically placed nests around UCF's main campus — gave students hands-on experience in scientific methods.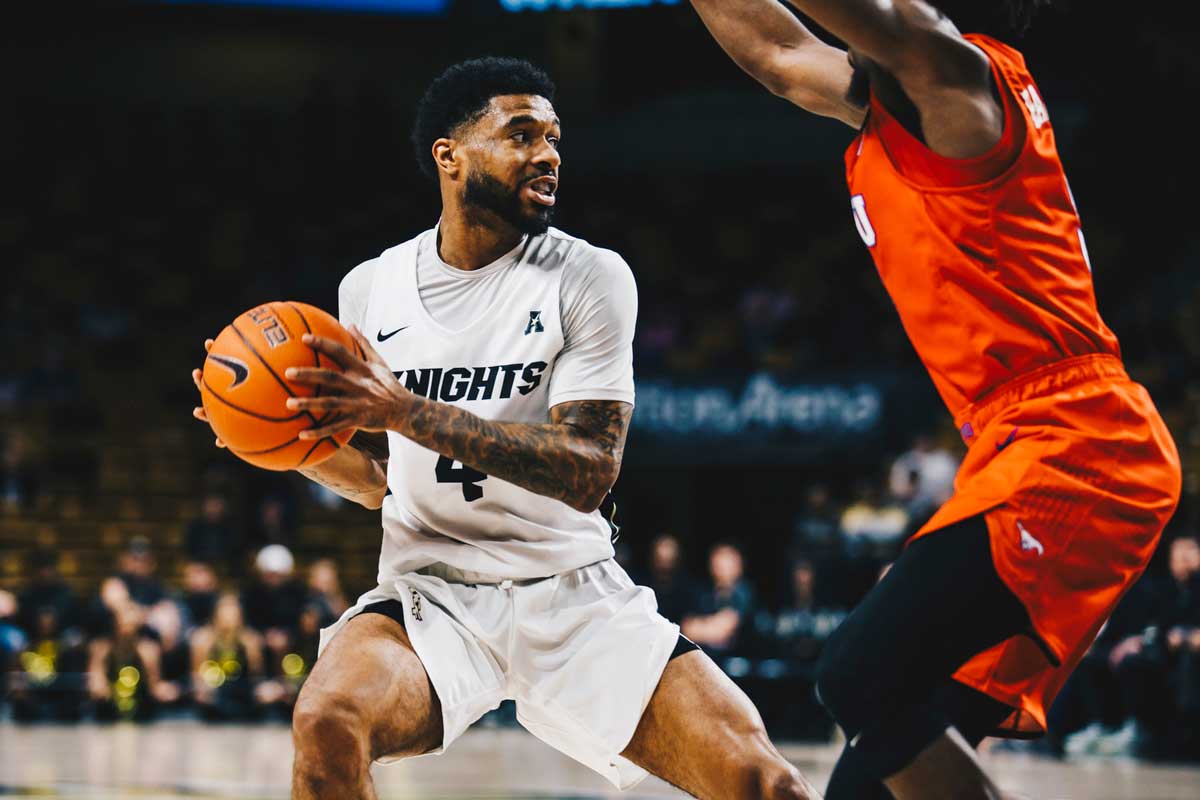 The UCF men's basketball team finished their 2019-20 season with back-to-back wins at home against SMU (pictured here) and East Carolina before COVID-19 canceled the American Athletic Conference tournament.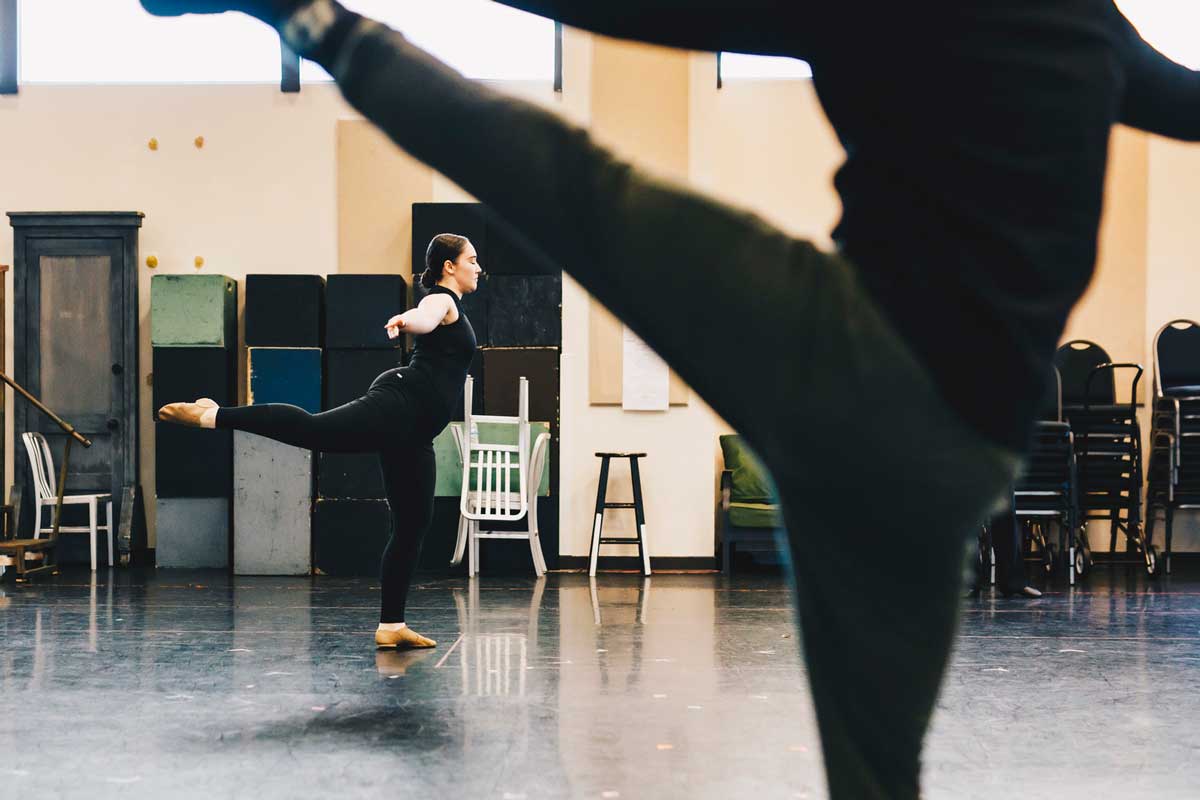 UCF students rehearsed for UCF Celebrates the Arts, which was ultimately canceled due to COVID-19. The dance concert is expected to take place in April 2021.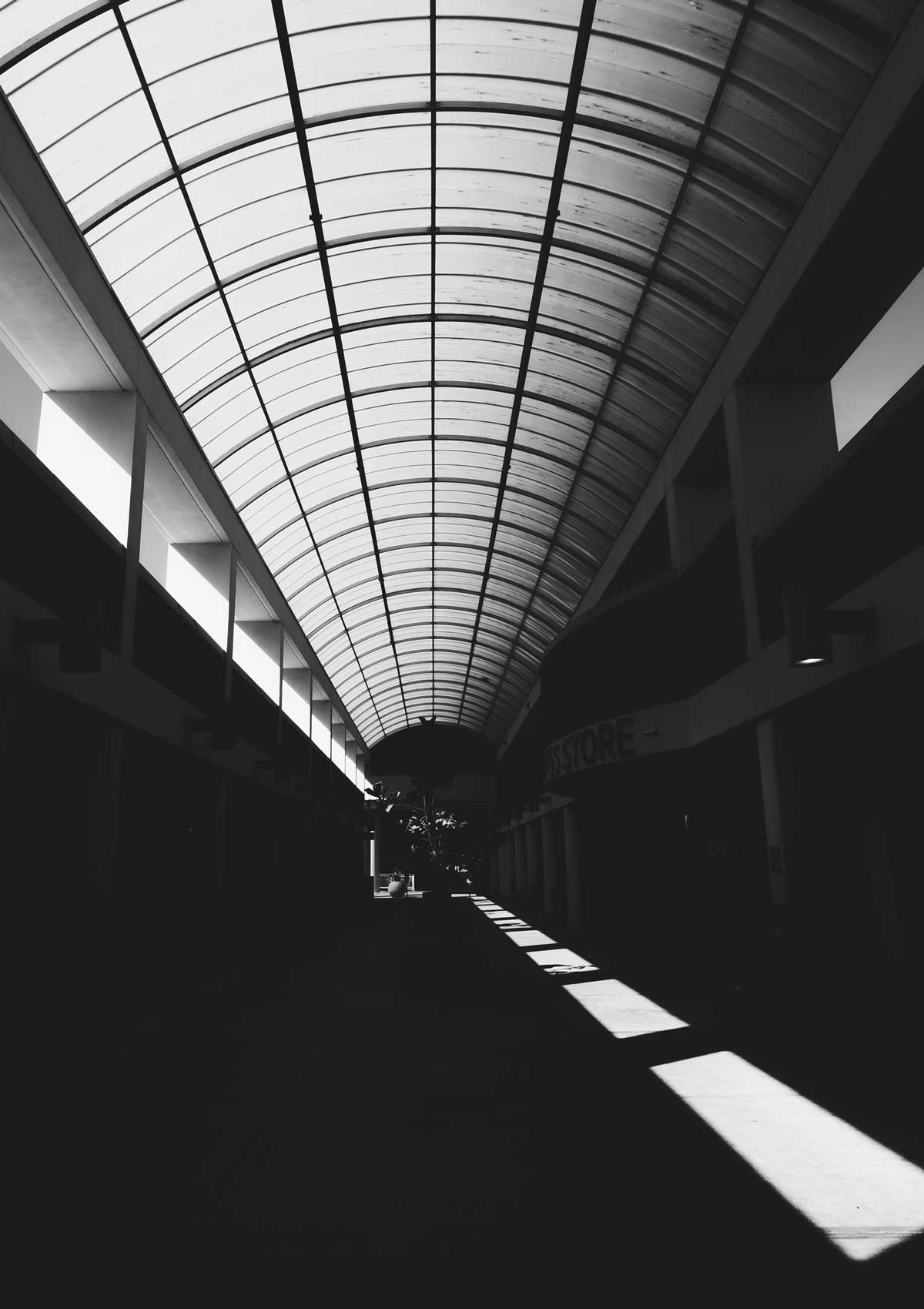 UCF's breezeway is usually packed with people, and it's emptiness captures the 2020 mood.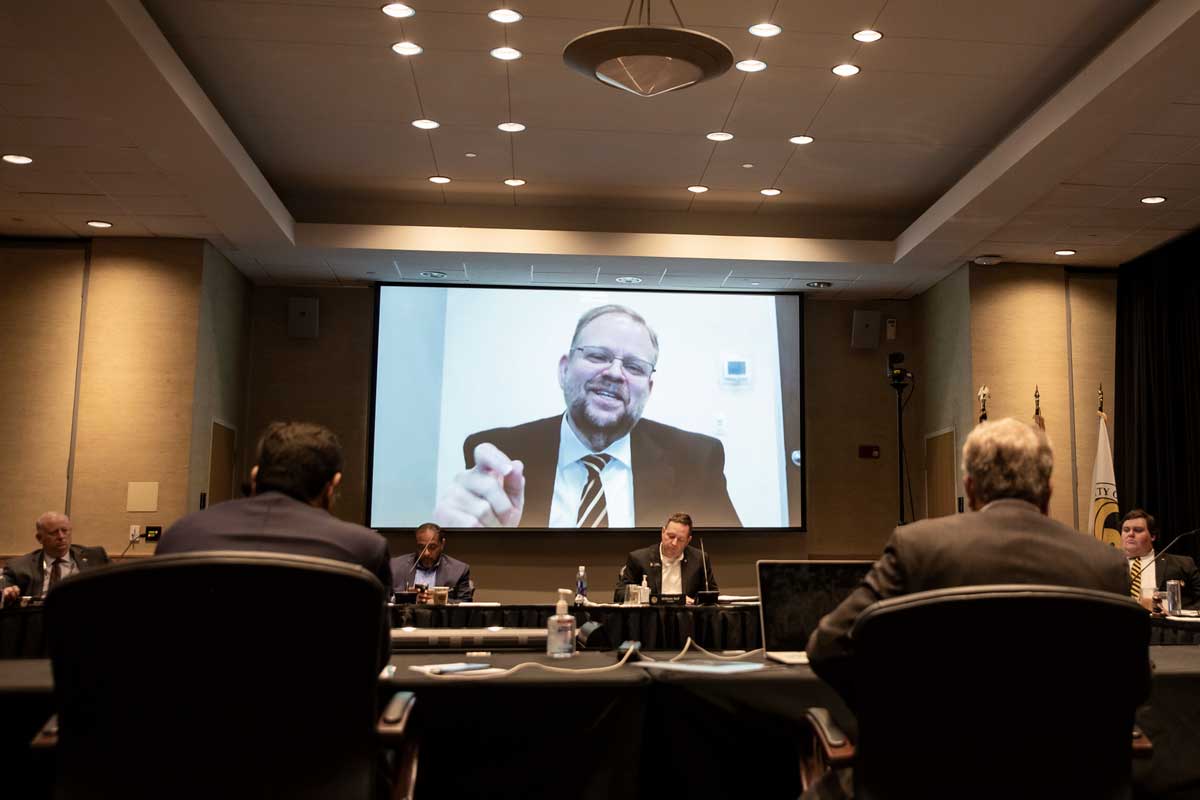 Alexander N. Cartwright, a first-generation college student who earned a GED and attended community college before earning his Ph.D. and rising through the ranks of academia, was selected as UCF's new president in March.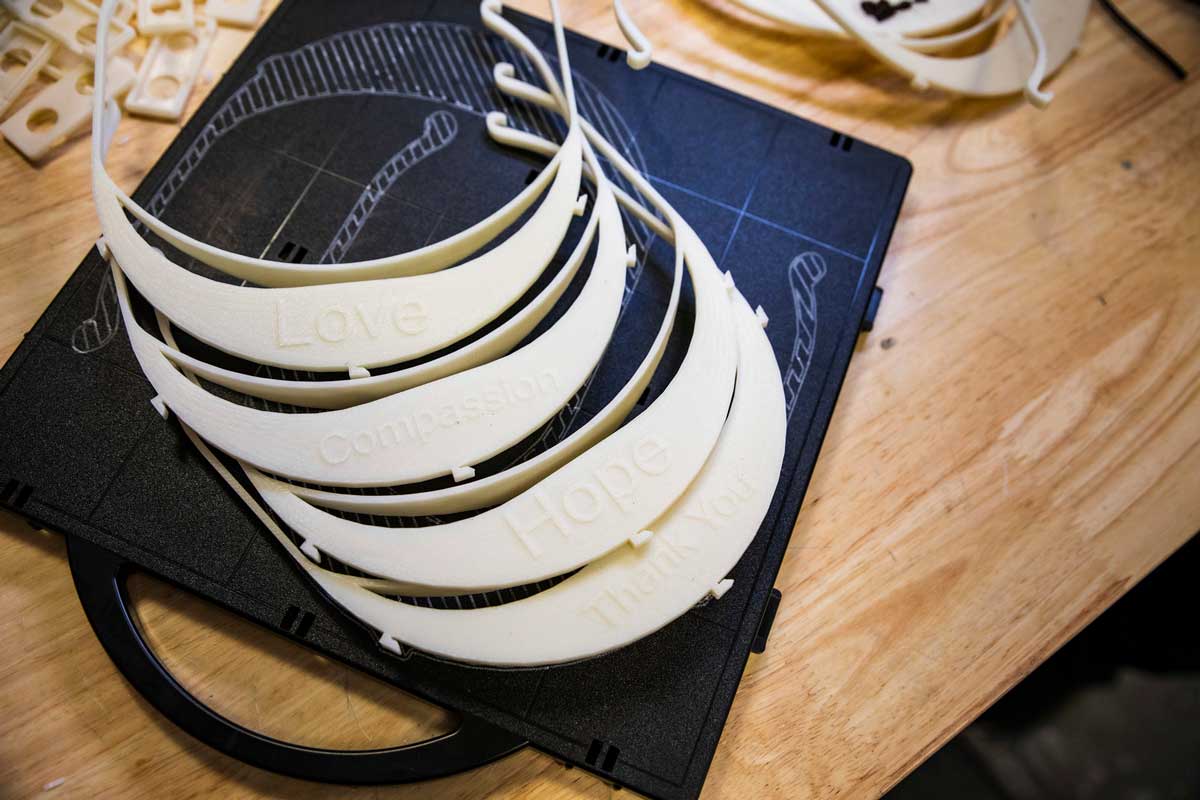 Limbitless Solutions shifted operations in the spring to 3D print visors, a component of the disposable face shield used by many medical workers. Each piece had one of four messages: Hope, Love, Compassion or Thank You.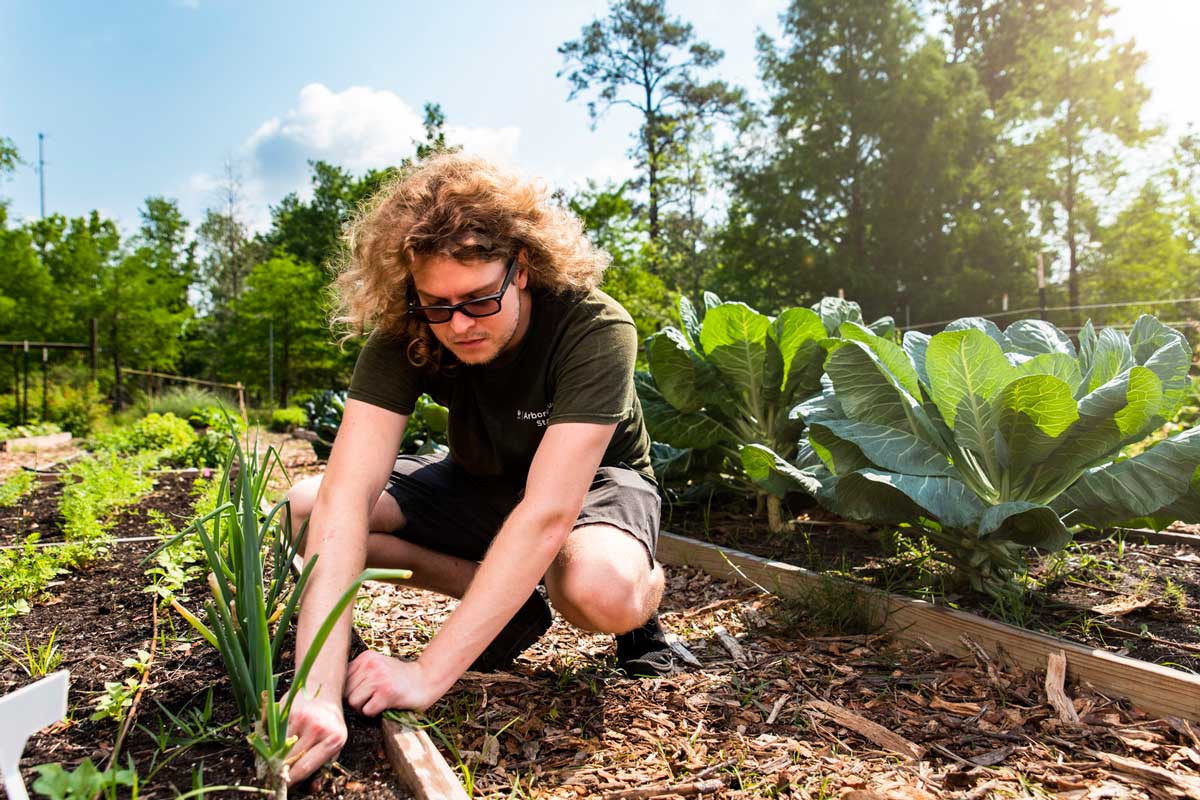 Andre Simoes '20, who served as the greenhouse coordinator for UCF Arboretum in the spring while finishing his plant sciences degree, was one of the essential personnel staff who maintained UCF's campus operations when the pandemic forced classes to move to remote instruction.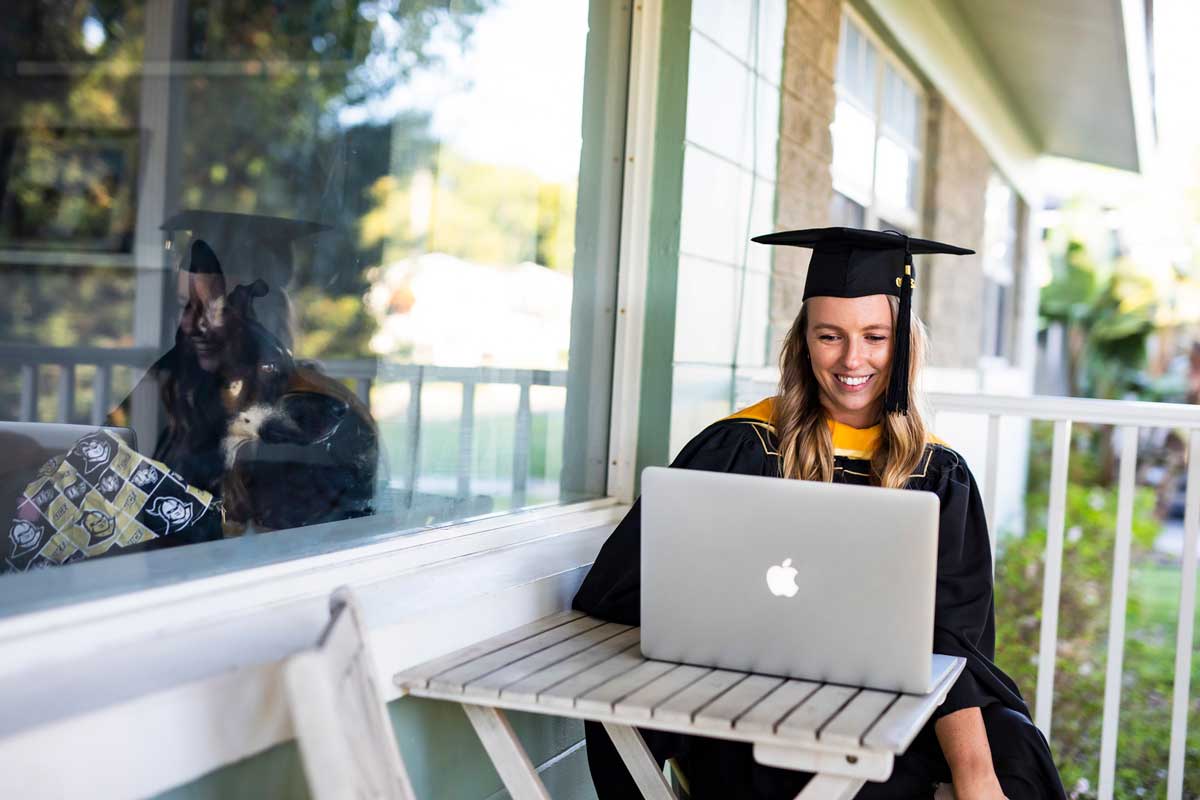 One of the perks of virtual graduation ceremonies for the Class of 2020? Pets can attend.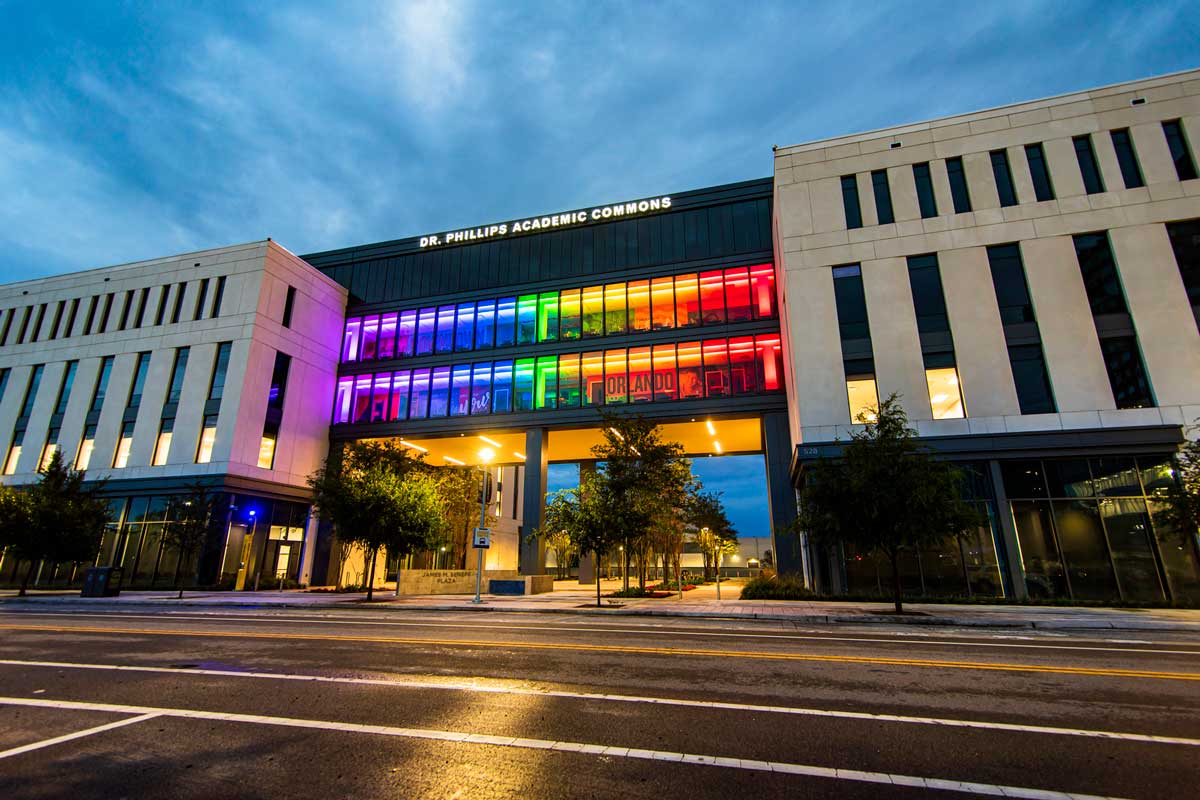 UCF lit up the Dr. Phillips Academic Commons on the downtown campus in pride colors on June 12 in remembrance of the 49 people — including student Juan Ramon Guerrero and alumnus Christopher Andrew "Drew" Leinonen '07 '09MS — who were killed at Pulse in 2016.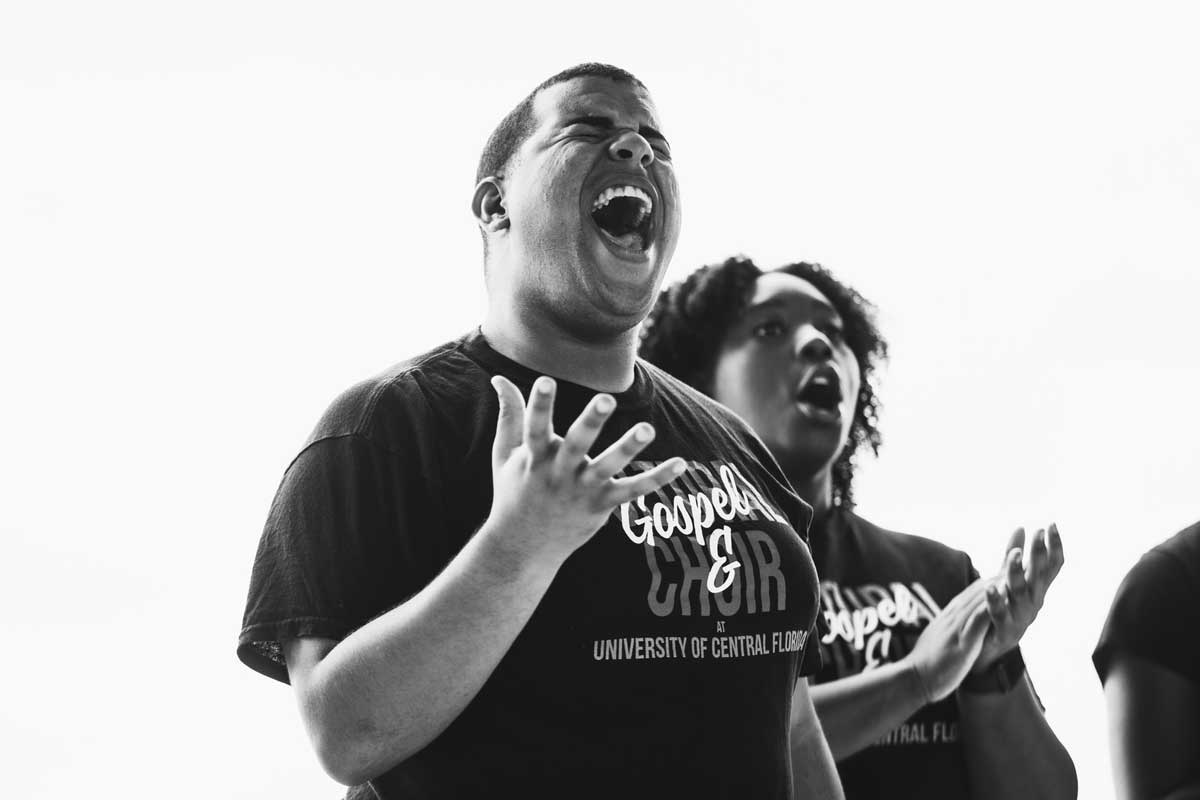 On June 19, UCF's Gospel and Cultural Choir, including president Hector Garcia and member Jessica Pugh, lent their voices to the university's inaugural Juneteenth Celebration, which was organized by students.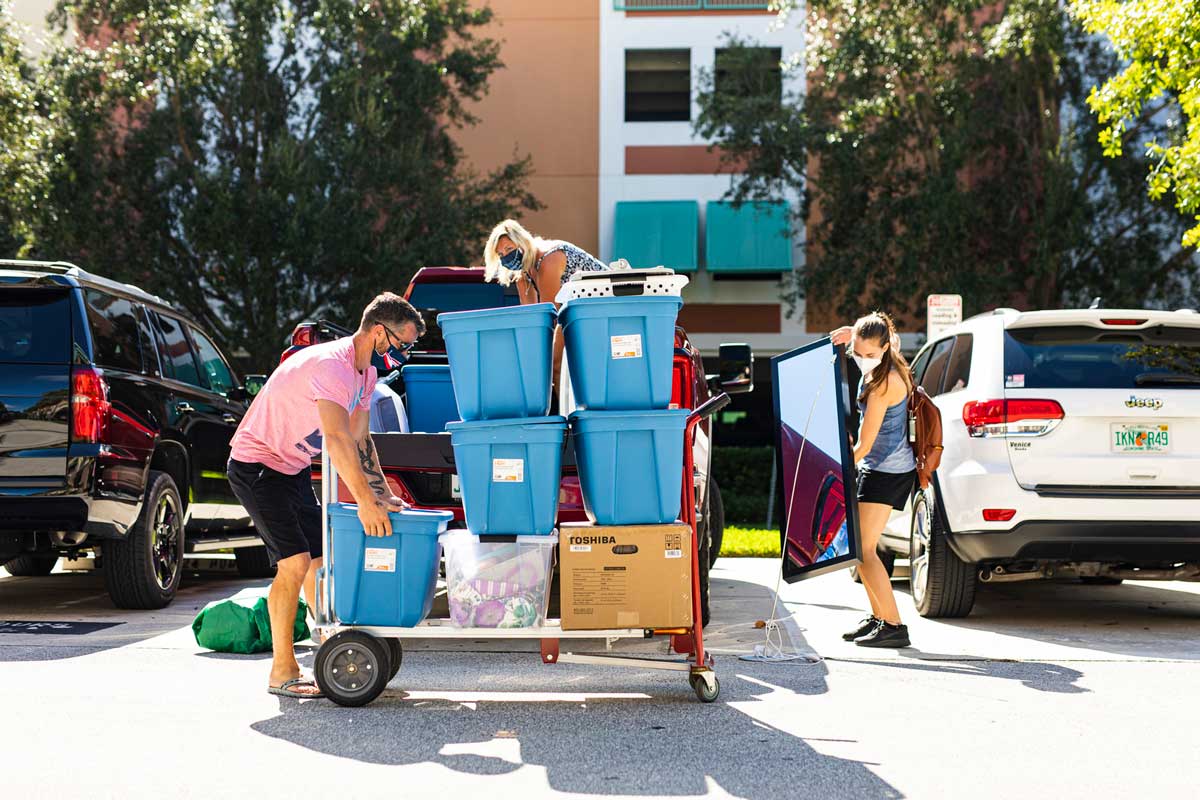 With 6,000 students moving into main campus housing during a pandemic, UCF turned to its IT team, engineers and a fast food drive-thru expert to make the process as safe and efficient as possible.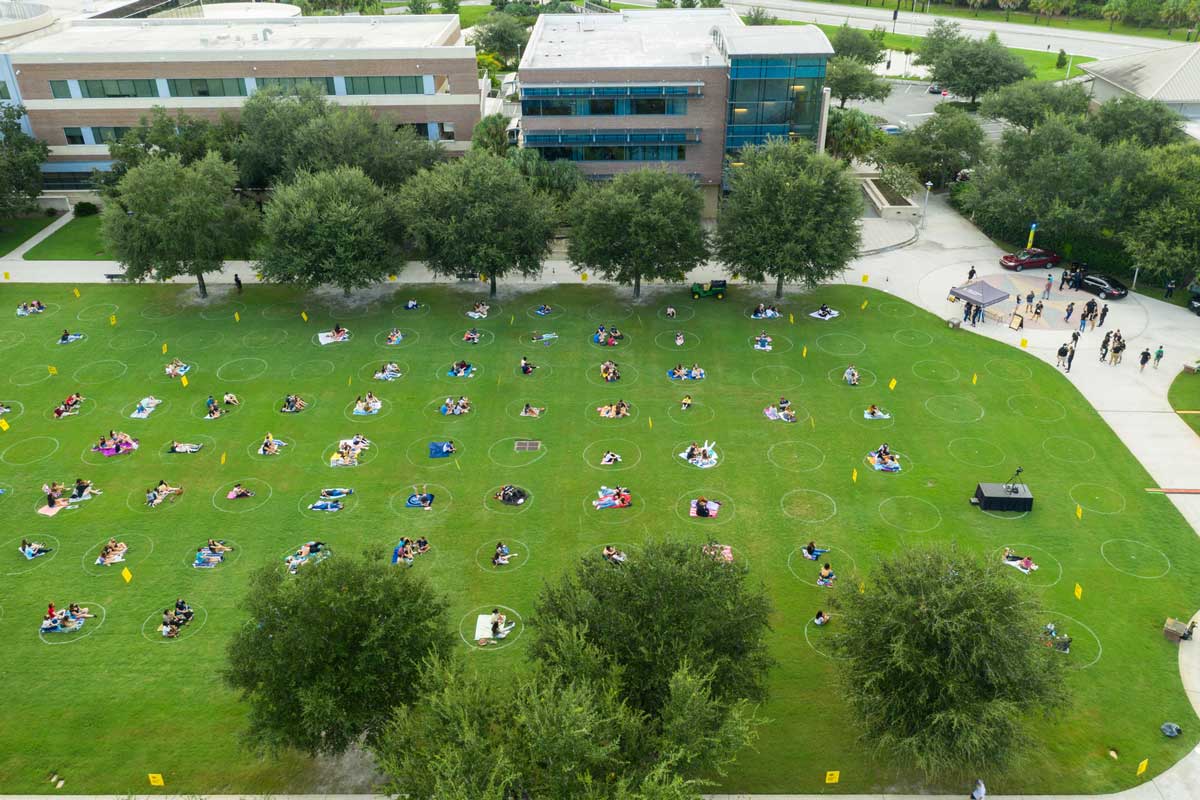 Pegasus Palooza, which welcomed students to the fall semester with a mix of virtual and physically distant in-person events — kicked off with The Knighting on Memory Mall, a tradition that inducts new students to UCF.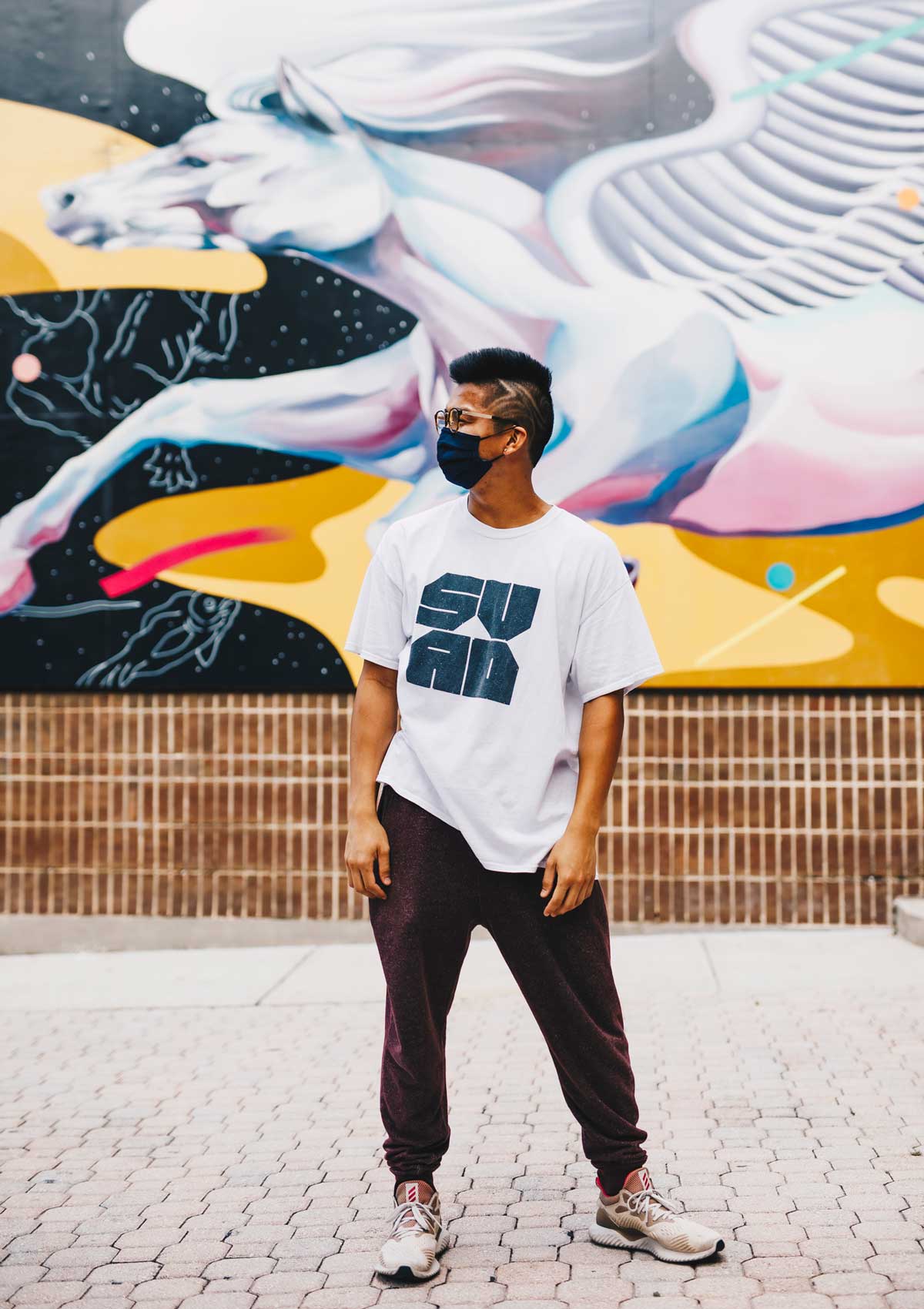 Kori Zamora wears a face covering and SVAD (School of Visual Arts and Design) shirt while standing in front of Pegasus mural in by the Student Union entrance during the first week of school. "I'm part of a church group and the pandemic has definitely changed the way we interact, but I've been connecting to my community through virtual meetings and it's definitely helped me stay positive during the pandemic," the Fort Lauderdale, Florida, resident says.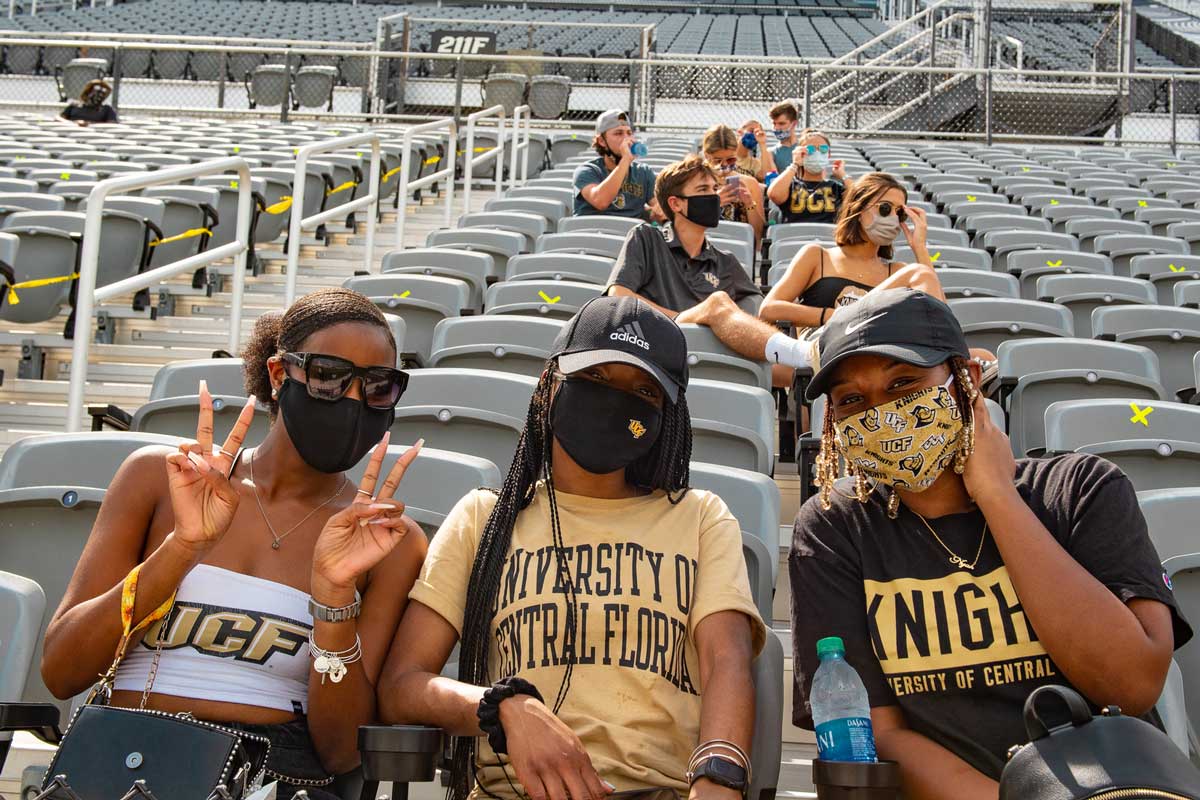 Students enjoyed a physically distanced watch party at the Bounce House to cheer on the UCF football team's first game of the season on the road at Georgia Tech.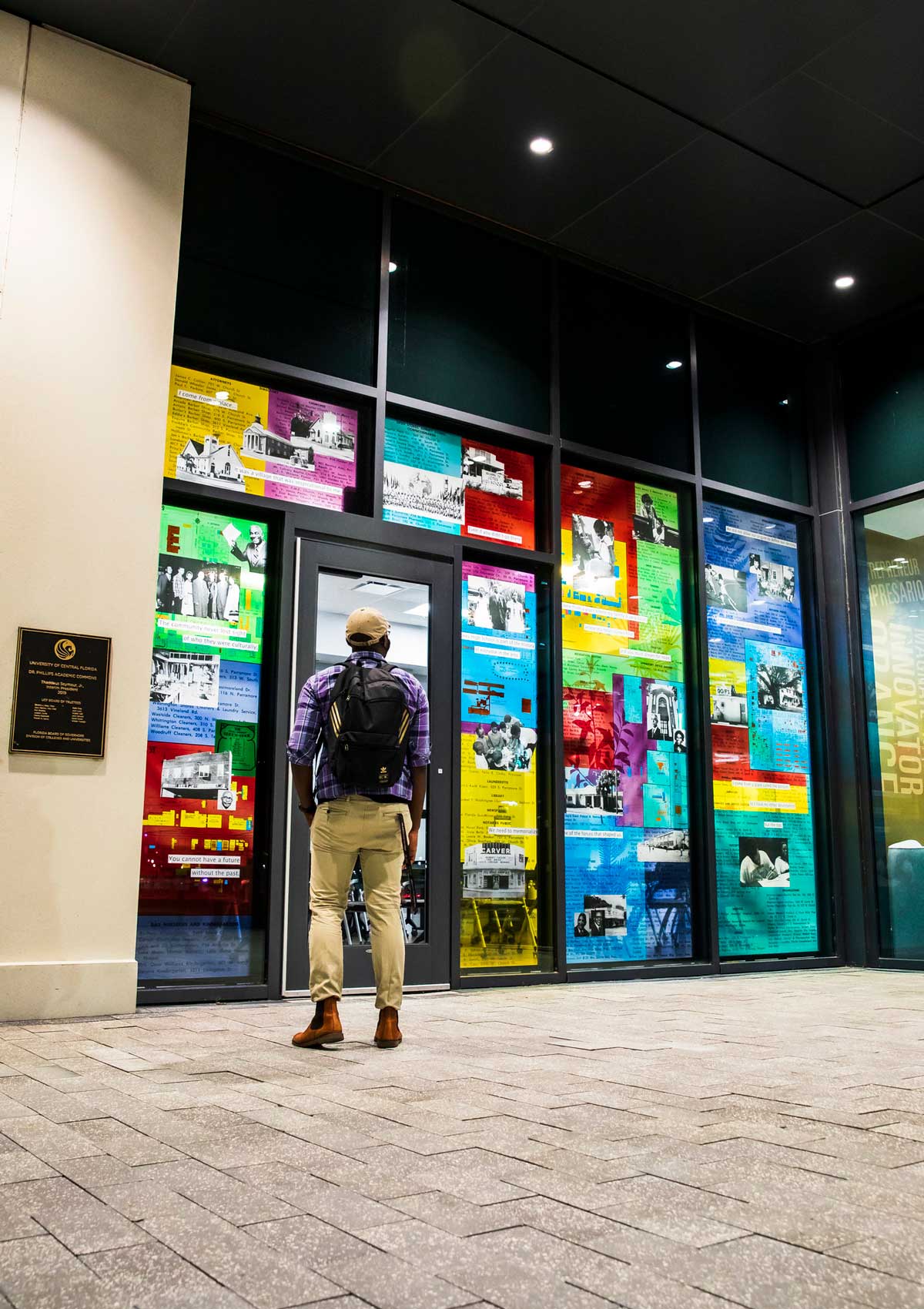 UCF unveiled custom glass artwork at its downtown campus that showcases the rich history of the surrounding Parramore community. The installation was produced in partnership with Parramore residents and business owners, along with UCF and Valencia College leadership and spotlights community landmarks and milestones dating back to the early 1920s.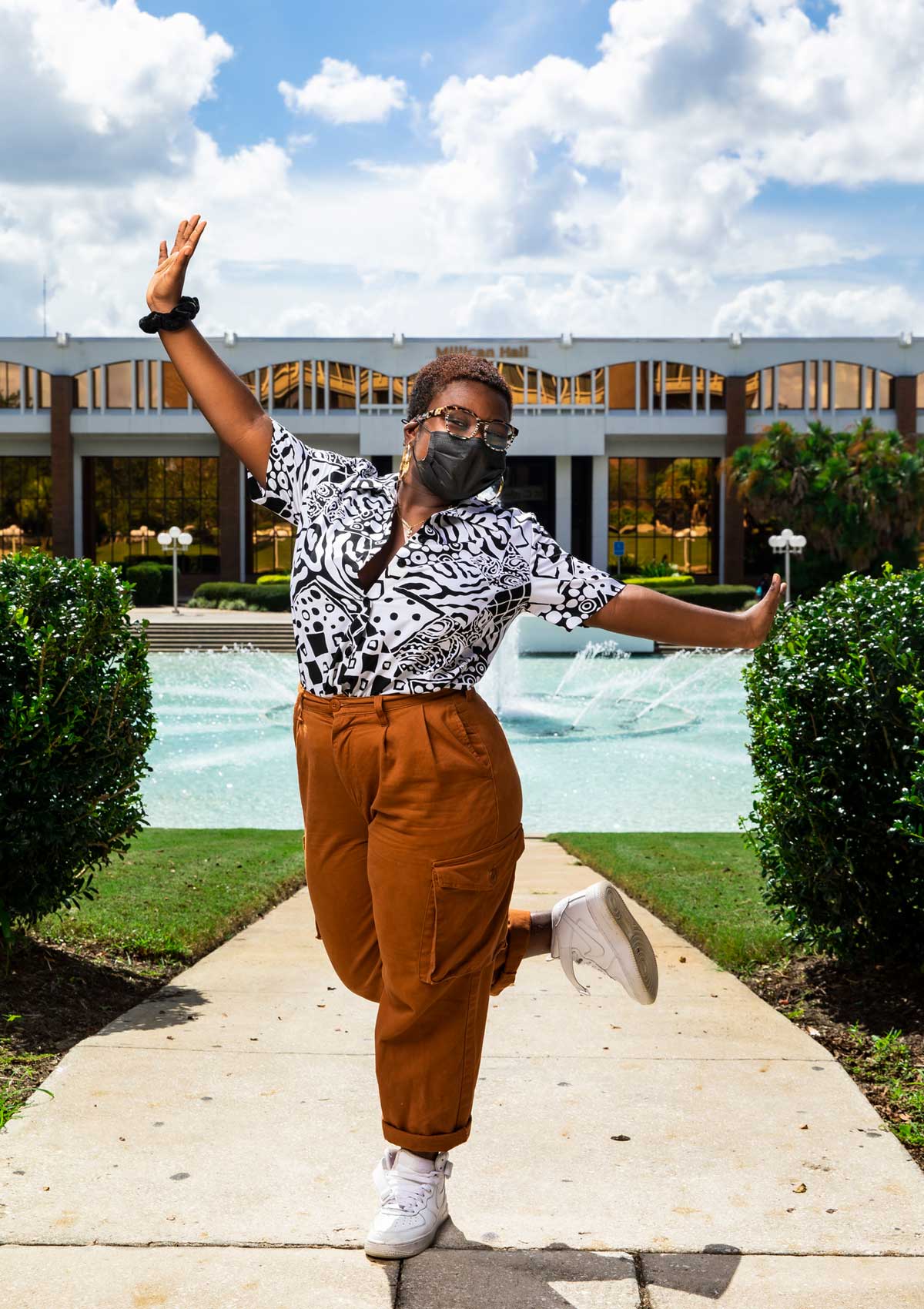 On National Coming Out Day, political science student Keyuna Julien, who identifies as a lesbian, shared their gratitude for their mother's support.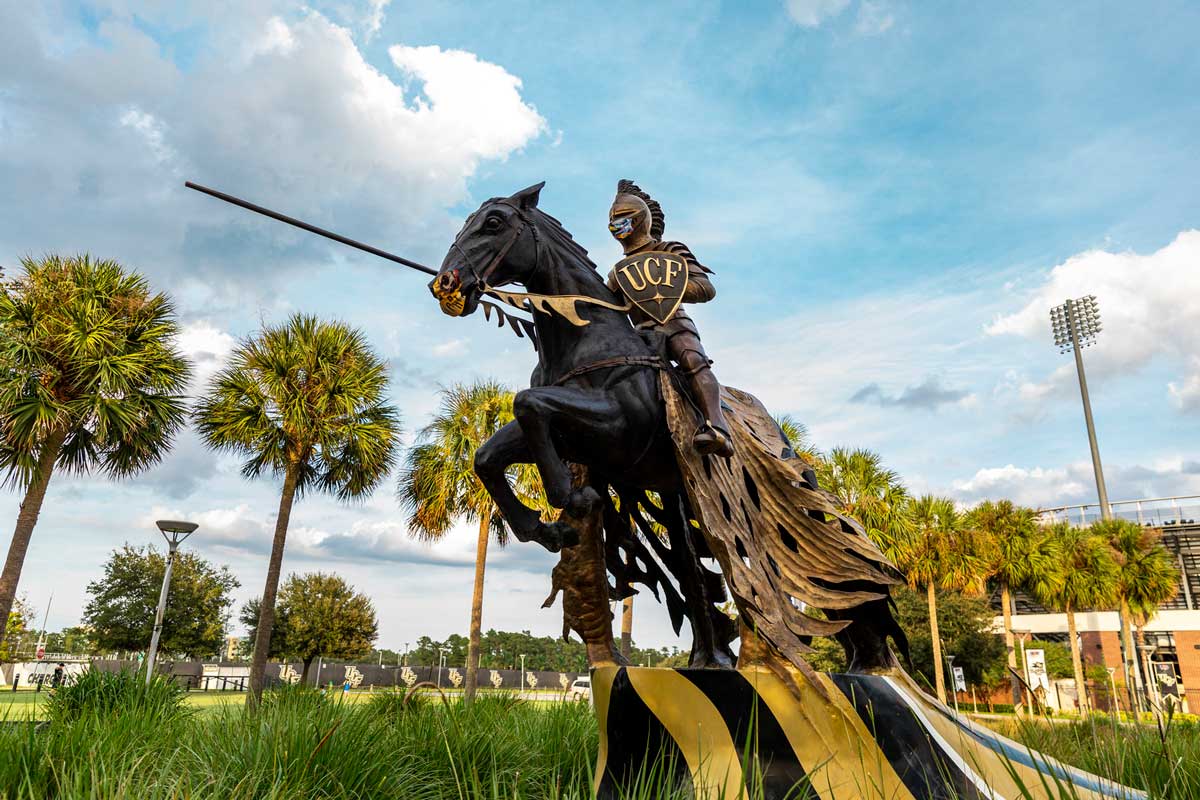 Everyone who visited campus was required to wear a face covering — even the Charging Knight statue. Consider Armoring Up with an exclusive UCF face covering from Knight-owned business Rock 'Em Socks. Proceeds benefit the UCF Student Emergency Fund.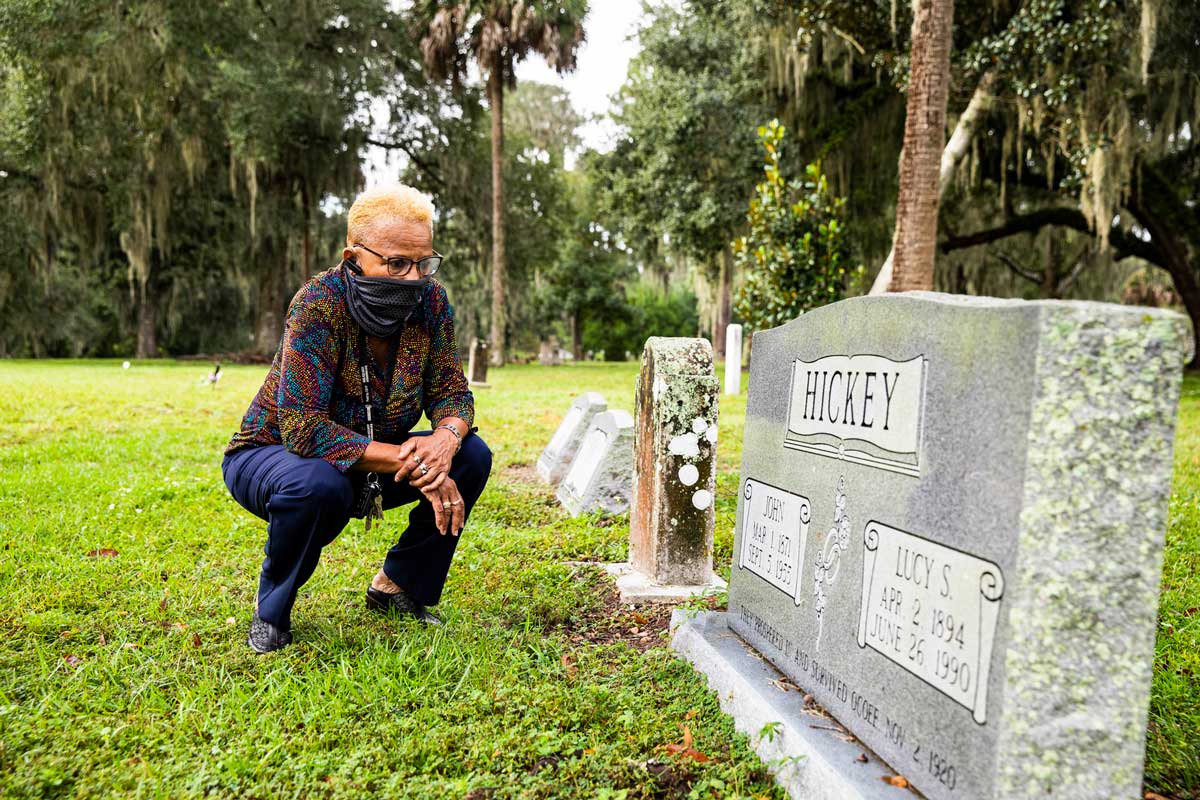 Despite being the victim of continued racism in the decades following the Ocoee massacre, Francina Boykin was among those who convinced the community to break its own silence on an ominous past so it could begin the slow process of change. Here, she visits the grave site of John Hickey, an Ocoee resident who had to abandon his 120 acres of land the night of the massacre.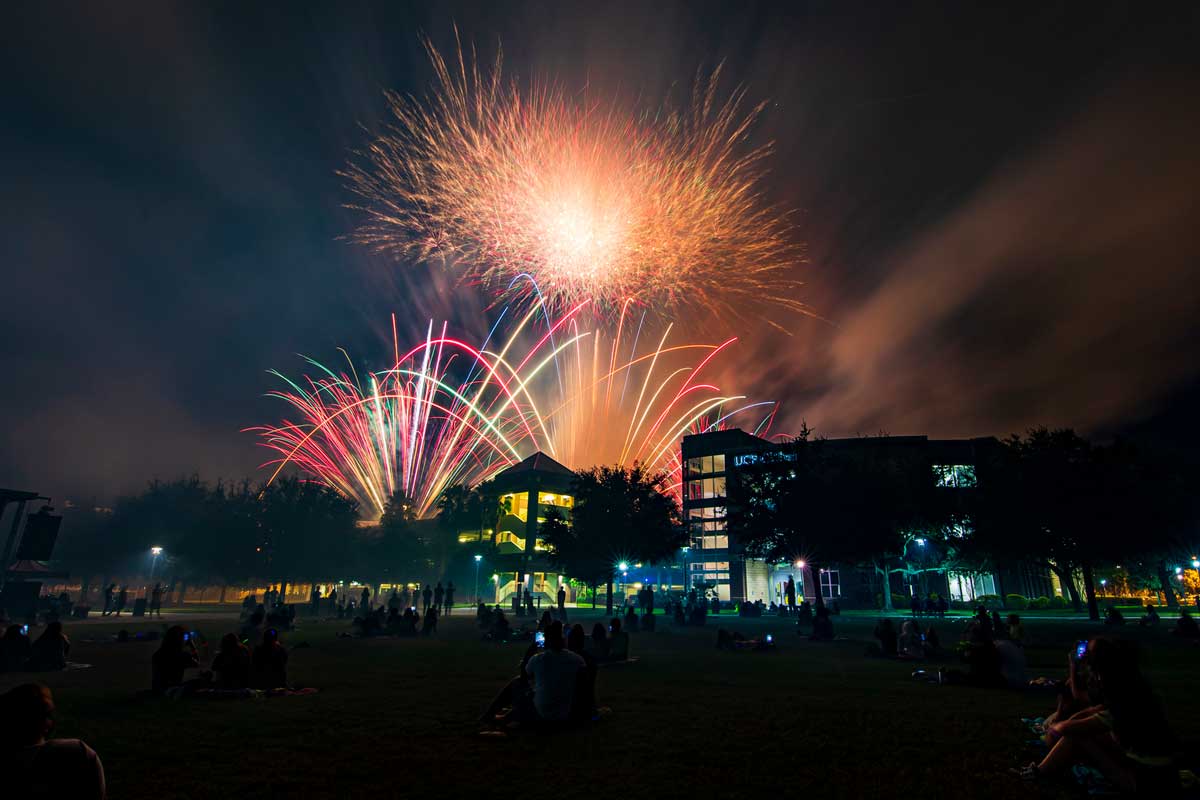 The UCF community celebrated Homecoming 2020 with some of events anticipated annually — such as the Friday night fireworks show and Knights' football game —and reinvented other traditions for the health and well-being of everyone.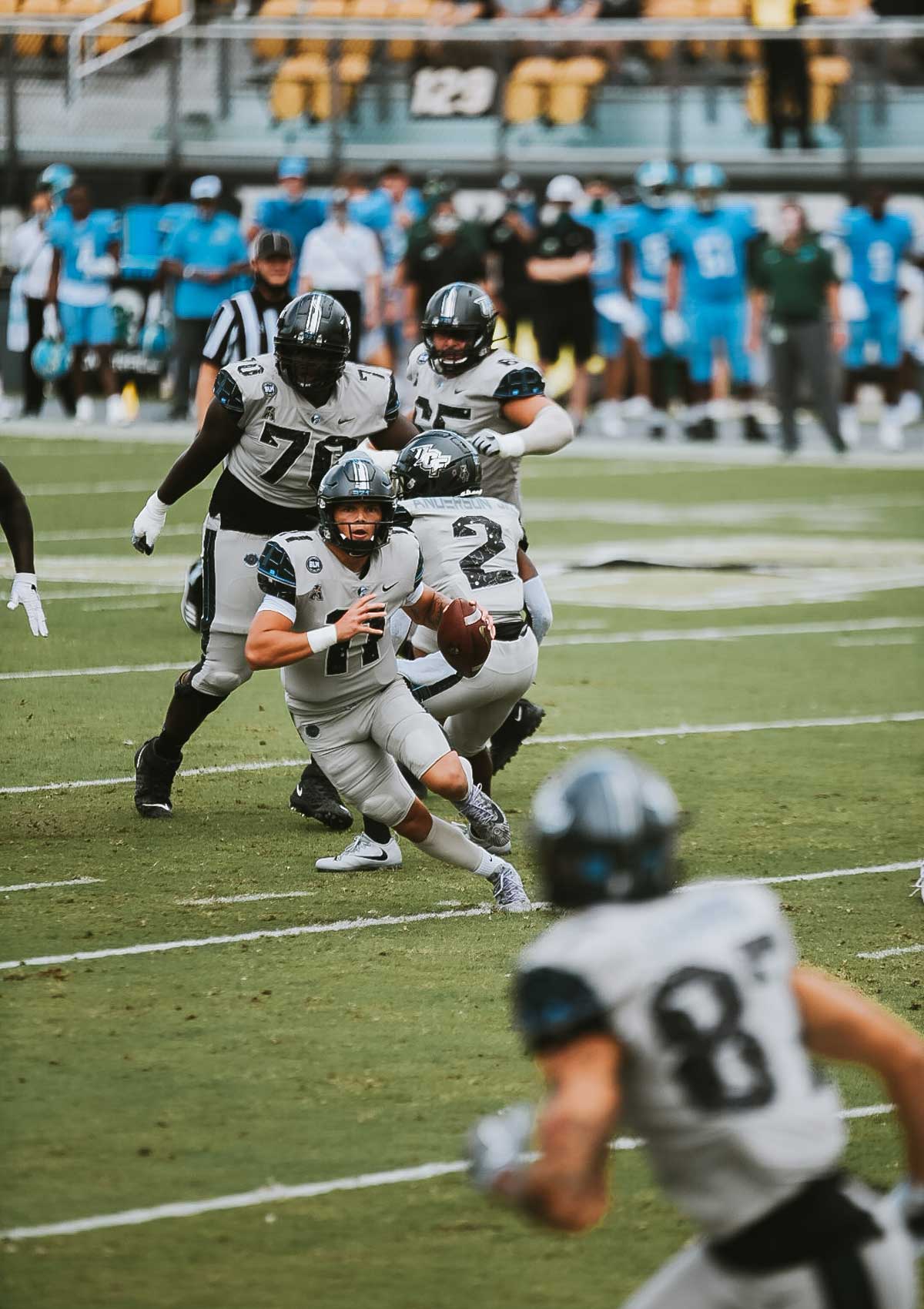 This year's Homecoming football game also marked Mission IV (the fourth-straight year) of the fan favorite Space Game. The Knights wore special uniforms that gave a nod to the university's past and current connection to space exploration.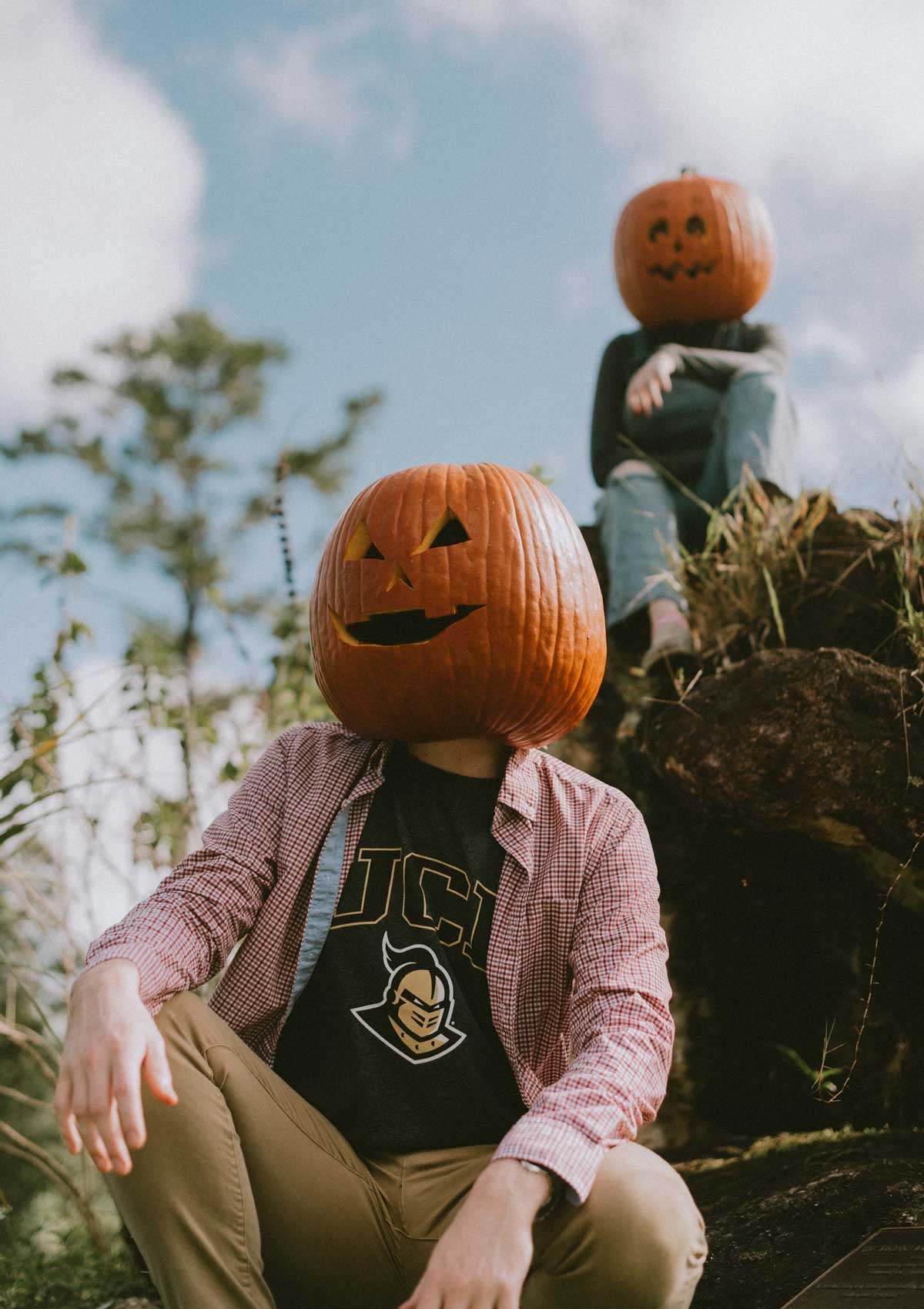 Two UCF Social Ambassadors got into the spooky spirit on campus before spending the night at home watching horror movies for Halloween.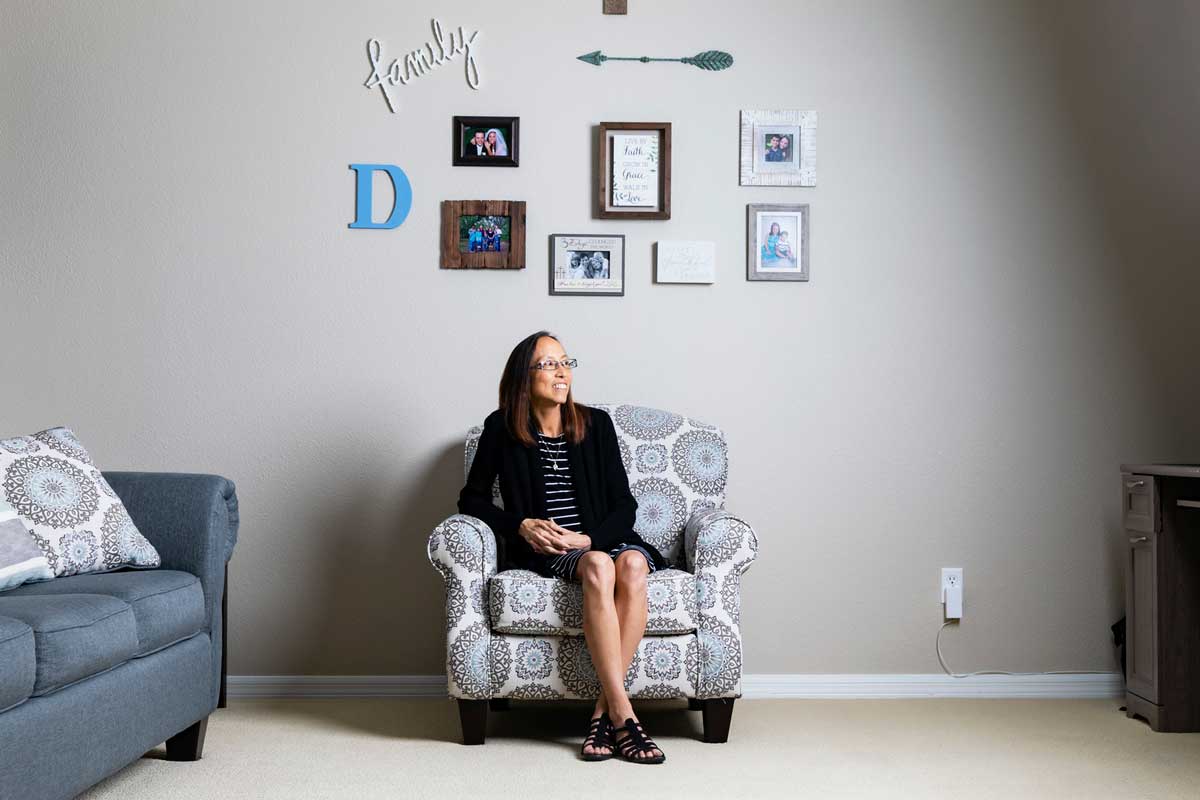 On Sunday, November 29, 2020, nursing instructor Joyce DeGennaro '03 '09BSN '13MS passed away. This photo was taken in October for a story in which she discussed why she chose to share her personal experience with cancer to better educate her students. She leaves behind her loving husband Darren and two young children. To continue her legacy, mourners may make a gift in Joyce's name to the College of Nursing Memorial Scholarships.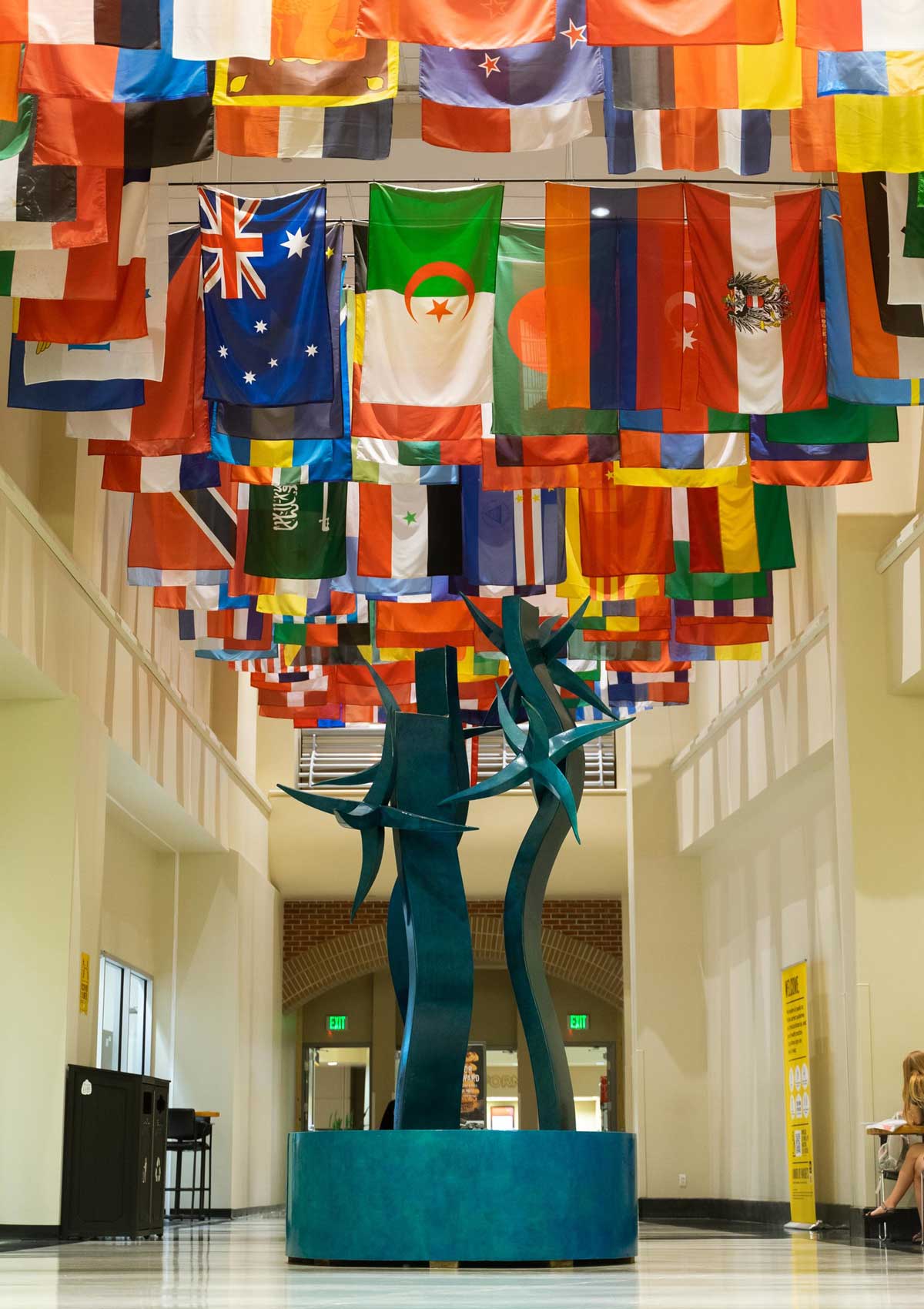 Even though the Student Union completed its three-year renovation that added expanding dining options, additional square footage and more seating, some of its charm that makes it the heart of campus remain the same.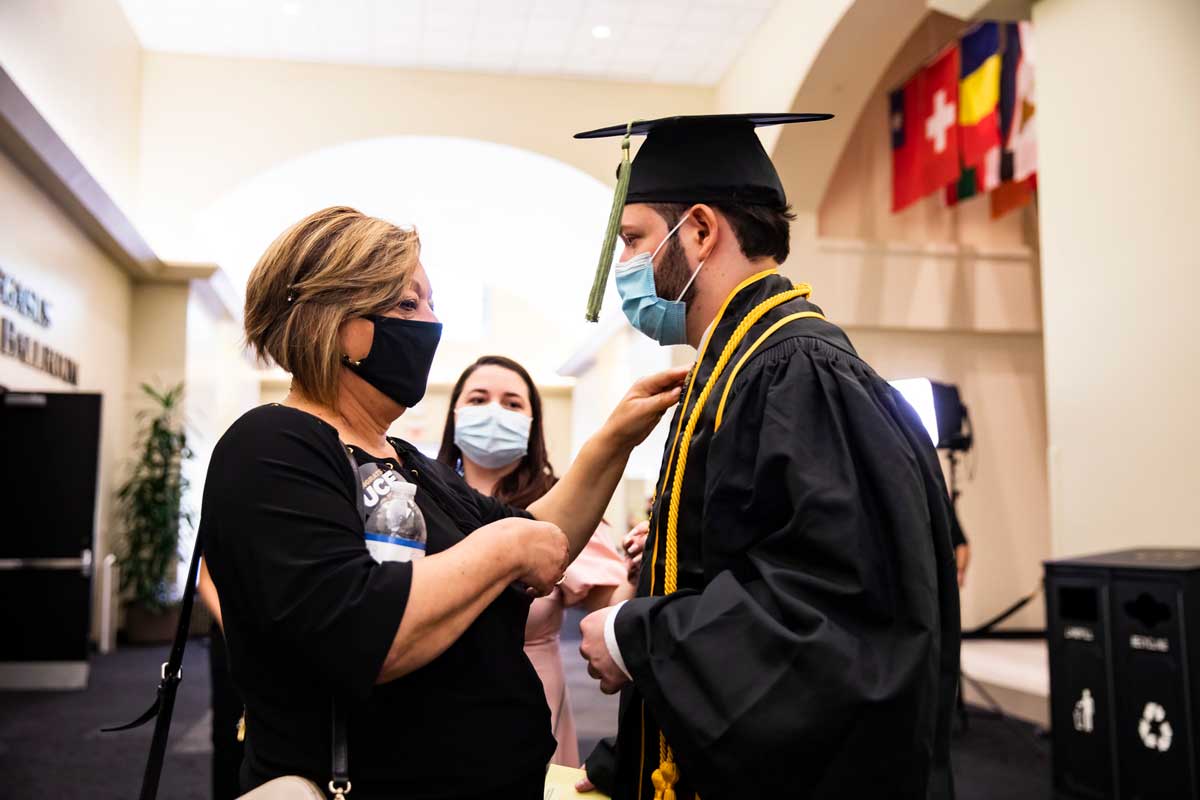 John Murphy, who earned his degree in kinesiology this semester, prepared to cross the stage at UCF Grad Walk, which was established in the fall as an opportunity to celebrate commencement while adhering to statewide COVID-19 protocols.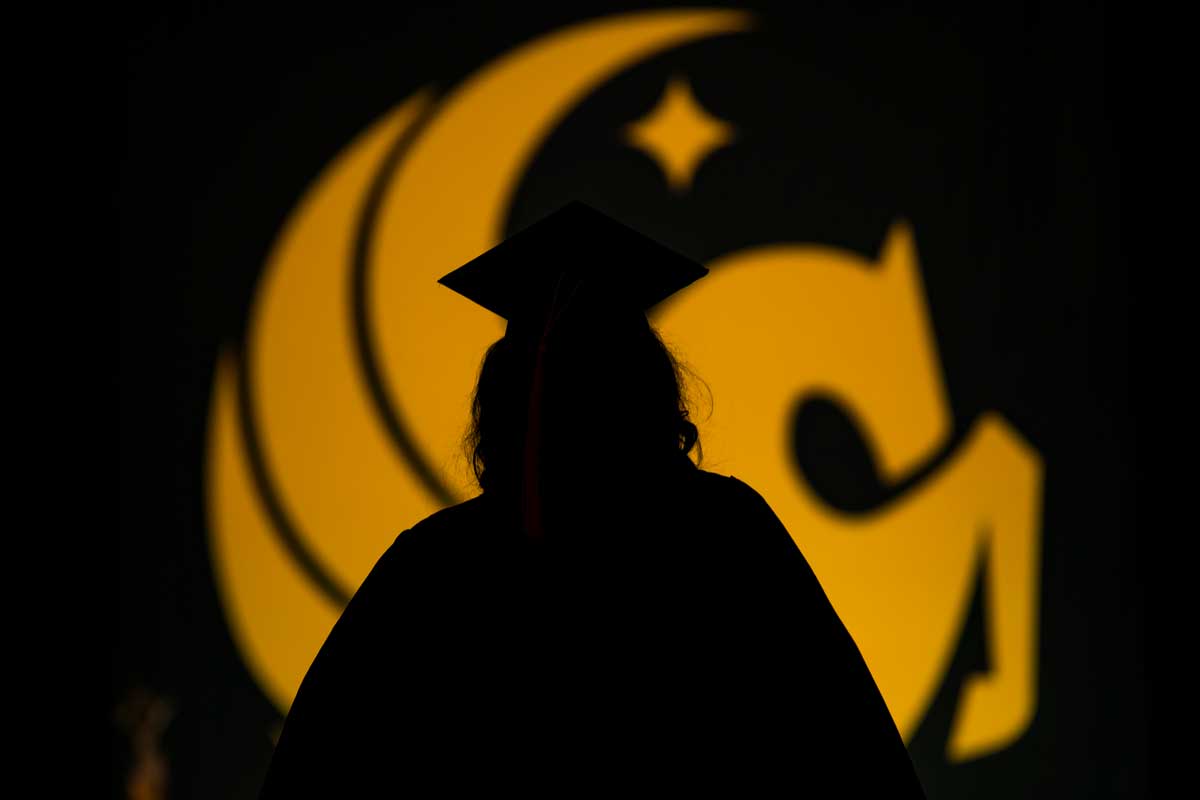 More than 18,000 degrees are expected to be conferred during 2020 after fall commencement is held later this month.