Nearly 100 UCF students, faculty and staff gathered in celebration of Juneteenth — the June 19 commemoration of the belated announcement in Texas of the Emancipation Proclamation — at John Euliano Park.
It marked the first event held on UCF's campus since March due to COVID-19. While attendees sported face masks, their enthusiasm and energy in the simple act of being together was evident. There was laughter, dancing, and a strong sense of community.
"Mentally, people may have been drained with everything going on with coronavirus and everything going on in society," says UCF nursing senior Oteisha Barrett, president of the Black Student Union. "As students, we feel hurt. We have Black fathers, Black brothers, sisters, friends — it's scary right now, but hopefully by being together and gathering in small group, [we can] release and be grounded on this day of significance."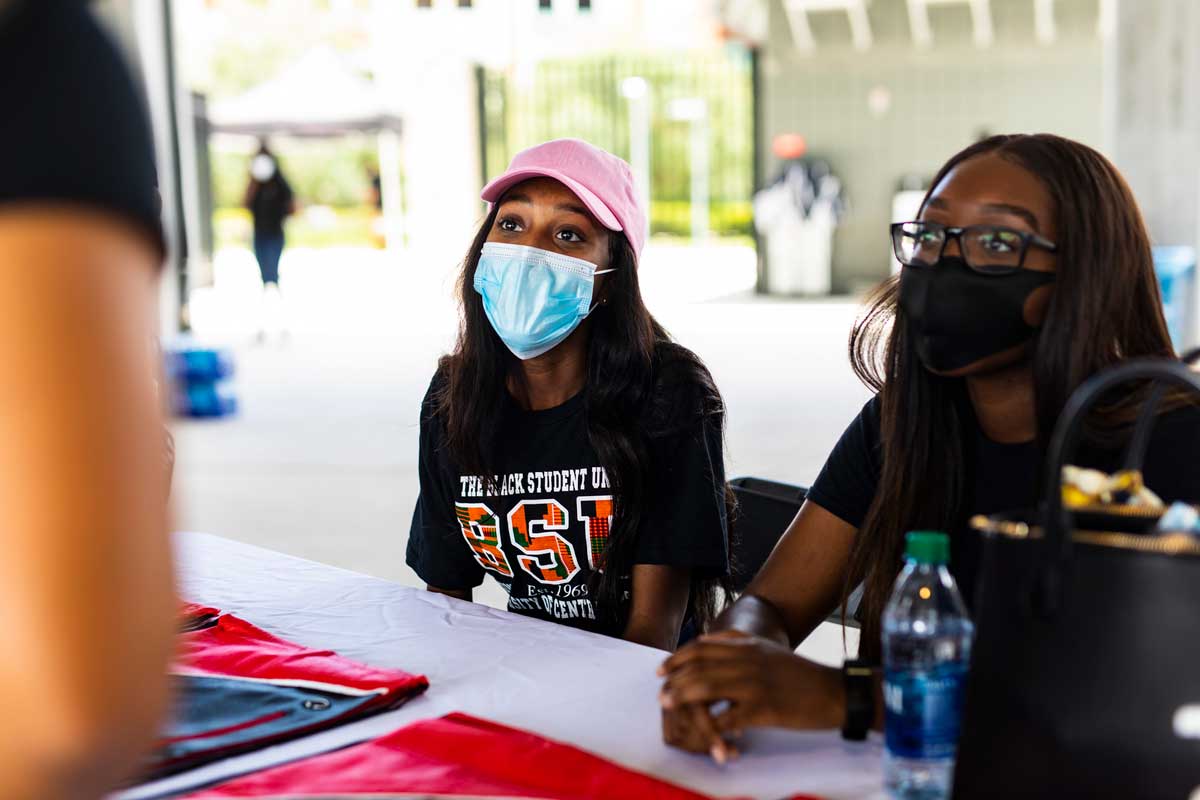 Barrett, a first-generation college student and the daughter of Jamaican immigrants, joined BSU as a freshman. She has previously served as the club's marketing director and secretary, and as president this year, she helped organize the Juneteenth event.
"When I was introduced to the BSU, it was kind of like I had a family away from home," she says. "Everyone was so kind and encouraging. It made me feel like I had a place here at UCF as a first-generation college student."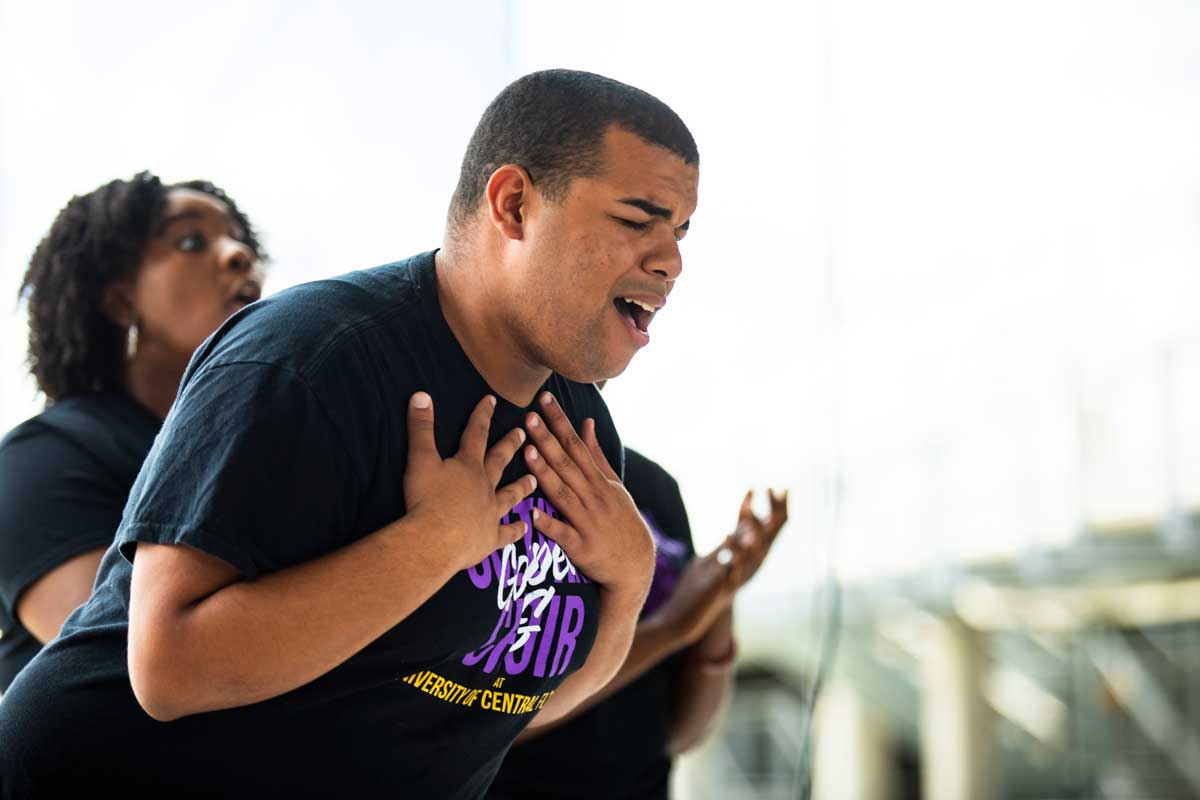 Following a moment of silence to start the event in recognition of members of the Black community who have died recently as a result of police brutality, the UCF Gospel and Cultural Choir sang two songs, "Wade in the Water" and "Ain't Gonna Let Nobody Turn Me Around."
"We usually sing worship songs but because it is Juneteenth, we wanted to celebrate Black history. There's no better way to celebrate Black history than by singing Negro spirituals," says journalism major Hector Garcia, the choir's president. "It's what our ancestors were singing back in the day when they were working on the plantations. Negro spirituals are a way for us to connect with them and celebrate this amazing holiday, Juneteenth.
"Bringing Black UCF together is more important now than ever. This is an amazing school and a diverse school so when we can have events like these to celebrate that diversity, it's very important."
In coordination with the Office of Student Involvement, the following 15 student organizations helped plan the event in two weeks:
Black Student Union
National Council of Negro Women
SISTUHS
Delta Sigma Theta Sorority
Zeta Phi Beta Sorority
Sigma Gamma Rho Sorority
John T. Washington Honor Society
Neg Kreyol
Women Student Union
African Student Organization
Men of Integrity
Caribbean Student Association
National Black Law Students
NAACP
Crown to Crown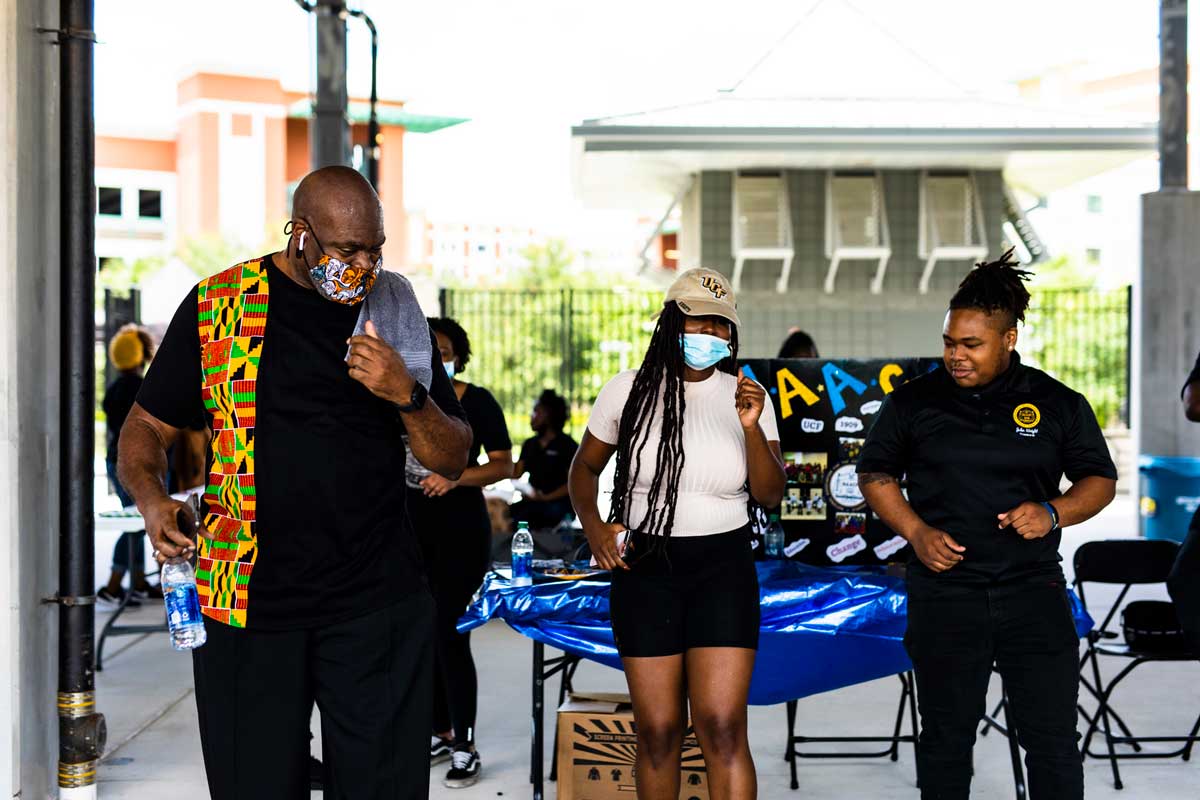 Several students addressed the crowd, giving their thoughts about Juneteenth before the event concluded with camaraderie and socializing with a DJ playing music.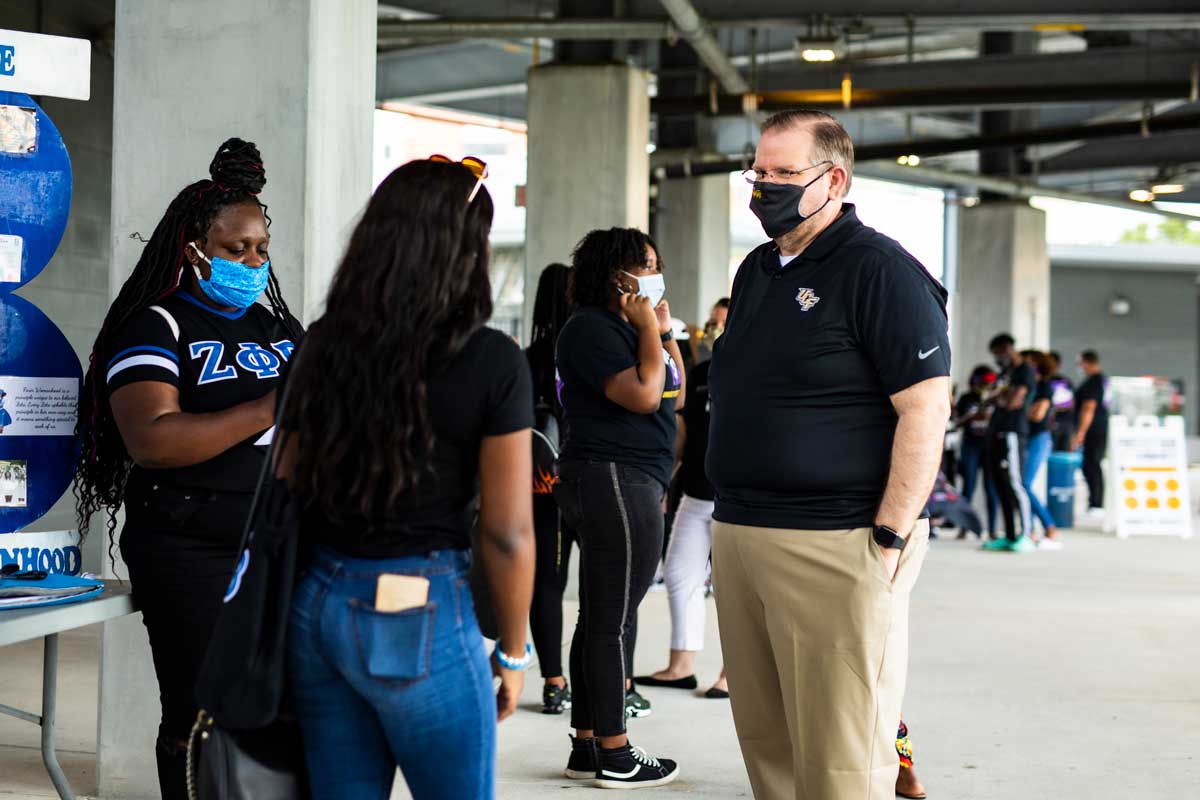 President Alexander N. Cartwright met and talked with UCF students at Friday's event.
"I love being around the students," Cartwright says. "It's energizing to have the opportunity to finally meet them in person and hear their stories and get the chance to understand what's on their minds. I hope we can continue to find ways to connect like this, because it's important that we don't feel isolated.
"Today reaffirms why we are here, why we do the work we do and why so many people care about this institution."