Moving UCF Forward
In my career, I have learned there is no greater gift than working with people who share a commitment to making a difference. Big ideas inspire us. Making those ideas reality is what changes lives. And working alongside passionate, dedicated people is what life is all about.
UCF is a place where all of this and more is possible.
As interim president, my job is to ensure the UCF mission and your work continue unabated. We have jobs to do, and I know I can count on our amazing students, faculty and staff to make that happen.
What makes this university extraordinary is how we consistently find a way to overcome obstacles and move forward.
We will be a better institution. We will thrive. We will … Charge On!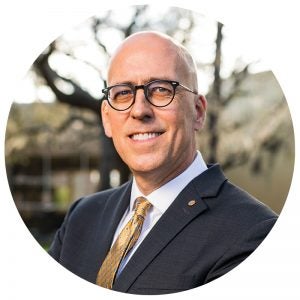 Leadership and President's Office
The President's Office division is made up of bold, energetic and entrepreneurial leaders in policy and planning, strategic communications and marketing, and administrative and fiscal operations who advance UCF's mission.