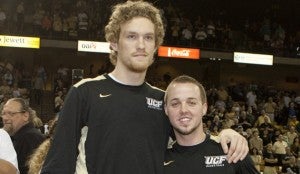 UCF was determined to send seniors A.J. Rompza and P.J. Gaynor out as winners Saturday in their final regular season game. The proof was in the precision that the Knights ran their offensive sets, the attention to detail on defensive rotations and most of all the efficiency in which they shot the 3-pointer.
Doing all of those things in impressive fashion helped Rompza and Gaynor celebrate a 71-63 defeat of UAB Saturday, and it also gave the Knights a coveted first-round bye in next week's Conference USA Tournament in Memphis.
UCF (21-9 overall and 10-6 in C-USA play) will enter the tourney as the No. 4 seed after sweeping the season series against UAB (14-15 and 9-7), which entered the game as one of the league's hottest teams over the last three weeks. The victory also pushed UCF's home record to 16-1, the best ever in school history.
Rompza, who made his 93rd career start, figured prominently in the victory with 11 points, 10 assists and three 3-pointers. He drilled a 3-pointer in the first half while falling out of bounds, and in the second half he had scintillating passes to Keith Clanton (22 points) and Isaiah Sykes (15 points) for baskets that brought the UCF Arena crowd out of its seats.
Rompza also swiped two UAB passes to move into second place all-time in school history in steals with 205. All in all, it was a storybook night for Rompza and Gaynor (six points) on Senior Night.
"I told the guys that everyone gets caught up in Senior Night, but this was about us playing together," Rompza said. "(We) had the (ceremony) in the beginning, but at the end of that it was about us still playing for something and playing for that fourth spot. I didn't want to get caught up in the whole Senior Night thing and I thought we responded well as a team."
UCF finished the regular season tied for third in the C-USA standings with Tulsa. The Knights shot 49 percent in the game and made a season high 11 3-pointers, 10 of which came in the first half. Head coach Donnie Jones couldn't think of a better way for the Knights to head into the postseason.
"Our players have played with great emotion all season and (the postseason) is the second part of the journey," Jones said. "Now, the real fun begins and this is where March Madness becomes really fun. This is what we've played for all year long. This has been a great ride for our team."
Junior guard Marcus Jordan entered Saturday struggling over the last five games, averaging just eight points while shooting 12 of 37 overall and three of 15 from 3-point range over that stretch of games. But he broke out in a big way on Saturday night by scoring 16 points and hitting four 3-pointers. He helped to make sure that Rompza, his closest friend, went out a winner Saturday night.
Rompza and Gaynor were honored before the game with video tributes, posters of them in action and standing ovations. The video tribute showed stirring images of Rompza on the shoulders of fans following his game-winning shot in 2011 against Tulsa and of various Gaynor dunks through the years.
As predicted, Rompza shed plenty of tears during the emotional pregame ceremony. Afterward, he posed for several pictures with fans and thanked many of them for their support over the past four seasons. He admitted Saturday's game was bittersweet because he didn't want the run to end yet.
"I was just trying to do whatever I could to win the game and get it over with. It's been a rough three or four days sleeping-wise and thinking about everything," Rompza admitted. "It's almost like a monkey off my back because I wanted to get it over with with a win."
Dr. John C. Hitt was honored at halftime for the 20th anniversary of his hiring as UCF's president. New Vice President and Athletics Director Todd Stansbury and outgoing interim AD Al Harms presented Dr. Hitt and first lady Martha Hitt with a signed basketball from the 2011-12 squad. The Hitts also were given a standing ovation by the crowd of 6,283.
UCF finished the first half the same way that it started the game — by drilling 3-pointers from all corners of UCF Arena. Clanton and Jordan hits threes in the final minute of the first half to send the Knights to the locker room with a commanding 46-26 lead.
The Knights made 10 of 17 3-pointers in the first 20 minutes. The 10 3-pointers tied a season high, but the difference was it took 24 attempts to do so two weeks ago at Rice. UCF needed just 17 tries in the first half on Saturday. Jordan had four in the first half, while Rompza connected on three threes and Clanton sank two triples.
"We were real determined to (win) and coach talked about wanting to send the seniors out on a good note in their last game before the home crowd," said Clanton, who made seven of nine shots and three of four 3-pointers. "Everybody came out aggressive and unselfish."
UCF put on a shooting clinic early in the game, making seven of its first 10 shots from 3-point range to blow out to a 27-11 lead. The hot shooting was spread throughout the starters as Jordan made three, Rompza drilled two, Clanton hit one and Sykes connected from the wing early on.
When Rompza hit a 3-pointer from the corner as he was falling out of bounds and Jordan drilled a deep shot from the wing, UCF secured some free chicken wings for the fans from Buffalo Wild Wings even though more than 12 minutes still remained in the first half.
Rompza and his teammates circled the stands after the game, celebrating the big victory with Knights backers. Teammates had to coax Rompza into the locker room because he seemingly didn't want the night to end as he kept signing autographs and posing for pictures.
"I wanted to take a picture with everybody just to show appreciation for everything they have done for me the last four years," Rompza said. "If I would have had to stay here until 12 o'clock I would have. Just playing with these guys has been special and we've always had more than the teammate thing. These guys on this team are like my brothers. And as far as the fan support, they have always been there for me since the beginning. I wanted to show how much I appreciate everything that they have done for me."