Some may say that Ivana Krkljus '18 '20MA stands out from the crowd.
When she was just 11 years old, her 5-foot-6 stature led friends to recruit her for her school's rowing team — a popular sport in her native Croatia. With practice, her performance on the water also began to make waves.
"My second year rowing, I won the national championship," says Krkljus. "And for the next six years, I kept winning the national championship."
In 2011, Krkljus' success landed her an invitation to join the Croatian national rowing team. The team competed in the World Rowing Junior Championships outside of London, where Krkljus placed 14th in the world. She was the youngest competitor at the race.
"After the competition, I received an email from an American university asking me if I was interested in going to college in the U.S.," she says. "I didn't know if it was real. My dad said it was probably a scam and told me not to respond."
But the email piqued her interest and she replied. She quickly learned that at just 15 years old, recruiters couldn't talk to the rising rowing star.
By the time Krkljus was a junior in high school, her talent wasn't the only thing growing. That year, at 6 feet tall, she placed 3rd in Europe for doubles and 7th in the world for her age. By the end of her junior year, she had athletic scholarship offers from nearly 20 universities — including UCF. The first-generation college student had a chance to visit her top three schools on a short trip to America.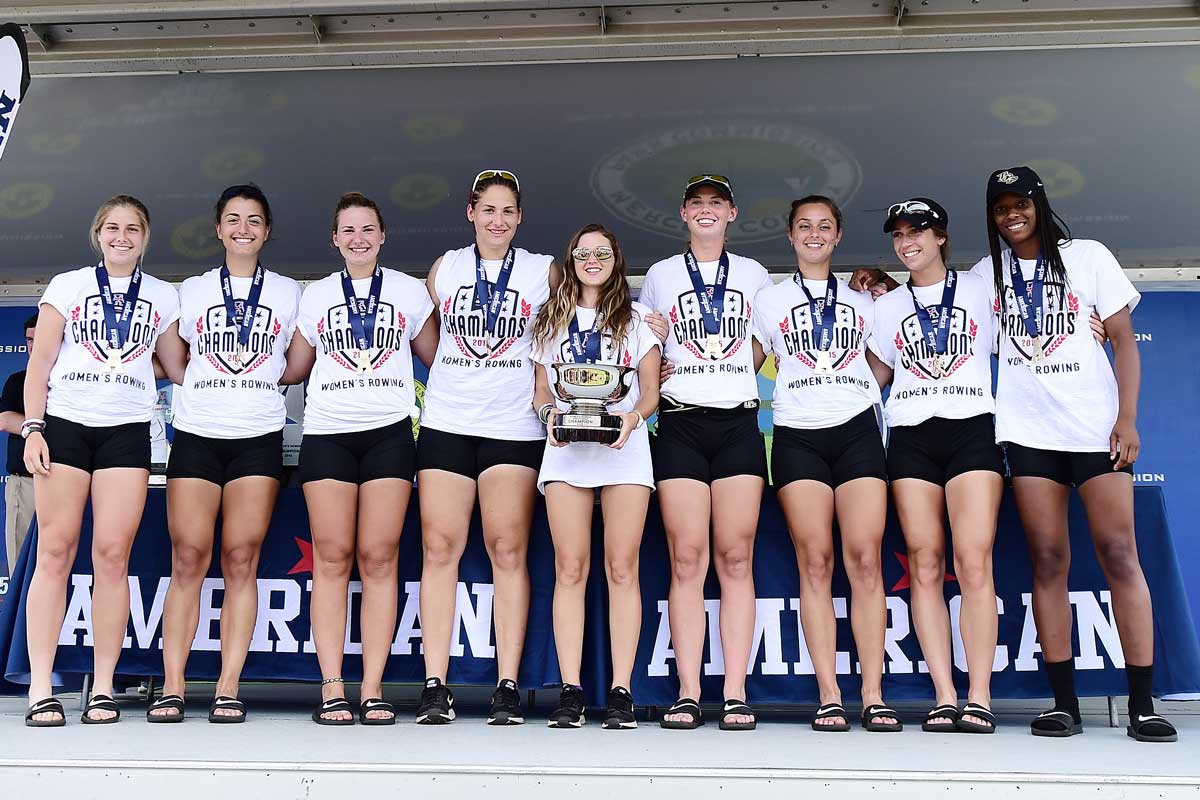 "I fell in love with UCF," she says of her first visit to campus. "Interacting with the coaching staff was just incredible. I never got to interact with someone who wants what's best for you and cares so much about you. As soon as I got on the plane to go back home, I started writing my acceptance email to UCF."
She says her parents were always supportive of her career.
"With 20+ hours a week rowing plus schoolwork, they were always there for me. I didn't get a lot of support from my peers in high school, but my principal was really pushing for me," she says. "My parents were very supportive of me going to college. When they found out that I had everything lined up to go to the U.S., they were really excited."
Once at UCF, Krkljus kept on winning — in fact, the 24-year-old now has four championship rings from her time with the UCF rowing team. "That was the first time that the rowing team won an American Athletic Conference," she says. But in 2017, Krkljus injured her back and was told she wouldn't be able to continue rowing.
"I was really frustrated," she says. "I had been given so much and wanted to have a four-peat — especially in my senior year. It was really sad."
Childhood Shaped by War
Krkljus is no stranger to having to readjust and think about things differently — she had watched her parents do it for years. Born during the Croatian War of Independence, Krkljus and her family lost their home and fled to Austria for safety. They would return to Pula, a different town in Croatia on the opposite side of the country from where they lived before. For the next five years, her father and sometimes her mother would travel more than 350 miles several times a year to return to their former town, Vukovar. He was determined to rebuild their home. In 2002, the family returned to their rebuilt house.
With determination to stay involved with the UCF team and keep her scholarship, Krkljus decided that instead of rowing during her senior year, she would become a coach for the novice team. That year, the rowing team won the American Athletic Conference championship again. Krkljus says she's just glad she got to contribute in some way.
While rowing is what brought Krkljus to UCF, she is thankful for many other opportunities to learn and develop while being a Knight.
"Coming from a conservative country, it's been really eye-opening to see so many cultures interact with each other," she says of UCF's diverse campus "People are so different here than where I come from and have different mentalities and lifestyles. It gives everyone the opportunity to grow. And there are so many people here who I've worked with who want to give students that opportunity."
Krkljus cites her time working at the Recreation and Wellness Center as being particularly impactful for her.
"Jim Wilkening [director of the center] is such a good person and helps students get out of their shell and really bloom. Prior to working at RWC, I was an introvert. But now, I really want to give back to others and help develop students."
"Prior to working at RWC, I was an introvert. But now, I really want to give back to others and help develop students."
She has had the opportunity to do just that working as a graduate assistant for Chanda Torres, assistant vice president for student success for UCF Downtown.
"Ivana has been an exceptional student, athlete and professional at UCF," says Torres. "Her caring nature, commitment to excellence, and unwavering determination will make her a true asset to higher education."
On Saturday, May 2, Krkljus became a UCF graduate for the second time — earning a master's in higher education student personnel. The international student is also graduating debt-free thanks to scholarships and working on campus while in school. She hopes to secure a position in higher education but is also looking into pursuing a doctorate degree.
"I never thought I would continue my education past my bachelor's," she says. "But joining UCF was the best decision I ever made in my life."