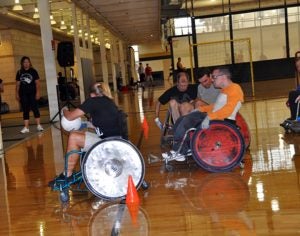 From Aqua Aerobics to quad rugby to wheelchair basketball, students and staff members participated in the Recreation and Wellness Center's first-ever Adaptive Recreation Expo on February 22. The RWC partnered with the Multicultural Student Center, Student Disability Services, Student Government Association, Orlando Magic Wheels, Orange County Clash and Lighthouse Central Florida to facilitate a day-long event at the RWC featuring activities for students with disabilities.
The RWC held the Adaptive Recreation Expo in conjunction with National Recreation Sports and Fitness Day. Students of all abilities participated in several events including group resistance training and Aqua Aerobics in the morning.
More than 20 students from Keiser University's Occupational Therapy program took part in the morning sessions. Kim Tong, an OT Keiser student noted group resistance isn't easy, "You have to have a lot of upper body strength to compensate for not having use of your legs." Melissa Morgan, OT Keiser instructor and UCF alumna, was thrilled to take part in the Expo, "I'm really impressed with how accessible UCF is to people with disabilities. It's an awesome facility."
The afternoon session featured team-building exercises with the RWC's Outdoor Adventure team, Goalball, quad rugby with the Orange County Clash and wheelchair basketball with the Magic Wheels. Kyle Coon, a UCF student who is blind, led participants in Goalball. It's a Paralympic sport for the visually impaired. The ball makes noise while in motion and you have to stop it from going into a goal similar to soccer. Coon, who lost his eyesight when he was six years old, is an RWC Spin instructor and certified personal trainer. He believes the RWC's adaptive and inclusive recreation program is fantastic − "We're [RWC] on the path to doing what we want to do here. We want people to know there are many opportunities for people with disabilities."
The Orange County Clash and Orlando Magic Wheels capped off the day of great events with sessions on how to play quad rugby and wheelchair basketball. Each team played a full period of their sports and then opened up play for students and participants at the Expo.
RWC Fitness Coordinator Ashley Hathcock worked with the team of UCF offices and organizations to facilitate the event. "The Adaptive Recreation Expo was a huge accomplishment," proclaimed Hathcock. "Over 200 students, staff and community members participated in the event. We achieved exactly what we set out to do with this program … to spotlight the adaptive recreational opportunities for students with disabilities. I feel that it was a great learning experience for everyone involved."
The RecreRWC is funded by SGA. Comprehensive and diverse programs like Adaptive Recreation is part of the RWC's mission and goals to continually enrich campus life and advance the UCF's educational mission for all students.
For more information, contact ashley.hathcock@ucf.edu or visit:
Adaptive and Inclusive Recreation.The Recreation and Wellness Center is a departments in the Division of Student Development and Enrollment Services