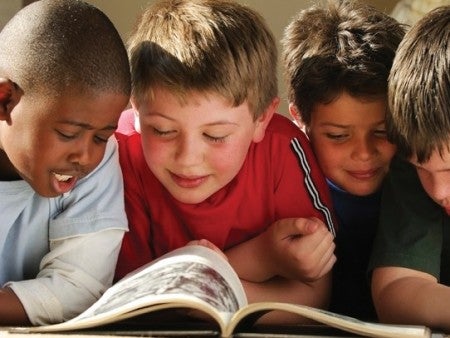 The UCF College of Education's Saturday Reading Camps are free reading clinics in the historic and predominantly African-American Parramore community, located in downtown Orlando where residents are successfully surmounting a myriad of social and economic challenges.
The Reading Camps evolved from the college's undergraduate "Foundation in Reading" course, and one faculty member's belief that moving education beyond the university walls would have lasting effects, resulting in success for at-risk children who are often left behind in public schools.
Dr. Timothy R. Blair, Reading Education Professor, is the founder and director of the Saturday Reading Camp experience. The Reading Camp program has made remarkable strides since helping its first students.
It is estimated that the total number of students served at the two community centers is now more than 220 every year. Additionally, 112 UCF students per year experience a unique, multicultural learning opportunity. Since its inception, more than 1,500 children have received free tutoring in reading, and more than 100 parents have participated in the Parent Education Program. The overall effects of this experience are immeasurable and critical to everyone involved.
UCF students give children 1 to 1 ½ hours of reading help in a small group setting. Each lesson is based upon an initial assessment and is designed specifically for the child's instructional level. This approach optimizes the impact of each lesson.
UCF students receive their own instruction, as well, and are taught to deliver culturally responsive instruction, balancing reading instruction with sensitivity to each student's culture. This method allows our education students to build skills and understand the role culture and economics play in students' learning. It also ensures that neither a child's culture nor their socio-economic level will hinder their ability to teach effectively. The Camps have proven to be an effective tool for the professional development of our education students.