When UCF sophomore photonic science and engineering major Lorenzo Rubio founded his company, Oceanus Biotech, he was searching for a way to reverse the effects of climate change and pollution – all while making a profit. His "eco-friendly" proposal to create an ocean seaweed farming system recently took home first place and a $2,500 scholarship in the fourth annual Social Venture Competition presented by UCF's Center for Entrepreneurial Leadership.
"This unique technology will pioneer the future of farming on the open ocean, which is essentially a giant blue desert." – Lorenzo Rubio, UCF student
"This unique technology will pioneer the future of farming on the open ocean, which is essentially a giant blue desert," Rubio says. "Farming less than 6 percent of the ocean surface would have a significant, positive impact on greenhouse emissions while feeding the entire planet."
Sponsored by Addition Financial, UCF's Social Venture Competition challenges students to each present a new business proposal intended to impact society's biggest problems. Competitors have seven minutes to pitch their new ventures to a panel of judges who select the winners based on the quality, sustainability, scalability and social impact their idea provides. A three-minute question and answer round follows each team's presentation.
Next up for Rubio is acquiring key partnerships in the aquaculture industry and recruiting students to assist with the research and engineering required to further develop the harvesting technology.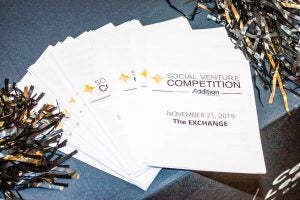 "Starting a venture is a leap of faith; you make so many personal sacrifices working toward that small chance of success," Rubio says. "Leaving my job and taking time away from classes to build my venture from the ground up was no easy task, but it was all worth it."
Aerospace engineering students Mason Mincey and Derek Saltzman of SOAR Composites earned second place and $1,250 with their idea to provide more sustainable manufacturing solutions. Third place finishers Cesar Ortiz Rosa and Mehul Patel of ORTEL Energy took home third place and $500 with an idea to reduce energy consumption at desalination plants that produce fresh water.
Despite falling short of the grand prize, Rosa and Patel remain encouraged following their third-place finish.
"The underlying goal of ORTEL Energy is to make desalination plants more affordable and reduce fresh water shortages across the globe," Rosa says. "Placing third means our idea is coherent and worthy of spending more time and resources to develop."
Students who are interested in pursuing any venture, social or otherwise, are encouraged to visit the Blackstone LaunchPad on the first floor of the Student Union to get one-on-one coaching from someone with experience or expertise.