Growing up with family members who held leadership positions with the Poarch Band of Creek Indians — the only federally recognized tribal nation in Alabama — Rebecca Naragon '07 knew she wanted to pursue a career in public service. Now the political science grad is an economic development director for the United South and Eastern Tribes, a nonprofit organization that supports 33 tribal nations and is working to raise their visibility.
"Many individuals think of native peoples of being in the past, but indigenous communities exist and thrive today." — Rebecca Naragon '07
"It's important for organizations like USET to exist to advocate on behalf of and counteract the invisibility of tribal nations and their citizens today, especially in a region where tribal nations tend to be ignored or forgotten about," Naragon says. "Many individuals think of native peoples of being in the past, but indigenous communities exist and thrive today."
While the coronavirus pandemic has shifted most of her work to virtual formats, Naragon's main responsibility remains the same — to help support tribal sovereignty efforts and help communities develop businesses and economies that facilitate their goals. Making this possible requires a range of tasks as varied as the communities she serves, from fielding calls from investors to reviewing business plans, and from developing training assistance programs to gathering important financial data. Some tribal nations, such as the Seminole Tribe of Florida, which owns the Hard Rock International brand, have thriving businesses, while others are working to build their economic base.
"Knowing a little bit about a lot is very helpful because tribal economies, like all economies, can be very diverse," she says. "Even in the specific tribal population of the USET region, representing about 6% of the total 574 federally recognized tribal nations, there is a a lot of diversity and there are very few 'one-size-fits all' solutions."
Despite the history of termination and assimilation of indigenous people in America, there is still a strong presence and culture of native people and being a part of preserving that history is the most fulfilling reason why she says she does this work.
"Some of the most rewarding parts of my job are when we're able to thwart modern attempts of community erasure and illustrate indigenous resiliency," Naragon says. "A common community value that many indigenous people share is that the work we do today is to make the world better for the seven generations that's to come after us; it's part of my responsibility to share my heritage and to ensure that we will remain."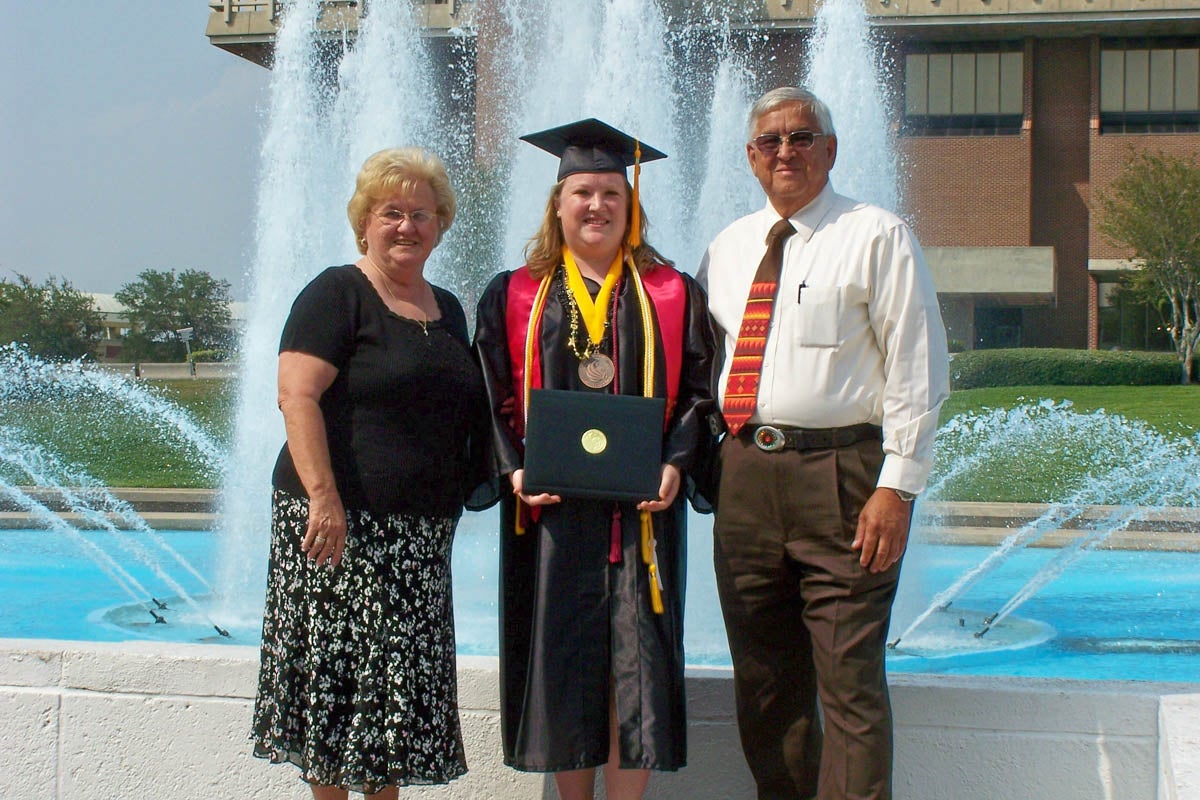 The Poarch Band of Creek Indians reside about 57 miles east of Mobile, Alabama, and have lived in and around the same area for nearly 200 years. Growing up with strong family connections, Naragon expected there was potential for her to feel lonely once she started at UCF, which still had the reputation as a commuter school at the time and transient student body.
But she quickly found the ways to make an impact while contributing to communal bonds, which was exactly what she aimed to do with her college experience, through the LEAD Scholars program, as a member of the Chi Omega fraternity and through daily campus interactions.
"I remember fondly on the times that I would be leaving Classroom Building I to walk across the campus to my dorm room in the Hercules community, thinking it would be a great time to call mom and check-in, and I would almost always be stopped by friends, people I knew, and worked with," she says. "That feeling of community, or being part of something that would live on long after me, is something I will always cherish."
Her campus involvements also helped her develop professionally through experiences with public speaking, project and time management, and working with others still benefitting her today.
"My time at UCF prepared me by exposing me to so many cultures and individuals," Naragon says. "I think UCF is such a greatly melting pot that I was constantly able to meet new individuals and learn about their background and their culture, and that really helped me to work with individuals across multiple tribal nations today."
"I hope people will learn about tribal nations and the indigenous history in their communities." — Rebecca Naragon '07
While at UCF, she also completed two internships in Washington, D.C., where she was able to connect with federal offices that interact and impact American Indian communities. She was introduced to the Office of Indian Energy and Economic Development at the U.S. Department of the Interior. There she worked on policy implementation from the Energy Policy Act of 2005, which solidified her decision to work with tribal communities.
"I hope people will learn about tribal nations and the indigenous history in their communities," Naragon says. "Native people exist more than around the story of Thanksgiving, we are more than a mascot, we are more than 'something else.' I hope people will take the time to consider some of the stories they might have been taught growing up and reconsider them through the lens of a native person."