In response to the COVID-19 pandemic, the College of Graduate Studies made some changes to better connect with students and will continue the changes through the spring semester.
Communicating changes to operations, which the university was making in real-time, and how they would impact graduate students was a challenge, but the college tried some new approaches, which have become quite popular among students.
"The pandemic caused some pretty significant changes to the way the university operates," says Elizabeth Klonoff, dean of the college. "We knew our students were getting a lot of emails and things were quickly evolving as the university responded to the pandemic. We wanted to make sure we were communicating directly with our students and responding to their needs. And we wanted to hear from our students to see what we could do to better serve them."
Beginning in March, the College of Graduate Studies began having virtual town hall meetings that gave both graduate students and post-doctoral scholars direct access to the dean and her leadership team.
There were eight meetings offered through December 2020 with some meetings drawing more than 50 students each. The Zoom meetings focused on sharing information about changes at the university level, answering questions students had, and helping them connect to people who could help them solve unique situations.
For new students, such as Giovana Potiens, the virtual town halls were a lifeline. Potiens is an international graduate student pursuing a master's degree in data analytics. She began at UCF in this fall.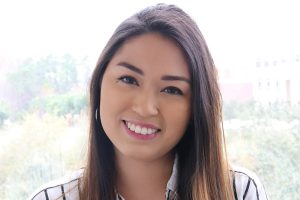 "I went to all the town halls offered by CGS and really appreciated the transparency from leadership in all of them," Potiens says. "Being a new graduate student and not being able to meet any of my professors or peers in person, this made me feel more connected to our university community and the College of Graduate Studies as well. I also love how approachable the leaders are, and how open they are to answer any questions and direct students to the resources available to them."
Communicating changes and listening to unexpected challenges some of those changes created helped the college be nimble during the pandemic.
"Sometimes we didn't have the answers but listening to our students not only helped us serve them better, but it also reminded us that despite the remote nature of much of the semester, we need to stay connected," says Barbara Fritzsche, an associate dean of the college.
Serving students has been a core mission of the college that serves more than 10,000 students. The college held virtual orientation sessions and converted the Pathways to Success professional development courses to an online format. The college prepared a web page for students with frequently asked questions related to their programs and potential COVID-19 impacts. The college also coordinated 61 sessions representing eight colleges for a month-long open house grad fair series for current undergraduates and prospective students to explore graduate programs at UCF. More than 1,300 prospective students participated in the October program. Most recently, the college hosted its third 3MT competition, with a slight change this year, from in-person to virtual three-minute presentations for nonexperts to understand.
For students who suddenly found their income curtailed because of the pandemic, the college worked with internal and external groups such as UCF CARES to connect students to other opportunities. The college also relaxed some of its rules regarding the completion of a degree within seven years. Students were granted one- or two-semester extensions. The GRE was also removed as a requirement for some of the graduate programs for the fall 2021 semester. For those who found access to their research labs interrupted for a portion of the semester, the college created and shared a list of online training, which included courses on data management, grant writing, science methodology and communications.
Several of the town hall participants are encouraging the college to continue the virtual sessions even after all students return to campus. Some are advocating that colleges or departments who haven't already done something similar, follow the model.
"Having these sessions would allow us to get to know our leaders and our peers, staff, faculty, and what is going on in each of our specific colleges and as a university community," Poteins says.
Klonoff says the college will continue to offer the virtual town hall sessions through Spring and the college is exploring the long-term feasibility of the sessions.