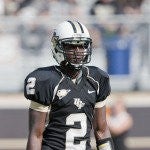 Defensive end Troy Davis, a junior-to-be, stole the show Saturday at Bright House Networks Stadium, registering five sacks and six tackles in the first-string Gold squad's 27-6 victory against the reserves in White.
An estimated crowd of 7,000 fans on a sun-splashed day saw Davis play well defensively, while standout sophomore Jeff Godfrey passed for 163 yards and ran for a 38-touchdown. Senior wide out A.J. Guyton had eight catches, Brynn Harvey capped his return from a knee injury with a 32-yard dash, Nick Cattoi kicked three field goals and converted linebackers Ray Shipman and Jonathan Davis were standouts.
"Bruce left and I feel like I need to step my game up next season and make more plays for this defense," said Davis, who is coming off a 5.5 sack season as a sophomore. "How I've played is what hard work will get you. I've been working hard in practice every day, running and doing what the coaches ask. … Right now, it's just about me staying humble and hungry. I feel like I can only get better from here."
UCF coach George O'Leary feels like his Knights got better this spring, uncovering playmakers at linebacker and wide receiver while also developing depth at defensive line, secondary and along the offensive line. O'Leary thought the offense had a big advantage over the defense in Saturday's spring game, but he feels the Knights made big strides over the past four weeks.
"I thought we were competitive out there, but obviously the day was geared toward the offense. But I thought there were individuals that made plays on both sides of the ball," O'Leary said. "We have some things to evaluate with players, but that's what this game and the spring are for as far as I'm concerned."
UCF also welcomed back some of its most famous football alumni. Stars such as Brandon Marshall, Josh Sitton, Kevin Smith, Torell Troup, Miller and others signed autographs before the game and posed for pictures at halftime after being honored on the field.
Godfrey, who led UCF to an 11-win season that ended with championships in Conference USA and the Liberty Bowl, showed off his poise in the pocket by hitting on 18 of 23 passes for 163 yards. Reading defenses and not giving up on plays was an emphasis this spring for Godfrey. And when he did run he proved quite lethal, scampering for 59 yards and the 38-yard score.
There was some debate between Godfrey and O'Leary over whether he was tagged on the touchdown run since the quarterbacks weren't tackled in the scrimmage, and the quarterback lobbied that defenders should have had to tackle him with two hands. He is confident that his third-quarter run would have been a TD regardless of the rules.
Joked Godfrey: "The referee didn't blow the whistle so it's a touchdown."
Shipman, the former University of Florida basketball player, capped off an impressive spring at linebacker for the Knights by recording five tackles and two stops for losses. He was upset with himself for dropping an interception, but was otherwise happy with how he handled the transition to football after not playing since his high school days. He thinks he'll be ready to shine by the start of fall camp in August.
"I'm not where I want to be, but I'm making strides and getting better every day," said Shipman, a 6-foot-5 outside linebacker who impressed with his athleticism and willingness to hit. "Going into this spring I knew I was going to be kind of rusty and have some bad practices, but I didn't want to ever play backward. I feel like I accomplished playing forward and taking it a play at a time. … I feel like if I'm not ready to go by August I'm going to be mad at myself. Once I get this defense down like the back of my hand, I think it will be scary how good we can be."
Harvey, who missed all last season after tearing a ligament in his knee in spring drills a year ago, once again looked like the back who was an All-C-USA pick heading into the 2010 season. On his first play from scrimmage, Harvey burst through the line, made a linebacker miss and dashed down the middle of the field for 32 yards. He finished with 39 net yards on the day and took satisfaction in knowing he had worked his way back for the Knights.
"It's a blessing for me to come back from being down so low last year with my injury to being out there at the end of this spring and playing pretty good," Harvey said. "It just feels good to be back with the team and playing ball again. The line made a hole and I was trying to get a burst in and I was a little surprised because it was my first play. But it was a good feeling to get my feet wet."
UCF's white squad, composed of the first-string offense, took a 17-0 halftime lead by getting several big plays. Senior Ronnie Weaver, who makes the Knights' tailback position their deepest spot in the field, ran in from 4 yards out for the first score of the day.
In the second quarter, Kerlon Williams broke through the left side of the line and blocked a punt which was recovered in the end zone by reserve tight end D.J. Brown for a touchdown. Proving that it's spring for the officials as well, the referees initially ruled the play a safety, but it was changed to a touchdown after a conference with O'Leary.
Tight end Adam Nissley, who was more involved in the passing games this spring and caught two passes for 15 yards, said the next three months are critical for the football team to build chemistry and improve off the field.
"The next few months are very important. A lot of our success last year was due to the leadership that our seniors instilled into the team," Nissley said. "This year, the seniors have a lot on our shoulders to pick it up and do what they did last year. This offseason is critical getting into the weight room and getting better. Everything we do carries over to the field, so it's up to us to have a good offseason now."
John Denton's Knights Insider appears on UCFathletics.com several times a week. E-mail John at jdenton@athletics.ucf.edu.