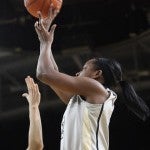 As the clock moves forward spring means football. It also means postseason basketball, baseball's continued homestand and it also means lots of pollen. So it's time for some spring cleaning, which means we've got lots of thoughts and lots of things and no better place to share them then right here.
Women's Basketball
There is Joi at UCF: An injury to one of its best players brought the UCF women's team closer and in time perhaps better. Without Angelica "Jelly" Mealing, who suffered a knee injury, UCF was forced to have multiple players step up and that made this team much tougher to defend. It meant Jelisa Caldwell, D'Nay Daniels, Chelsie Wiley, Asia Patrick and Aisha Kelly had to rely on each other even more. The result is an 11-game winning streak, a second Conference USA Tournament title and a second berth in the NCAA's in the last three years. UCF may be a tough out since it can shoot three's and rebound. Head Coach Joi Williams convinced her seniors they were a special group and turns out she was right.
Men's Basketball
The future is bright for Donnie Jones: Despite losing its regular-season finale and first-round conference tournament game, UCF will play in the College Basketball Invitational against St. Bonaventure. The Knights will host the Bonnies at 8 p.m. Wednesday at the UCF Arena. The experience is a positive one. Any chance to play additional games is a good thing for a young team. All-conference selections Marcus Jordan and Keith Clanton are still sophomores and the year has still been a great starting point for Donnie Jones. The 14-0 start was priceless in regards to spreading the brand of UCF basketball and the recruiting impact will be felt in a big way over the next couple of years. The early season wins over Florida, Miami, Princeton and UMass were huge.
Baseball
Arms race favors UCF baseball: Head coach Terry Rooney's biggest building project since he took over at UCF was finding pitching; quality pitching. He went out to seek not just guys who can throw, but those who can pitch and guys who will be able to pitch on weekends in Conference USA, where most top teams in the league have two or three solid starters. He sought pitchers who could also pitch into June, when the College World Series is played. So far, so good. UCF's pitching staff has dominated early season competition. The team ERA is in the low twos and pitchers are striking out better than five batters for every walk allowed. Freshman Ben Lively became the first UCF freshman to throw a complete game since 2006 when he tossed a gem on Saturday in a win over Wagner. On Sunday, junior Ray Hanson went the distance in a 2-1 win. For the weekend, UCF pitchers did not allow a walk in three games. Rooney's team has needed to take advantage of the annual early season slate that is loaded with home games and rake up wins. As good as the pitching has been, the Knights' offense has been perhaps equal if not better. At least six UCF batters in the regular lineup carry an average of .350 or better.
Track & Field
Knights shine indoors: Big time kudos to Caryl Smith Gilbert's track and field team who won the conference title and then shined at the NCAA Championships this past weekend. Jackie Coward earned All-American honors as she finished third in the 60-meter hurdles. Aurieyall Scott picked up All-American honors for performances in the 60 meter and 200 meter finals. The rest for the team is short as the outdoor season begins next week.
Football
Conference football champs return to the field: Later this week, UCF will begin spring practice. George O'Leary may have lost a large class of seniors whose resume of success is tough to match, but he returns a very solid team expected to be a favorite to repeat for the C-USA crown. On offense, the Knights will need some of the talented young receivers to step to replace Kamar Aiken, Jamar Newsome and Brian Watters. That means these spring practices are very big for Joshua Reese and J.J Worton, two big targets that George O'Leary praised for their scout team performances last year.
This spring also marks the return of Brynn Harvey, an all-conference back in 2009 who missed last year with a knee injury. Harvey, along with Latavius Murray and Ronnie Weaver and every other back who had a carry last year, gives UCF tremendous depth at a critical position. Solidifying the offensive line is another key item for the spring. The McCray twins, Jordan and Justin, and big Tony Jacob are part of the younger group whose future is now. On the defensive side, end Toby Jackson is expected to have an immediate impact. The junior college transfer was one of the most sought after recruits in the country. Linebacker is another spot to watch after UCF lost key players at that position. I think we are good at quarterback, but the battle for number two will be interesting. Have no concern about overconfidence. Does anyone really believe O'Leary will allow his team to try and live off last year's success? Don't think so. Either come ready to get better or get left behind.
Knights notes and more: They are rarely mentioned except when something goes wrong, so let's give them props since something rarely goes wrong when they are in. UCF returns one of the league's best long snapper in Charley Hughlett. His backup is James Getsee. They are seniors and they are key parts of this team… Final thought: We just moved clocks ahead one hour. Where does that hour go? And why can't changing a clock in a car be easier?
Marc Daniels' From the Press Box runs several times per month on UCFAthletics.com. Listen to Marc during UCF football, men's basketball and baseball radio broadcasts on the UCF Sports Network. Each weekday, Marc hosts The Beat of Sports on ESPN Radio 1080 in Orlando.