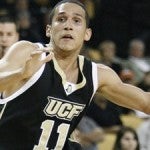 Isaac Sosa is one of the smartest student-athletes at UCF in any sport, and he knew full well what new coach Donnie Jones was thinking when he moved the sweet-shooting junior guard to a sixth-man role earlier this season.
But understanding it and dealing with it are two completely different things, and Sosa admits that a role he initially viewed as a demotion was a blow to his ego.
After all, Sosa practically lived in the gym all summer and came back this season a dramatically better player. So he initially was stunned at the thought of not being a part of the Knights' starting five.
"I was here a lot this summer, working on my ball-handling, dribbling and shooting off the dribble and creating my own shot. I took it very, very seriously, working on all of the things that coach wanted me to work on," said Sosa, an Academic All-American candidate this season. "Since Day 1, I told myself that I was going to start and I expected that. That's why it was kind of a blow in the beginning not being a starter. Coach Jones knew that, and that's why he pulled me aside and told me not to get discouraged by it.
"Coach let me know that he respects my game, to not get discouraged and that I'm still going to contribute the same way and play a lot," Sosa continued. "It's different and it's not something that I'm totally used to yet, but it's something that I've had to get used to. If I don't get my mind right it will affect me and my performance and I can't let that happen."
It hasn't happened yet to Sosa, who is one of the key reasons why UCF is off to its best start since the 1979-80 season and could be poised to move into the national rankings for the first time in school history. The 8-0 Knights host Louisiana-Lafayette Wednesday.
Moving Sosa – and also injured senior A.J. Tyler – out of the starting lineup to bolster the bench is just one of the many bold moves that Jones has made to help the Knights become one of the nation's biggest feel-good stories of the early season.
Jones took over the program in late March, vowing to change the culture of basketball at UCF and turn the Knights into powerhouse program. His long-term mission is to lure some of the state's top talents to UCF so that it becomes a fixture in NCAA tournaments. But in the short term Jones had to make some changes to how the Knights play from night to night and he quickly implemented his style of pressure-defense, up-tempo basketball.
And knowing that this UCF squad would likely use as many as 10 players so that it could play hard for 40 minutes, Jones balanced out the first string and second squad with scorers – even if it bruised a few egos along the way.
"(Sosa) plays starter minutes and that's really what's most important," Jones said. "I can't start seven or eight guys, but we could have that many starting. I have to make sure that we have a good wave starting and a good wave coming in off the bench so we never lose our flow. You don't always want to start your best players at the beginning of the game. That's a big misconception, especially with the way we play."
The way the Knights play has certainly suited Sosa. Jones gives his players significantly more freedom, often letting them operate in the flow of the game rather than play with the structure of numerous play calls. That style has worked well for a shooter such as Sosa, who always has the green light to launch 3-pointers because of his sweet stroke.
Sosa, a native of Guaynabo, Puerto Rico, was never better than he was two weeks ago in a game against Stetson. The Hatters had shocked ACC power Wake Forest with a packed-in zone defense, and they used the same defense against UCF to cover power forward Keith Clanton and shut off the drives of Marcus Jordan.
Sosa was in his usual role as a reserve that night, but was in the game early in the first half and didn't take long to make an impact. It was a dream scenario, he said, what with Stetson backing off and daring him to shoot. And he obliged with five first-half 3-pointers and six in the game for 22 points.
"It was really satisfying, but I'm just trying to do my job for this team," said Sosa, who is averaging 10.3 points while shooting 45.2 percent from the floor and 40.9 percent 3-point range this season. "Coach wants me to come off the bench and contribute and that's what I'm going to do. He wants me to take the open shots, he trusts my shot and my teammates do as well, and they've done a great job of finding me."
Jones' message back in the summer was for Sosa to broaden his game and become more than a spot-up shooter. And all of his hours of work in the gym paid off as Sosa has been a better shooter coming off screens and creating plays for others when defenders run him off the 3-point line. He did just that recently against Southeastern Louisiana, scoring 17 points in a variety of ways.
"He's not just a shooter. He's always thought if he was making shots that he was playing well. But I want him to be a basketball player," Jones said. "He's starting to put the ball on the floor and create for others. He can catch and shoot with the best of them in the country, but he's also become a better defender by focusing."
Sosa said he's more than willing to do whatever Jones asks of him because he's finally a part of a UCF team that is winning big and seemingly has potential for one of the best seasons in school history. Sosa said recently that he's of the belief that the Knights have something special in the works.
"I've been trying to preach to guys that it really, really feels like something special is going on this year," Sosa said. "This is my third year and this is the best position that I've been in in my life. I think we have something special here and we want to take advantage of it."
John Denton's Knights Insider appears on UCFAthletics.com several times a week. E-mail John at jdenton@athletics.ucf.edu.