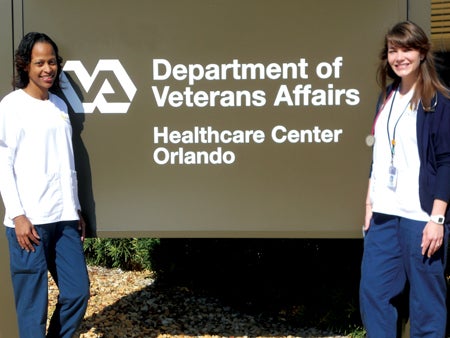 Each academic year, the Orlando VA Medical Center selects two to three senior baccalaureate nursing students to participate in the U.S. Department of Veterans Affairs' competitive, nationwide Learning Opportunities Residency (VALOR) program.
UCF students, Michell Berry and Cody Hudgens, were chosen for the 2010-2011 academic year.
The VALOR program is an intensive, year-long paid residency where nursing students receive hands-on clinical experience in a nearby VA healthcare facility. After orientation and training, the students focus their work in the Primary and Ambulatory Surgical Care units and the Community Living Center, with the occasional opportunity to observe in other units to learn and practice various procedures.
The students essentially become a part of the Orlando VA Medical Center healthcare team, performing many of the facility's daily tasks. These range from duties such as completing admission assessments and evaluation reports to more direct patient care which involves conducting EKGs and prepping patients for ambulatory surgery. To aid the learning process, each student works with a qualified RN preceptor who acts as an adviser and guide.
To graduate from the program, the students must present a special project to nursing administration and management at the Orlando VA Medical Center. The students research evidence-based methods and best-practice recommendations on topics like patient safety.
After a hiatus, the U.S. Department of Veterans Affairs began offering the VALOR program again in 2008 to baccalaureate nursing students studying in Orlando. UCF is currently the only program in the area preparing baccalaureate nursing students, thus making them eligible to compete for the limited spots.
"With the building of Orlando's new, state-of-the-art VA Medical Center, we hope the Department of Veterans Affairs will further grow the VALOR program in our area, allowing more of our students to participate," said Dr. Linda Hennig, associate dean for undergraduate affairs at UCF's College of Nursing. "The program provides a valuable learning experience and also exposes our students to the vast career opportunities available to nurses through the VA and the armed forces."
UCF Student Nurses Selected for the VALOR Program:
2010-2011: Michell Berry and Cody Hudgens
2009-2010: Patricia Morales and Jonathan Reid
2008-2009: Sarah Dickerman, Zaineh Khalil, and Ashley Ross