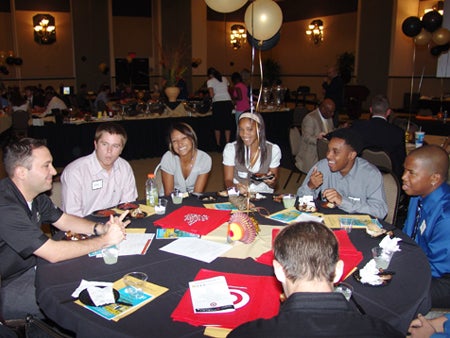 The Sophomore and Second Year Center (SSYC) collaborated with several campus partners, Career Services, Student Government Association, Alumni Relations and 18 dedicated alumni to conduct the 4th Annual Alumni Mentoring Knight program held on November 19.Current undeclared students had the opportunity to connect with UCF alumni and learn about their collegiate experiences in regard to their major decision and career. This year's event was a success with 67 students in attendance, representing a 98 percent increase when compared to 2008.
Students heard motivational comments from UCF administrators and Brandie Hollinger, alumni key note speaker and a former UCF Student Government Association president. Hollinger encouraged students to use the numerous helpful campus resources, stay involved at UCF, and take advantage of these alumni connections as they explore their major and career options. Students also had the opportunity to interact and gather information via advising representatives from numerous colleges and other student support offices. Target was the generous corporate sponsor for the third straight year and provided numerous giveaways and connections with many of their UCF alumni staff.
A post-event survey indicated that 71 percent of students "overall strongly agreed or agreed" that the event was relevant to them and met their expectations. One student attendee commented, "It was helpful. Don't change it."
Student attendees will be contacted by SSYC in Spring 2010 to continue to connect with the alumni they met at this year's event to further develop a "Mentor" relationship as they continue their exploration process.
Career Services is an office in the Division of Student Development and Enrollment Services.