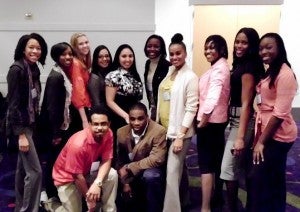 Thirteen students in the National Society of Minorities in Hospitality (NSMH) at UCF attended the 22nd Annual National Conference held in Atlanta, Georgia from February 10-13, 2011.
Along with Advisor, Dr. Sandra Naipaul, they joined over 800 students focused on hospitality careers from over 80 colleges and universities across the nation. The students had the opportunity to connect with more than 400 industry recruiters, professionals and educators and 75 hospitality-related companies.
The event featured industry networking, a career fair and annual awards gala.
Rosen College student chapter members who made the trip include: Jessica Bermudez (President); Elizabeth Douglas (Treasurer); Andre Burnett; Telitra Burtin; Daniela Delgado; Jonathan Dolbrus; Natalie Dupoux; Basha Holloway; Daneen Johnson; Ashley McCoy; Precious Ndebele; Desiree Roberts; and Elida Shepherd.
Daneen Johnson shares "The information sessions were encouraging and helped me realize that I have chosen the right career path."
Precious Ndebele shared that the conference inspired her to propel actions toward making a difference. "[It] was enlightening and quite productive; we got a chance to network and meet other students from different universities in the country."
Ndebele was selected for the Question & Answer panel at the event's Pre-College Outreach Program. It was canceled a few days before the conference, but she shares, "Despite our disappointment…we still took everything in and got enriched in all that the conference had to offer."
Telitra Burtin has attended two NSMH National Conferences during her two and a half year membership in the UCF chapter. "At least half of our members who attended received interviews or job offers while attending, myself included," said Telitra.
NSMH is the premier professional organization for minority hospitality students. For more on the student chapter, search NSMH at UCF on Facebook.