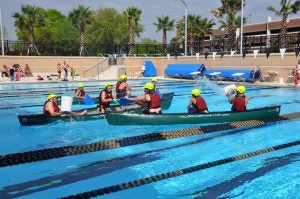 The RWC's longest standing team event highlights RWC's creativity in providing recreational programming for UCF students.
Ready, set, sink! The Recreation and Wellness Center hosted RecFest XXII, an event in which 48 three-member co-ed teams competed in field-day related games.
The signature event was Battleship, an event held in the RWC lap pool where each team was given a canoe, a bucket, and water guns to splash and sink the other canoes. Other fun games included Melonball, Tug-of-war and Lord of the Rings.
Senior Dana Santoro couldn't wait for the games to start. "This was my second year participating in RecFest. I think it's a great opportunity for friendly competition with your peers and the games are always innovative."
The top 12 teams walked away with prizes from sponsors including Qdoba, Crepe Royale, Orlando City Soccer, Publix, PowerAde and Amway Center. This year's winning team was "You Mad?" comprised of UCF students: John Boyle, Brandon Baroody and Andie Weston.
"RecFest is the RWC's longest running special event, starting in 1989," said Gary Cahen, assistant director, intramural sports. "Dubbed 'UCF's Greatest Day of Play' by the staff that created the event, RecFest offers a great mixture of competitive sports events as well as goofy recreational contests and relays. What makes the event great is that teams are paired up with random students throughout the event to ensure plenty of social interaction."
RWC is a department in the Division of Student Development and Enrollment Services. For more information, visit: rwc.sdes.ucf.edu.