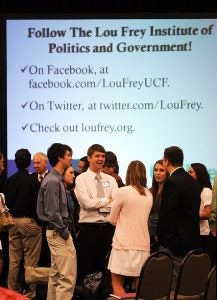 An alarming new study of civic health shows that Florida's young adult population is less engaged in voting, volunteerism and public debate than their counterparts in other states. The results have prompted several former state leaders to set a goal of increasing the voting rate among Florida's Millennials by 10 percent in the next election.
The study, "The 2011 Florida Civic Health Index: The Next Generation," was conducted by the Florida Joint Center for Citizenship, the Lou Frey Institute of Politics and Government at the University of Central Florida, the Bob Graham Center for Public Service at the University of Florida and the National Conference on Citizenship.
It was released today at a press conference on the front steps of Florida's Historic Capitol in Tallahassee. Among those participating were former U.S. Sen. Bob Graham, former U.S. Rep. Lou Frey, Florida Democratic Party Chair Rod Smith, Executive Director for the Republican Party of Florida Mike Grissom and Michael Weiser, chairman of the National Conference on Citizenship.
The report revealed that the state's youngest adults – the "Baby Boomlet," ages 18 to 29 – are far less engaged than their counterparts in many other states. They are less likely to attend public meetings, engage elected officials on crucial issues or volunteer with organizations in their communities.
"Florida's future is in the hands of its young adults. This report presents stark evidence of how much work is yet to be done to assure this generation is prepared to accept that responsibility," said Sen. Graham. "This report is a call for a renewed commitment to engaged citizenship in Florida."
The Florida Civic Health Index is part of an ongoing effort to engage this generation in the 2012 presidential election. In June, the Bob Graham Center, the Lou Frey Institute and the Florida Joint Center will join Mobilize.org – a Millennial civic engagement group – for a three-day summit in Miami to discuss challenges facing this generation and to create solutions.
"Our state is a proving ground for young, diverse people coming together in the name of building our communities," said Weiser, NCoC chairman and a Miami resident.
The challenge to state lawmakers and leading institutions is to find ways to engage Millennials by giving them opportunities to get involved in local government, expand their exposure to civic education in high schools, community colleges and universities and create innovative programs to stir action and ideas from non-college-bound youth.
"It is critical that we offer pathways that will help Florida's young people become actively engaged in the civic and political life of the state," said former U. S. Rep. Frey. "The extent to which these young men and women organize, volunteer, vote and petition their representatives will determine how well Florida is governed."