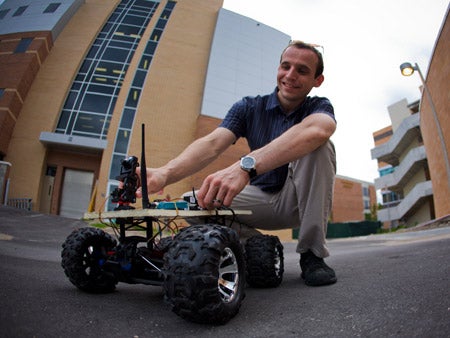 The Omega Envoy Project–Earthrise Space Inc.'s project to advance public and private space exploration in Florida–and UCF have partnered to develop the only student-led entry for the international $30 million Google Lunar X-Prize competition. The project is bringing students, faculty and professionals together in one, big collaborative effort to make it to the moon. First.
"Our main goal from the beginning was to involve as many state universities as we could to unite Florida in this common goal," said Jason Dunn, Omega Envoy's Engineering and Space Concepts director. "With UCF officially on board, we are one giant leap closer to the moon."
But the rover doesn't just have to safely land on the moon. The pressure is on to make the rover travel 500 meters on the lunar surface and send data back to earth–before anyone else.
The UCF team is comprised of Earthrise Space Inc. members–a non-profit organization of UCF students and professionals with the common goal of advancing private and commercial space exploration–and is supported by key engineering faculty members, the nationally recognized UCF engineering team, the UCF Systems Engineering Chapter, and senior design students.