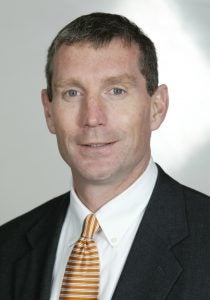 The University of Central Florida named Oregon State University Executive Associate Athletic Director Todd Stansbury as UCF vice president and director of Athletics today. Stansbury will lead an athletics program rapidly gaining national prominence.
Since 2003, Stansbury has supervised business operations, including developing and managing a $56 million budget, for an Oregon State program that features 17 sports and more than 500 student-athletes. Among other achievements during Stansbury's tenure:
More than half of the Beavers' student-athletes boast grade point averages of 3.0 or higher.
The Beavers' athletics annual fund has grown 155 percent since 2003, and ticket sales have grown 80 percent.
About $120 million in new athletics facilities have been completed since 2004, and more than $40 million in facilities are expected to be completed soon.
Stansbury previously was director of athletics at East Tennessee State University from 2000-03 and associate director of athletics at the University of Houston from 1997-2000. He worked in the athletics department at Georgia Tech from 1988-1995. He has taught courses as an adjunct professor at Oregon State and Houston.
In 1995, Stansbury became international coordinator for the Institute for International Sport. He traveled around the world for 16 months to promote the 1997 World Scholar-Athlete Games.
"This is an exciting time to be a Knight, and I am honored and thankful to be here," Stansbury said. "Around the country, UCF is known as a successful program ready to take the next step onto the national stage. I look forward to returning soon and working with our athletics and university staff, student-athletes and coaches to take UCF to the next level."
In 1984, Stansbury received a Bachelor of Science degree in Industrial Management from Georgia Tech, where he played linebacker on the football team. He earned a Master of Science degree in Sports Administration from Georgia State University in 1993.
"As UCF transitions into the BIG EAST, Todd will lead our athletics programs to a new era of success on the national level and build on our student-athletes' achievements in the classroom," said UCF President John C. Hitt. "I am proud to welcome him to the UCF family."
Stansbury is tentatively scheduled to join UCF on March 1. Until that time, retired Navy Vice Admiral Al Harms, a UCF vice president, will continue to serve as interim director of Athletics.
"Admiral Harms is performing outstanding work as interim director of Athletics," Hitt said. "He will work closely with Todd before and after he arrives."
UCF will join the BIG EAST conference in all sports in 2013-14. Stansbury said the move to a premier conference should excite all UCF fans.
"With coaches, staff and students-athletes who are committed to winning the right way — with integrity and character — UCF should be very competitive immediately," Stansbury said. "I promise our fans this: the Knights will be ready for the BIG EAST."
UCF Athletics Growth
UCF's athletics programs have grown in national prominence over the last several years. In 2010-11, its football, baseball and men's basketball programs all enjoyed national rankings, while the men's and women's soccer teams both have competed in recent NCAA tournaments.
A member of Conference USA since 2005, UCF has won 15 conference titles across all sports. UCF teams also have played in 26 NCAA tournaments since then, and UCF student-athletes have won 33 Academic All-American awards.
Bright House Networks Stadium and the UCF Arena are among the newest collegiate athletics facilities in the country.
Student-athletes have long been excelling in the classroom as well, with 219 named to the 2010-11 Conference USA Commissioner's Honor Roll. UCF has placed more student-athletes on the honor roll than any other public university in the conference for five straight years.
In October, UCF posted a program-best 83 percent Graduation Success Rate, which is above the national average and tied for the best score of any Florida public university.
UCF competes at the Division I level in football, baseball, men's and women's basketball, men's and women's golf, men's and women's soccer, men's and women's tennis, women's rowing, softball, women's indoor and outdoor track and field, women's cross country and women's volleyball.