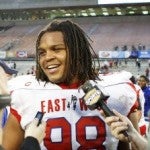 When the Bills first announced the plan to switch back to the 3-4 defense, one of the immediate positions that needed to be addressed was nose tackle. The Bills used the 41st overall selection on defensive tackle Torell Troup from the University of Central Florida.
The 6'3", 315-pound Troup started 39 games at tackle for UCF, tallying 108 tackles and six sacks, and helped lead the Knights to the 2007 Conference USA Championship. He was also a team captain his senior season, and was a two-time All-Conference USA second-team selection.
While the 3-4 is as new to Troup as it is for many of the other Bills defenders, he lined up with the second team defense as the anchor in the middle and appeared to adjust quickly.
"It's a little different. We ran a 4-3 in college, but it was still me two gapping pretty much," he said during rookie minicamp. "I was still responsible for both 'A' gaps and taking on two men, so I got an understanding for when I come out here, I already know what I've got to do. So it kind of helps me out a lot."
His experiences at the collegiate level, and the lessons that he took from UCF, Troup feels, will benefit him as he begins his professional career.
"Going through coach (George) O'Leary's program at UCF, I feel like that's made me a better football player and helped me grow into a man," he said. "To get through his program you have to be responsible and have accountability, and I feel like I have that. Coming here I'm sure I can handle anything they throw at me."
Source: Buffalo Bills, Which Rookies Will Contribute Early? Full story here.