For as long as he can remember, UCF alumnus Justin Lader thought about becoming a filmmaker.
"It's all I ever wanted to do. I was making little movies with my action figures back when I was 4," he said. "I'd lock myself in my room, and in my mind I was making movies."
His latest project – co-writing The Discovery with friend Charlie McDowell – was recently released for streaming on Netflix starring Robert Redford, Mary Steenburgen and Jason Segel after premiering at the Sundance Film Festival in January.
The premise of the film revolves around a doctor's scientific discovery that proves there is an afterlife. In the next year, millions of people have killed themselves to reach the unknown destination. And the number is growing.
"Charlie and I were driving back to L.A. after finishing our first movie [The One I Love] and I remember telling him I had this idea for what could be our next movie," Lader said. "I'm sure, having just finished directing a movie, he was mentally drained and exhausted and the last thing he wanted to hear was another movie idea. But he heard me out anyway. He was trapped in a car, nothing he could do." Soon afterward they went to work developing the script.
After receiving his Bachelor of Fine Arts in 2006 through UCF's School of Visual Arts & Design, Lader went on to the American Film Institute to earn a master's in screenwriting. While at AFI, he met McDowell who was enrolled in the directing program. Their 2014 film The One I Love also premiered at the Sundance Film Festival and Lader was nominated for an Independent Spirit Award for Best First Screenplay.
Lader graduated from high school near Fort Lauderdale and decided to attend UCF for its film department.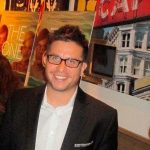 "At the time, the film school's claim to fame was that the Blair Witch guys came out of there. And it became apparent that the spirit of the film program was very independent minded. In other words, you got to experiment and learn by doing," he said. "You were free to try things and fail, which I believe is a crucial part of a writer or filmmaker's process in terms of finding their voice…I found my time at UCF to be invaluable."
He said he can trace a direct line from his UCF experience to where he is now. While studying at the university, he had an internship one summer in Los Angeles and was encouraged to apply to graduate school at AFI.
"I also must add that the support and nurturing of someone like Barry Sandler [a UCF associate professor of film] was essential to me, not only finding my voice, but actually having the nerve to pursue this career," Lader said. "He saw something in me that I'm not sure I even believed was there."
Sandler said Lader was one of the most talented, hard-working, motivated students he's ever encountered.
"Besides having a keen knowledge of film and the film business, he showed a terrific understanding of character, structure and dialogue in his screenwriting that assured me, more than just about any other student, he was destined for success," Sandler said. "The fact that he is achieving it is thrilling but not surprising, and it's particularly impressive that his films reflect his own intelligence, integrity and original thinking."
Writing the script for The Discovery took nearly a year – and then there were constant rewrites, even during the actual filming, which he attended every day.
"You're always working on the script. I find that it's never ever really done," he said. "The process is amazing. Being able to work with the actors and the crew. I mean, moments where I'd be in a room with Robert Redford discussing the scene we were about to film…I'm sitting there having a conversation with somebody that I can't believe actually exists. I'm incredibly lucky."
Lader said he wants to continue telling stories that "connect to themes that are universal, even if the story itself is heightened – characters that feel real, are compelling and audiences can see themselves in."
The Los Angeles resident said a lot of on-screen projects have influenced his career, from the The Sopranos, to The Twilight Zone, to Groundhog Day, and filmmakers including the Coen Brothers, Woody Allen, Quentin Tarantino and others.
Looking ahead, Lader said he's finishing up a script for Amazon, and then he and McDowell are developing the Don DeLillo novel Zero K into a limited series for FX along with producer Scott Rudin and producer/writer Noah Hawley.
He also is interested in working with children and public schools. "Specifically working with public schools in low-income areas to address their needs and figure out ways to help the teachers, faculty and children," he said.
And for upcoming filmmakers, he offers some advice that he lives by:
"Don't settle for middle of the road. Make a choice and commit to it. You may alienate certain people, you may not appeal to the widest possible audience, but if you make a choice, the movie will always be better off for it."