UCF Athletics and the university's new School of Kinesiology and Physical Therapy are partnering to enhance the well-being and performance of the university's student-athletes.
Kinesiology faculty member Michael Redd is now working with coaches as the first director of sports science appointed by the athletics program. He also is supervising UCF students selected for a new sports science internship program.
"Having a sports scientist on the performance team is not a novel concept," said Jeff Stout, interim dean of the new College of Health Professions and Sciences, home to the school. "But giving sports science students the ability to work with Division I athletes is an opportunity that few students may experience."
"We're not aware of any other universities that offer such an internship opportunity for select graduate and undergraduate students," said Redd, who completed his doctorate in exercise physiology (an area of kinesiology) in August.
Under Redd's supervision, the interns will help bridge the gap between science and application.
"Wearable devices provide physiological, performance and biomechanical data points that require special advanced training to interpret," Stout said. "Sports scientists can then create specific algorithms to analyze the data to inform coaches of their team's training volume and its relationship to an athlete's fatigue scores, hydration, heart-rate variability and performance."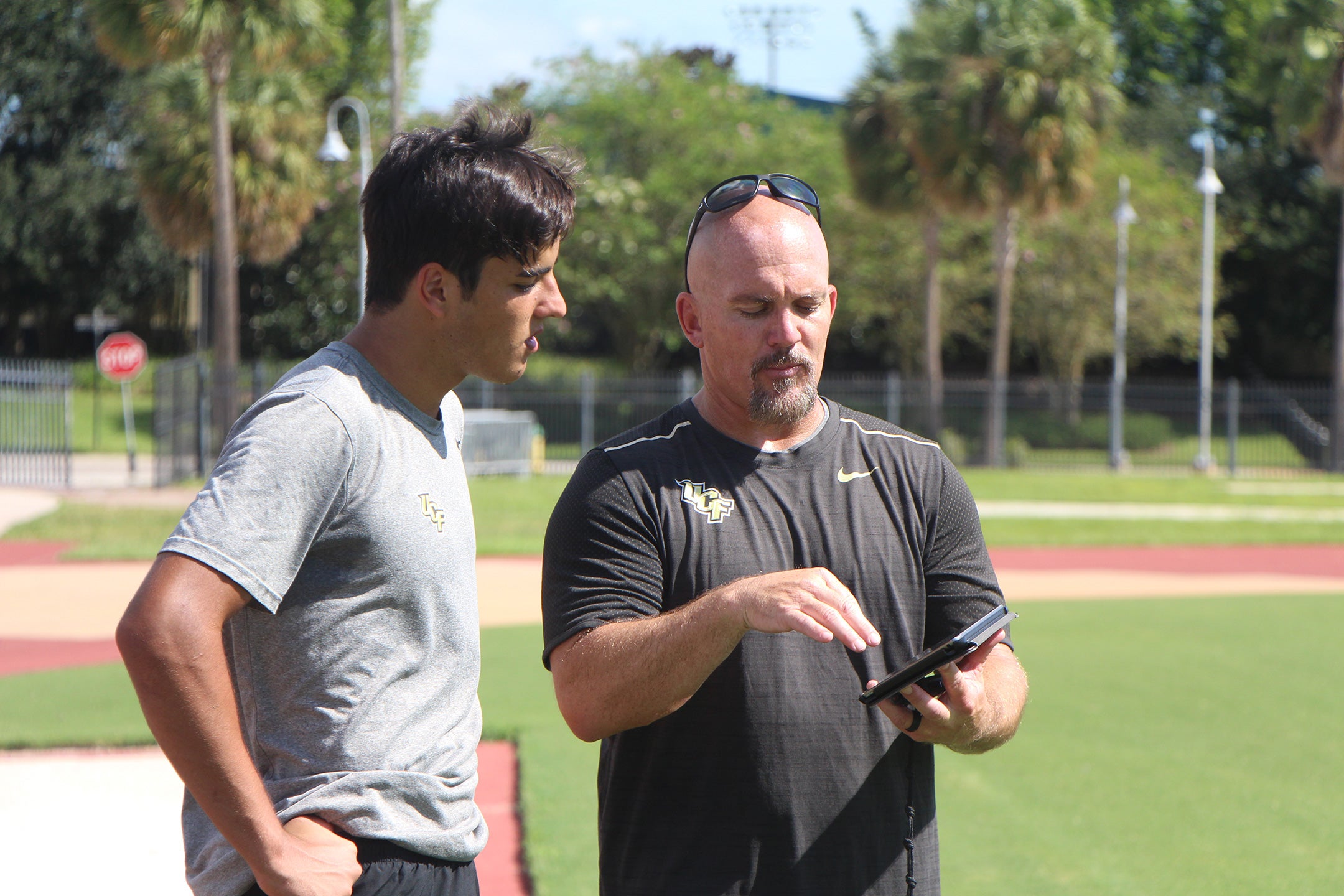 Redd was a doctoral student at UCF last year when he worked with the men's soccer team during a pilot study. He attended the practices and analyzed thousands of data points produced by tracking bands worn by the players.
His analysis of the data gave head coach Scott Calabrese another tool to assess his trainings and ensure the athletes got just what they needed. For example, in some cases Calabrese would adjust the duration and intensity of the training drills to enhance recovery and optimize performance.
The team went on to win eight consecutive games and compete in the American Athletic Conference championship final. The Knights are now this year's preseason favorite in the conference.
Following the success of the pilot study, Redd and Stout worked with UCF Athletics to establish a new sports science internship to enable more students from the school to learn and assist.
Redd has started selecting graduate and undergraduate students as interns. They will learn how to collect and interpret data produced by devices worn by student-athletes. Redd will review the data and use it to inform the coaches of the findings.
Eventually, the health and performance of some 400 student-athletes could be monitored, he said.
Undergraduate Maxine Furtado is among the first students selected for the internship. She is working with the university's soccer programs.
"I've always been interested in the analytics portion of sports science and this internship is going to provide me with an opportunity to learn, to understand and to enjoy all the hard work it takes to form a good athlete," said Furtado, a former high school athlete. "This opportunity has already made a huge positive impact in my life and my future career choices."
UCF Athletics is excited for the partnership, said Eric Wood, deputy athletics director for competitive excellence.
"In Danny White, we have the most innovative athletics director in the country," Wood said. "He views this cutting-edge opportunity as a win-win situation because it benefits our coaches and student-athletes as a competitive advantage on their respective playing fields, while providing practical experience and research opportunities for UCF students."