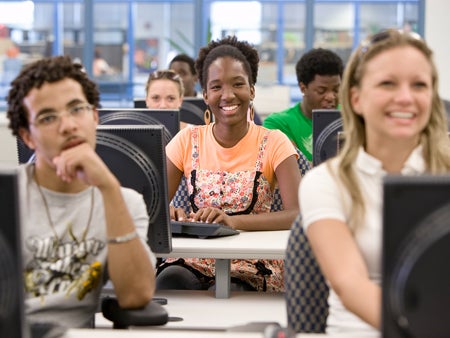 UCF is one of several Florida schools to receive the TRIO-Student Support Services (SSS) award for the 2010-2014 cycle. The SSS grant is awarded to "institutions of higher education to provide opportunities for academic development, assist students with basic college requirements, and to motivate students toward the successful completion of their postsecondary education."
UCF already has the TRIO-Upward Bound grant which prepares 9-12th graders for access to postsecondary education; and the TRIO-McNair grant which prepares undergraduate juniors and seniors for postgraduate education. It has been a longtime goal of the Division of Student Development and Enrollment Services (SDES) to add the middle component, the TRIO-SSS, to enhance our SDES retention and progression programs.
Per the Department of Education, the goals of SSS are to increase the college retention and graduation rates of its participants. All SSS projects must provide: academic tutoring, assist students with information on both the full range of student financial aid programs, benefits and resources for locating public and private scholarships; and assistance in completing financial aid applications; provide education or counseling services designed to improve the financial and economic literacy and assist students in applying for admission to graduate and professional programs; and assist students enrolled in two-year institutions applying for admission to, and obtaining financial assistance for, enrollment in four-year programs.
The SSS projects may also provide "individualized counseling for personal, career, and academic information, activities, and instruction designed to acquaint students with career options; exposure to cultural events and academic programs; mentoring programs; and securing temporary housing during breaks for students who are homeless youths and students who are in foster care or are aging out of the foster care system."
In fall 2010, UCF initiated the PRIME STEM project which will provide this support for five years assisting 120 eligible students enrolled in STEM (Science, Technology, Engineering, and Mathematics) majors at UCF. TRIO defines eligibility using a low-income, first generation, and/ or students with disabilities formula.
SDES staff DeLaine Priest, associate vice president, and Patricia Pates, director, Research, Grants and Evaluation, provided leadership for the proposal writing efforts that resulted in this UCF award and are extremely gratified to see the fulfillment of this long-time goal. PRIME STEM Project will be housed in Howard Phillips Hall under the supervision of Priest.