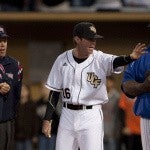 A year after battering foes with one of the best lineups in Conference USA, UCF has turned its focus this season to doing whatever it takes to improve its pitching – even if that means using a center fielder on the mound in certain situations.
When UCF opens the season Friday night against Siena, one of the first things that fans should notice is a revamped pitching staff. Each of the three starters for this weekend's series against Siena are newcomers, and head coach Terry Rooney's hope is that the newcomers will breathe new life into a UCF program hoping to make a national splash this season.
And if new starters Danny Winkler, Matt Collins, Ray Hanson and Ben Lively run into trouble in games, Rooney said he won't hesitate to insert strong-armed center fielder Ronnie Richardson – all 5-foot-7 of him – on the mound at times this season. Rooney promised that after UCF's second-consecutive top-20 recruiting class that the Knights are poised to make a big-time jump this season.
"From a recruiting standpoint we knew the No. 1 area where we had to get better was with pitching. We had one of the best offenses in the history of Conference USA last year. We had the highest batting average in the history of C-USA," Rooney said. "On paper, one of the strengths of our team is without question our offense, so we needed to get better with our pitching. This is our third year here as a coaching staff. From year one to year two we made a huge difference statistically and I expect that same type of jump pitching-wise. That needs to happen this season for us to reach our goals."
The goal, as always, is for the Knights to reach Omaha, Neb., for the College World Series and a sign proclaiming "1,430" hangs in UCF's dugout and locker room. It signifies the distance in miles from Orlando to Omaha. And the Knights feel they can close that gap this season with arguably its most talented team in years. It starts, of course, with faring well in the always rugged Conference USA slate and reaching NCAA Regionals. Rooney said the pool of talent needed to accomplish those feats is finally in place – along with just the right mindset.
"I thought the chemistry on our first two teams was outstanding, but the difference this year is that there is without question a confidence and a level of expectation to win," said Rooney, whose Knights are receiving votes in three national polls already. "I've tried to implement an idea that we're going to expect to win and that we're going to play with a swagger. We don't back down talking about Omaha and we don't back down talking about winning conference championships. Finally, we have back-to-back top-20 recruiting classes and we have a group of kids who know that they can do it. They have a common bond to put UCF back in the national spotlight."
While the spotlight will be on the pitching staff, UCF must find a way to replace left fielder Chris Duffy (.447 batting average, 21 home runs, 81 RBI) and right fielder Shane Brown (.428, 10 HRs, 25 2Bs) off of last season's team. That duo helped UCF win its most C-USA games last season since joining the league in 2006. Also, UCF set new school and C-USA records last season with a .343 batting average and a .435 on-base percentage.
And the Knights put up those gaudy numbers last season even though they were the only team in the country to have five freshmen make at least 35 starts. That group – shortstop Darnell Sweeney, third baseman Chris Taladay (C-USA's Freshman of the Year), Ryan Breen, Austin Johnston and Richardson – are a year older and ready to take on the team's leadership role. And junior Beau Taylor, who enters the season with a 21-game hitting streak, has All-American potential at the catcher position.
Sweeney, who hit .358 and scored 51 runs last season, is a potential star at shortstop and has worked hard to clean up some of his fielding woes.
"I'm more consistent now and I'm not letting the little things bother me like the strikeouts and errors," Sweeney said. "I've learned that you just have to move on. This is a game of failure and I understand that. If you go four of 10 you are a Hall of Famer. … The speed of the game was a lot quicker than high school and even quicker than travel ball. But I'm used to that speed now and I think I'll handle it much better this season."
The Knights are hoping their pitching staff is much better this season, especially with the additions of Danny Winkler and Matt Collins at the top of the rotation. Winkler, a hard-throwing junior right-hander, led Parkland College (Ill.) to the NJCCA national title as a freshman. Collins, a 6-foot-5, 205-pounder, spent the past two seasons at Daytona State College and had 28 strikeouts in 43.2 innings pitched in 2010.
Returning starters Nick Cicio, Alex Besaw and Johnny Sedlock should provide depth. And dynamic sophomore Joe Rogers, who was 4-2 with eight saves last season, is again a top-notch closer and should anchor a much-improved UCF bullpen.
"This is the best pitching staff that I've ever been a part of," Winkler said. "It's depth. Any day on any given night any guy on this staff could step in on Friday night and give the team the chance to win. We're going to have a great season because of our pitching staff and that was something they really wanted to improve upon."
And from time to time, Rooney might opt for Richardson, who came to UCF with great hype as one of the nation's best high school players. He hit .297 with four home runs, nine doubles and two triples last season. He led all C-USA freshmen with a .441 on-base percentage, and Rooney plans to turn him loose at the plate and on the basepaths this season.
"Ronnie is somebody we're expecting big things from," Rooney said of Richardson, who battled knee pain last season, but is healthy now. "Like most freshmen, he was a little inconsistent. He had a great summer up in the Cape Cod League, which is the best summer league in the country. He's going to bat at the top of the lineup and we've given him the green light to bunt and steal bases. Ronnie just needs to play wide open and have the freedom to do some things."
John Denton's Knights Insider appears on UCFAthletics.com several times a week. E-mail John at jdenton@athletics.ucf.edu.