To showcase the efforts of two organizations leading the region in diversifying its economy, the UCF Business Incubation Program's Downtown Innovation District and StarterStudio are moving to the center of Downtown Orlando.
On Dec. 1, 2021 the programs will leave their Church Street Exchange space for a storefront property on Orange Avenue between Church Street and Pine Street. On Tuesday, a grand opening was held at the new location at 130 S. Orange Ave., the ground floor of the historic Kress Building. The 3,579-square-foot space currently includes a couple of office spaces but includes critical conference and meeting space for programming.
"There's an allure to being in the heart of downtown and for people being able to see the activity taking place as they pass by," says Rob Panepinto, director, Innovation Districts Strategy and Partnerships and senior strategic advisor for Partnerships and Innovation at UCF. "Plus, a key in the space was its flexibility to accommodate not just the current environment of office space in downtown but quickly adjust to future needs of our businesses."
The UCF Business Incubation Program is a community resource that provides early-stage companies with the tools, training and infrastructure to become financially stable, high growth/impact enterprises. Since 1999, this award-winning program has provided vital business development resources resulting in over 300 local startup companies reaching their potential faster and graduating into the community where they continue to grow and positively impact the local economy.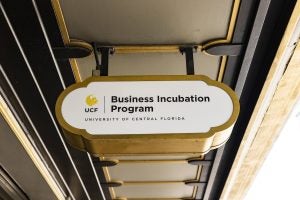 For Innovation District companies, this new space provides central meeting space for the organization's mentorship and First Customer programs.
"One of our primary focuses throughout the Innovation Districts is to connect these scalable companies to regional leaders who can impact their businesses," Panepinto says. "This space will quickly become a hub for this type of activity and will certainly create an impact on our entire region."
For StarterStudio, this move is the culmination of a return to its core mission of providing resources to early-stage tech and tech-dependent entrepreneurs. The organization was the region's first coworking space, but, in 2019, StarterStudio decided to move away from that model. StarterStudio is a nonprofit that works with partners throughout Central Florida to strengthen the tech startup ecosystem and to elevate the region in the eyes of investors, educating them about the advantages of investing locally in tech startup companies.
"We set out to expand our programs and deemphasize the place as the coworking market matured and commercialized," says Lilian Myers, executive director of StarterStudio. "We are focusing on the mission that was originally intended to fulfill the strategy of being the only non-profit accelerator focused on tech and tech-enabled companies."
In 2020 and 2021, the organization doubled its programming for entrepreneurs. The new location will allow StarterStudio to offer in-person programming, along with online programming. Much of it current programs will be moving to this hybrid model.
"We're certainly pleased to have the University of Central Florida Research Foundation in the Kress Building," says Rob Yeager, landlord for the Kress Building of Sullivan Properties. "This space at the center of Downtown Orlando gives our city a great opportunity to really watch these companies grow and impact our entire region."