For as long as she can remember, Laura Segarra '22PhD has always been drawn to space, science and math. She still has her elementary school books with colorful illustrations of the universe. She laughs about almost catching the kitchen on fire during a combustion experiment. And she has vivid memories of being at her grandmother's farm in upstate New York to catch a glimpse of Halley's Comet and view the Milky Way.
In grade school she did math puzzles for fun. In high school, she tinkered with her own car, curious about how it operated. And then one day at the urging of a friend, she attended Upward Bound, a federally funded educational program (now known as TRiO), hosted at Wilkes University that gave her college readiness help and the inspiration and guidance she needed to take the next step. Within years, Segarra had obtained a bachelor's degree in aerospace engineering, then an MBA in aviation from Embry-Riddle Aeronautical University and embarked on a career in space exploration she could have only imagined.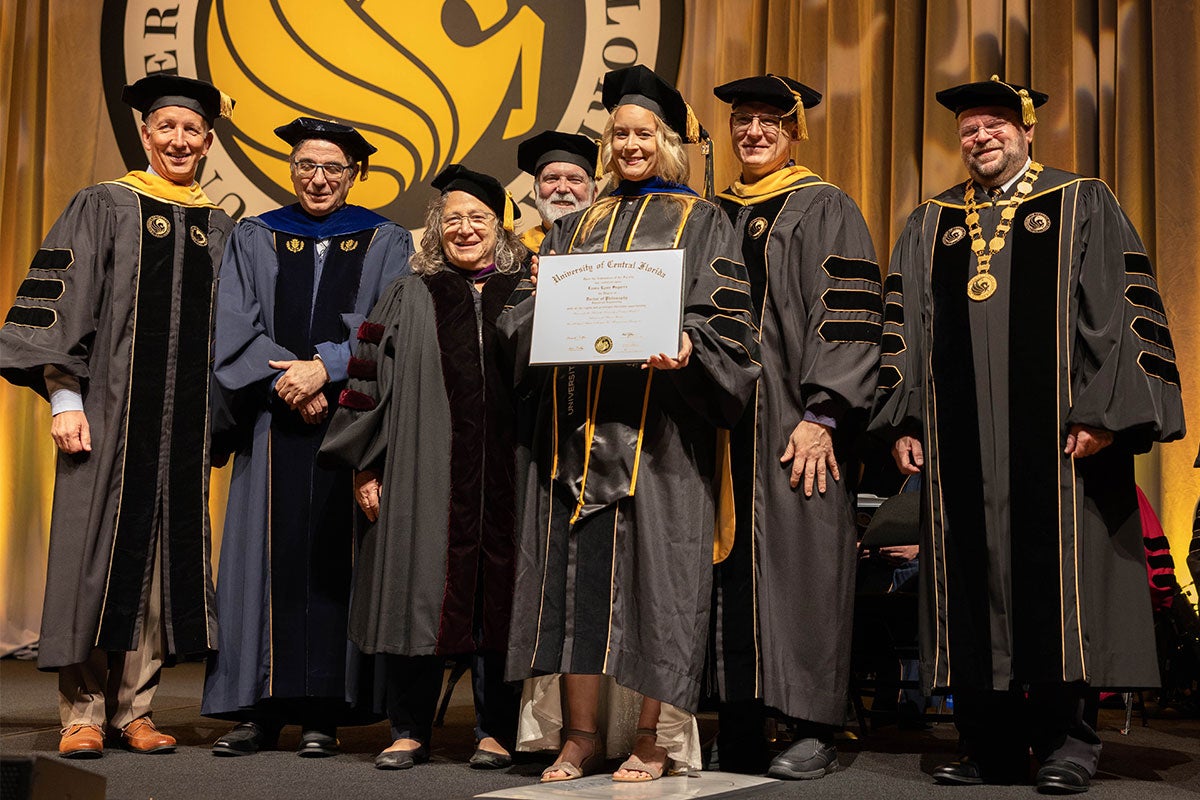 Last week, Segarra — a first-generation student — reached another milestone in her educational journey as she crossed the commencement stage to accept a doctorate in industrial engineering, at the same time making history as the recipient of the 400,000th degree UCF has awarded since classes first began in 1968. The total degrees conferred include more than 63,000 master's degrees and over 7,000 doctoral degrees.
About 78,000 degrees have, like Segarra's, have been in STEM fields; 75,000 in business; 50,000 in education; 48,000 in engineering, computer science and optics; and 47,000 in health professions, including nursing.
The number and types of degrees awarded equate to hundreds of thousands of graduates who unleashed their potential by advancing their careers in critical industries throughout Central Florida and the state, fueling economic growth, earning billions of dollars of salaries they inject into the economy and developing the innovations and creative works that propel broad-based prosperity for our region and state.
"I'm extremely honored," says Segarra. "To me, this represents the continuously growing opportunities for all present and future women engineers. Thanks to UCF and their commitment to diversity, inclusion, and partnering with the academic and industry community, the ability to accomplish personal and professional dreams and goals through education is attainable to all who have the ambition and determination to do it."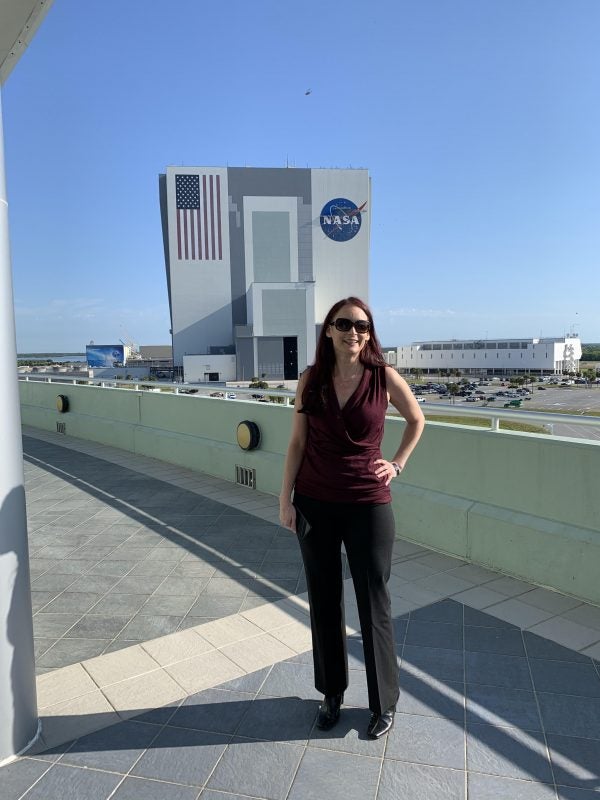 Segarra began her career at the Kennedy Space Center in 2001, serving as an engineer working for United Space Alliance, NASA's primary contractor for the Space Shuttle Program. There, she was responsible for the readiness of the orbiter airframe structures — making sure structural and interfacing subsystem components were maintained and prepared for human spaceflight missions. It was a hands-on and highly detailed job that included making repairs and modifications to the spacecraft.
"I've been over nearly every inch of the orbiter," says Segarra.
Two years later, when the Space Shuttle Columbia disintegrated as it reentered the Earth's atmosphere killing all seven astronauts on board, Segarra was tapped to serve on the investigations team to assist in determining the root cause of the mishap. She spent months reviewing the integrity of all structural repairs and modifications made to the spacecraft and identifying, cataloguing and mapping the more than 82,000 pounds of debris recovered. The team would go on to recommend and implement a series of corrective actions to help return the remaining Space Shuttle fleet to flight. The tragedy "helped me understand why evaluating technical safety risk is so important," says Segarra, and was a powerful reminder for why "it's everyone's responsibility to make safety the top priority."
The experience would also ready her for future roles with NASA, including managing the integrated build and launch readiness operations for the Ares I-X test flight and then serving with ground processing and recovery operations management, including as the NASA vehicle manager for the Space Shuttle Atlantis, the last of NASA's shuttle fleet to fly into space.
Segarra's many years in systems engineering and operations would later evolve into a coveted program management role at NASA in the Commercial Crew Program. She's served there for the last decade, working with multiple American companies to achieve the very first commercial human spaceflight to the International Space Station and thus returning the capability to transport humans to and from low-Earth orbit back to the United States. With the CCP since its inception, Segarra played an instrumental role in originally establishing the program's organizational structure and strategic objectives and subsequently building partnerships for working closely with commercial providers to gain access to space and ensure operations are safe, reliable and cost-effective. The sixth crewed mission to the International Space Station is planned to take place in September 2022.
"During my time at UCF, I found a village of supportive faculty and staff that taught me how to think critically and conduct robust scientific research that will undoubtedly advance the field of program management." — Laura Segarra '22PhD
Segarra was awarded a KSC Graduate Fellowship to begin as a doctoral candidate at UCF. The university was her first-choice school due to the flexibility needed while she continued her professional responsibilities, and her brother and sister-in-law are alumni.
"I knew it was a great school," says Segarra. "During my time at UCF, I found a village of supportive faculty and staff that taught me how to think critically and conduct robust scientific research that will undoubtedly advance the field of program management. I benefitted from working with a knowledgeable panel of experts in technical program management across the public aerospace industry. I've been provided further opportunities to continue advancing research in this area of study and I look forward to applying the knowledge acquired during this doctoral journey back to my work at NASA and future collaborations to advance both theoretical and practical knowledge in this important field."
UCF's ties to NASA run deep. Located just 50 miles from KSC, the university was created in part to support the needs of the space program. About 30% of KSC employees are alumni. Students complete internships with NASA's Pathways program. And UCF faculty are collaborating with NASA on research that ranges from exploring new areas of the moon to designing charged 'power suits' for electric vehicles and spacecraft.
"NASA and Kennedy Space Center have benefitted from the strong relationship we've built with UCF over the years. This continued partnership has played a vital role in helping us build our pipeline of early career employees and internship program participants. UCF is an outstanding partner in the development of the Artemis Generation," says Mai Miller, NASA Pathways Program coordinator.
Kelvin Manning '02MS, deputy director of KSC, served as one of the Summer 2022 commencement speakers. "You are graduating from the University of Central Florida, an institution whose very roots are connected to our nation's space program, founded to provide a talented workforce to conquer the challenges of space exploration," says Manning. " Space has always brought hope to many, a promise for a better tomorrow. And today, UCF continues to not only look to the stars, but to create superstars like you to provide the talented workforce to serve the entire world in many, many capacities."
For Segarra, pursing her Ph.D. was an opportunity for her to fill a knowledge gap in her field. Her dissertation explored project and program management in the public technical aerospace industry, and evaluated systems and practices in place at the Federal Aviation Authority, Department of Defense (DoD), and NASA. The DoD has already incorporated findings from her research into some of their training programs and practices.
"Whatever I'm doing, I have to be making an impact for the better," says Segarra who is considering teaching later in her career.